Books
Review
Sunday Street Team
Sunday Street Team: The Island by S Usher Evans (Review and Giveaway!)
4/24/2016
Hello everyone and happy Sunday! Today, I am here with a super exciting review for a book I really really enjoyed. If you like reading abo...
Hello everyone and happy Sunday! Today, I am here with a super exciting review for a book I really really enjoyed. If you like reading about people trying to survive, this book is definitely for you. And you can also enter to win a copy of the book and some swag as well. Enjoy the review and definitely check out The Island if you haven't already!
---
The Island
Author: S Usher Evans
Pages: 260
Publisher: Sun's Golden Ray Publishing
Release Date: April 26th 2016
Prince Galian is third in line to the throne, but prefers his place as a resident at the Royal Kylaen Hospital. When his father urges him to join the military to help reclaim their colony, Galian is forced to put aside his oath to Do No Harm and fight a war he does not believe in. Across the great Madion Sea, Captain Theo Kallistrate dreams of a day when she is no longer bound by conscription to fight for her country's independence. But when the Kylaens threaten, honor and duty call her to the front lines to fight off the oppressors. When an air skirmish goes wrong, both Theo and Galian crash on a remote island hundreds of miles from either nation. Grievously injured, Theo must rely on Galian's medical expertise, and Galian must rely on Theo's survival skills, to live another day in a harsh and unforgiving terrain. Can they put aside their differences long enough to survive? Or will the war that brought them to the island tear them apart? The Island is the first in a new romance trilogy by S. Usher Evans, author of the Razia series and Empath.
---
I got an eARC of this book from the publisher in exchange for an honest review. None of my thoughts are altered by this.
I have only read a few books where the main characters get stranded on some type of deserted island and need to survive. The interesting thing about those kind of books is that they are easily very boring. However, that was certainly not the case for The Island. There were constantly things happening and obstacles being thrown to characters and
this book never really did get boring.
It was a really
enjoyable read and I look forward to continuing on with this series.
It seems to be headed in a really great direction and I am really
looking forward to seeing what the next book will be about
and what shall happen.
If you like books that feature two very interesting characters stuck on a island, definitely check out The Island because it may just be for you.
One of the reasons why I thought The Island was a really interesting book was because of how awesome these characters were.
Galian and Theo are both such different characters,
which is not surprising seeing as though both characters have come from such different backgrounds. I really liked how
optimistic and positive Galian (usually) was
and
how serious and tough Theo was
. Yeah, these two had really different personalities so it was
interesting to see their relationship develop and read about how that happened.
When you're trapped on an island with someone, you might as well start accepting them for who they are because being on a deserted island is already hell, being on a deserted island with someone you dislike is even worse.
I really love how both characters change a bit more through the whole story. Theo is able to learn a little about optimism from Galian and Galian really gets an eye opening about life from Theo.
Both characters really develop through this book and I really look forward to seeing how that will affect the next book and the rest of the series.
Plot wise, this book really opened up readers to see what the rest of the series will be about and how events from the first book may even affect the book after the sequel. I mentioned in the first paragraph that reading about Galian and Theo on that island never really got boring and part of that is because
there was always something happening.
I really
admire Evans's planning and plotting of this book
because the problems that Galian and Theo encountered were so well planned out the author never really lets you get too comfortable on this island. And everything, every problem and situation, went toward the big problem, the one that is going to follow through the series, which is something I really appreciate because
every event was meant for the story, it wasn't just there because why not.
There are really only a few things that could have made this book a little better than it was. For one, I
felt like some parts in the writing got a bit stiff.
To me, it got a little awkward reading some of the dialouge because it didn't sound as realistic as it could have been. Didn't hinder my enjoyment too much but that did stick out to me. Another thing that would have made the book a little better is if there was a
little mention of a period.
Yes, you heard it I am talking about the monthly bleeding that happens for every girl. This definitely is not the first book I have read where a period was not even mentioned in the book so I'm not surprised that happened. It would have been awesome if something like that became a little problem for Theo though because periods and puberty is sooooo overlooked in YA.
I gave this book 4 stars! I really enjoyed the characters, plot, and am excited to continue with the rest of this series.
S Usher Evans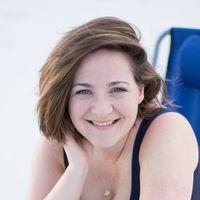 S. Usher Evans is an author, blogger, and witty banter aficionado. Born in Pensacola, Florida, she left the sleepy town behind for the fast-paced world of Washington, D.C.. There, she somehow landed jobs with BBC, Discovery Channel, and National Geographic Television before finally settling into a "real job" as an IT consultant. After a quarter life crisis at age 27, she decided consulting was for the birds and rekindled a childhood passion for writing novels. She sold everything she owned and moved back to Pensacola, where she currently resides with her two dogs, Zoe and Mr. Biscuit. Evans is the author of the Razia series and Empath, both published by Sun's Golden Ray Publishing.
---