Books
Review
Russia? Magic? A Game of Fighting to the Death? Count Me In! // Thoughts on The Crown's Game by Evelyn Skye
7/05/2016
The Crown's Game Author: Evelyn Skye Pages: 399 Publisher: Balzer + Bray Release Date: May 17th 2016 Vika Andreyeva can summo...
The Crown's Game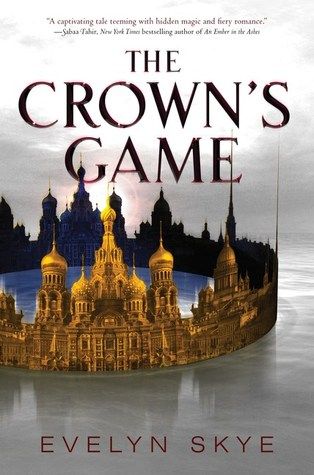 Author: Evelyn Skye
Pages: 399
Publisher: Balzer + Bray
Release Date: May 17th 2016
Vika Andreyeva can summon the snow and turn ash into gold. Nikolai Karimov can see through walls and conjure bridges out of thin air. They are enchanters—the only two in Russia—and with the Ottoman Empire and the Kazakhs threatening, the Tsar needs a powerful enchanter by his side. And so he initiates the Crown's Game, an ancient duel of magical skill—the greatest test an enchanter will ever know. The victor becomes the Imperial Enchanter and the Tsar's most respected adviser. The defeated is sentenced to death. Raised on tiny Ovchinin Island her whole life, Vika is eager for the chance to show off her talent in the grand capital of Saint Petersburg. But can she kill another enchanter—even when his magic calls to her like nothing else ever has? For Nikolai, an orphan, the Crown's Game is the chance of a lifetime. But his deadly opponent is a force to be reckoned with—beautiful, whip smart, imaginative—and he can't stop thinking about her. And when Pasha, Nikolai's best friend and heir to the throne, also starts to fall for the mysterious enchantress, Nikolai must defeat the girl they both love... or be killed himself. As long-buried secrets emerge, threatening the future of the empire, it becomes dangerously clear... the Crown's Game is not one to lose.
The Crown's Game has been a pretty anticipated read for me. I loved the concept of two magicians fighting for one spot as the Royal Enchanter. I was really looking forward to reading about historical Russia and I was just really excited for Evelyn to have a book out and for the world to finally be able to read it. Well, I finally read it and it was fabulous. The characters that were all in this book were very interesting and different, the world this book takes place in is fabulous, and I really liked the magical aspects in this book. If you're looking for a historical fantasy read with a bit of drama, The Crown's Game is for you!
The first thing I want to talk about with this book is the style this book is written in. Now what exactly is the style of the writing of this book? Well, let me tell ya! It's basically written in about 23954984 perspectives. Not complaining because that really benefitted this book. A lot goes on in this book so telling the story in many perspectives made sure that the reader knew what was going on concerning the 9284 different side plots and it kept me reading. The characters in this book are very different so they all have very different stories and writing this book in basically all their perspectives gave the characters more depth and prevented the story from getting confused on what was going on and allowed Evelyn to include more into her story.
I also really loved the world that this book took place and the magical aspects of it. This book takes place in Russia, which is a pretty cool place for a book to take place. On top of that, you have magic in this world. I really liked the magic that went on in this book. How each person has a specialty with their magic and it was interesting to read how Vika and Nikolai would use their powers against each other.
So with this unique world, there must have been world building. I thought the world building was very well done. Evelyn talked about Russia in her book and I was very much able to envision what it looked like in my head.
The one problem I did have with this book was how awkward and unrealistic dialogue got sometimes. There were moments where I felt like things the characters said were things that just didn't flow as well as they could have and didn't sound very realistic. Hoping this will change in the next book because that was basically the only problem I had with this book.
All in all, I think this book was a great first book. It introduced the characters very well, built the world very well, was an exciting read, and also ended perfectly and set up book two perfectly. Enough stuff was going in this book so that you have an idea on what book two will be about. Based on what I did read, I am really looking forward to reading it and finding out more after the events in The Crown's Game.
I really liked how creative Evelyn got with intertwining her story in with the history of the Tsar. That was something I found really cool because she was able to get creative with how it happened and added her own story into the history.
Nikolai is not dead have faith.