Blog Tour
Books
Giveaway
Let's Talk!
Quotes
Review
Blog Tour: Love, Lucy by: April Lindner (Review, Quotes, and Giveaway!)
3/31/2015
Welcome to my tour stop for the Love, Lucy blog tour! I hope you enjoy your time here. Make sure to enter the giveaway at the bottom of th...
Welcome to my tour stop for the Love, Lucy blog tour! I hope you enjoy your time here. Make sure to enter the giveaway at the bottom of this post!
---
Love, Lucy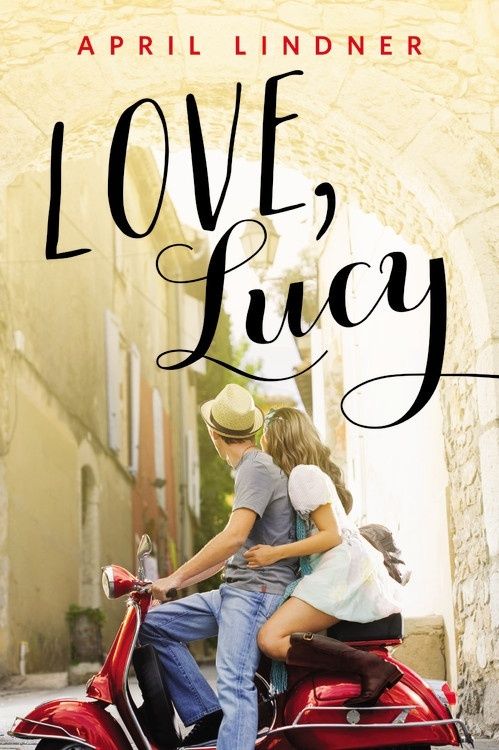 Author: April Lindner
Pages: 304
Published by: Poppy
Published on: January 27th 2015
While backpacking through Florence, Italy, during the summer before she heads off to college, Lucy Sommersworth finds herself falling in love with the culture, the architecture, the food...and Jesse Palladino, a handsome street musician. After a whirlwind romance, Lucy returns home, determined to move on from her "vacation flirtation." But just because summer is over doesn't mean Lucy and Jesse are over, too. In this coming-of-age romance, April Lindner perfectly captures the highs and lows of a summer love that might just be meant to last beyond the season.
---
I got this book from NetGalley for this blog tour in exchange for an honest review. None of my opinions are altered by this.
In the synopsis this book definitely was a romance. After reading the book, it was kind of like a "hurry up and decide" romance. The main character was super confused and you were internally frustrated of how indecisive the main character was. I have nothing against those kinds of romances; In fact, Lindner did a great job. I finished this book within a day because I was on the road for about 7 hours (Currently writing this review in the car!). The 300 pages it was was a good amount for this book. It didn't feel like the story was being dragged on for too long and didn't feel like the ending was just too incomplete.
The romance in this book was cute. Jesse and Lucy are so good for each other and so cute of a couple. You know how I know that? If I ever saw them making out in public I would be muttering "Couples," and rolling my eyes. It's just not the PDA, the way they act around each other. They both encourage each other and are able to be comfortable with each other. Ugh, so cute! The way they meet and how they start liking each other is just cuteeeee.
An aspect that really brought this book nicely together was the writing style. A lot of the books I read are in first person (I picked up the apple) but I liked the third person going on in this book (Kaitlin picked up the apple). It's funny because sometimes I get some trouble when reading in third person because, well third person, in my opinion, is kind of a hard writing perspective to write in. Lindner did a very good job with that and reading in third person was very smooth for me in this book.
I gave this book 4 stars because I did have some issues with some characters in this book but other than that loved it! If you like the lovey contemporaries this is for you!
Favorite quotes:
Lucy thought for a moment, "I hate being hated," she said.
"Wear it like a badge of pride," Matteo said. "It means you've got something she wants."
"When she wants something she knows how to work for it. I'm starting to think she could do anything, if she sets her mind to it."
"You have to stand back and let them [love]."
We all have read the book here right? Okay. First, let's just start with the fact that this book got very frustrating at one point. I was just yelling at Lucy because well a) she was totally cheating on Shane and b) she could not make up her mind! Do you want Shane or Jesse because you are wasting everyone's time! Lucy went from Jesse to Shane to Jesse to Shane and back to Jesse. Then there was the one period of time where Lucy was Jesse's and Shane's. (Oh please kill me) She finally realized that she loved Jesse and that was when she was already in New York!
Like god Lucy, this is frustrating for everyone! We all know you love Jesse so stop lying to yourself!
Just a thought: Ugh Lucy cheated. You know how I feel about people cheating. I hate it when people cheat.
If you read the non spoiler part then you probably want to know which character(s) I didn't like. That would have to be Charlene and Lucy's dad. I barely got to know Lucy's dad in this book but I understand the type of person he is. The parts where he got actual dialogue I was just about to sit this guy down and lecture him. Then, he tells Lucy that she is an amature! HAVE YOU SEEN THIS GIRL ACT? HAVE YOU SEEN THIS GIRL SING?! NO, so therefore he cannot make a single comment on her passion. And Charlene! The almost 200 pages I read from her I was surprised Lucy was able to deal with her for a month. I was on the verge of kicking her just after 100 pages! She is just so annoying, hypocritical, and a person that makes you feel bad for the smallest thing. Sorry if I'm pointing all flaws here but that's just how I feel. Like with Jesse and him tagging along. I don't understand why she has a problem with that! When Simon was with Charlene and Lucy had to third wheel did Lucy have a problem with that?! Huh, no. So why is Charlene complaining?! Then she is such a jerk Jesse. Again, was Lucy a jerk to Simon? No. The late on she gives the picture of Lucy and Jesse kissing to Ellen who puts it in Wanderlust? Oh I am so done with this girl.
This book kind of made me want to go to Europe even more. Not just the UK, but places like Rome and France. Maybe Greece? I was actually supposed to go this summer but plans have changed and it turns out I will be going next summer. It's worth the wait though!
April Lindner
April Lindner is the author of three novels: Catherine, a modernization of Wuthering Heights; Jane, an update of Jane Eyre; and Love, Lucy, due out in January, 2015. She also has published two poetry collections, Skin and This Bed Our Bodies Shaped. She plays acoustic guitar badly, sees more rock concerts than she'd care to admit, travels whenever she can, cooks Italian food, and lavishes attention on her pets—two Labrador retriever mixes and two excitable guinea pigs. A professor of English at Saint Joseph's University, April lives in Pennsylvania with her husband and two sons.
Win (1) of (5) hardcopies of Love, Lucy by April sLindner (US Only)
Start: March 30th, 2015
End: April 7th, 2015