Alice in Zombieland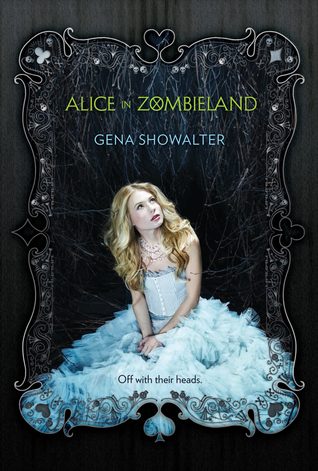 Author: Gena Showalter
Pages: 404
Publisher: Harlequin Teen
Published on: September 25th 2012
She won't rest until she's sent every walking corpse back to its grave. Forever. Had anyone told Alice Bell that her entire life would change course between one heartbeat and the next, she would have laughed. From blissful to tragic, innocent to ruined? Please. But that's all it took. One heartbeat. A blink, a breath, a second, and everything she knew and loved was gone. Her father was right. The monsters are real…. To avenge her family, Ali must learn to fight the undead. To survive, she must learn to trust the baddest of the bad boys, Cole Holland. But Cole has secrets of his own, and if Ali isn't careful, those secrets might just prove to be more dangerous than the zombies…. I wish I could go back and do a thousand things differently. I'd tell my sister no. I'd never beg my mother to talk to my dad. I'd zip my lips and swallow those hateful words. Or, barring all of that, I'd hug my sister, my mom and my dad one last time.
---
Alice in Zombieland has been sitting on my shelf for almost a year now. I have read really good things about it and seized the opportunity to get it at Walmart for about 7 dollars. Now that I am trying really hard to trying to read all the books on my shelf I thought it was a good time to hurry up and get to it. I was not let down by Gena. The concept of the zombies is awesome and the characters were so great to read from. If you like the action and fighting stuff I think this book is for you.
The zombie part of this book was so creative and fun to read about. I am not a person who reads the zombie stuff because I just don't. It doesn't entertain me as much as fantasy sometimes and it's nto my cup of tea. The zombies in here are not your typical zombies. They may seem like stuff that wants to eat your brain but it's a lot more dangerous that. They can kill you my biting you. Yeah, you know when you would joke around with your siblings or cousins and say, "I'm going to bite you!" and you would laugh at that. Yeah this isn't a joke. A few bites times ten will kill you. It's the coolest thing but the scariest crud.
The fighting powers to go these zombies are pretty epic. You know I want these powers. How you can step out of your body and go into a spirit realm and stuff. Oh! Then when you say stuff there is a chance of it actually coming true. Oh yeah that was awesome. Then you could do the glowing thing with your palm, kind of like the Mortal Instruments. Yah?
Characters
There are two groups of characters in this book. No sorry three. People like Kat who deserve to know about the zombies and people like Cole, who fight them off. Then there is Alice who is trying to be friends with zombie-not-aware people and people who fight these things off. So we have a pretty interesting cast here folks, interesting people.
Let's start with the main herself, Alice. As a character she has developed so much. In the beginning she was so clueless about the zombies and now she is fighting them off. Her confidence in fighting the zombies has been there since she was aware of the situation and I look forward to more of that in the next books. Alice is also so sassy and such a sarcastic person, especially with Cole. She is not a person that is going to be bossed around and that is very clear. She is hilarious and I love her so much.
Ack! Cole. I can't. He. Sounds. So. Dreamy! Like I want this guy, but no. Alice can have him. I feel like Cole is the guy that is a complete jerk to just you but he is nice to everyone else. He calms downing on jerkville once you guys are finally friends. Cole is also so protective in a really cute way and he is just perfect for Alice.
Alice and Cole are one of my OTPs now. They both annoy the crap out of each other but still are great for each other. He looks out for her and she looks out for him. There isn't much to say but they are really good for each other and hopefully we find more reasons why in the next books.
Cole's friends were people I was very skeptical about in the beginning. Like, I had an idea they were related to the zombie stuff but they were kind of scary to me. Then Alice started hanging out with them more and I hated how they were still being so mean to Alice. You know? The more I know them the more I am okay with the zombie fighting friends. I really looking forward to them in the next few books.
Kat. I love Kat. She speaks her mind and is a great friend. Stands up for herself and willing to help people. Here is a confession, I thought she had something to do with the zombies like maybe she was working for Justin but now I am pretty convinced now she is not a bad person. I want her to live through this trilogy (she better!) and maybe will contribute positively to the zombie situation.
Just a thought: I really wish Emma was still alive. I'm super intrigued on why she is a witness and I think it may affect the plot in certain ways.
Events
There were so many very good events that went down here. One of them were the visions that happened every morning. At first I was wondering how they were happening but when Cole and Alice started getting knowing each other, the visions were something I was looking forward to. I'm guessing they are little snippets of the future and dang their future looks hot. ;) My favorite one probably had to be the first one where she didn't even know his name and yet they were kissing in the lockers. They were kissing like there was basically no tomorrow and both Cole and Alice were so confused the first time it happened. Haha.

One of the sadder parts in the book was when they had to kill the grandpa. Well he was already dead but when Alice had turned him to ash that was sad. It kind of gave me an idea on what eliminated the zombie dad would be like (which we got done in this book as well). I felt so bad for the grandmother because she is already scared from the breaking and entering and she has to deal with Alice. I'm glad she knows what is going on and safer now. Hopefully she can see the face of earth until the last book.

The infamous car accident. I was very much expecting this part to happen! Because of that my reaction wasn't "IT WAS SO SAD. I DON'T KNOW HOW TO BE HAPPY AGAIN." No, haha. I was very excited to see how it would go down. Was she going to be fully conscious during it or was Alice going to be on the verge of death? I liked how she was going in and out of consciousness and saw a little of the zombies at one point. That was definitely a way for everyone wanting more.

The ending! We finally get to this part! I really liked the ending. It scared the death of me because, I hate to say it, but Alice should be dead. If Cole's swung the sword as hard as I thought he would then Alice should have been split in half right then and there. There, I said it. Just saying. I am imagining the injury to just be like a cut in her stomach but do you know how many organs Cole could had nicked with his almighty sword? I have been evaluating this so much and if Cole only cut through a little of the skin in her stomach then she could be alive. I highly doubt that though. I really am excited for the next book and hopefully Alice recovers no problem. :D