A.S King
Books
Charlie Holmberg
Let's Talk!
Review
Let's Talk!: The Glass Magician by: Charlie N. Holmberg
3/21/2015
The Glass Magician Author: Charlie N. Holmberg Pages: 222 Published by: 47North Published on: November 4th 2014 Three months after re...
The Glass Magician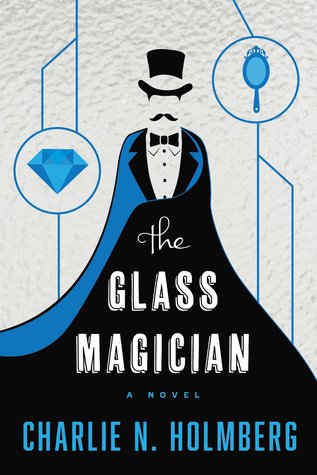 Author: Charlie N. Holmberg
Pages: 222
Published by: 47North
Published on: November 4th 2014
Three months after returning Magician Emery Thane's heart to his body, Ceony Twill is well on her way to becoming a Folder. Unfortunately, not all of Ceony's thoughts have been focused on paper magic. Though she was promised romance by a fortuity box, Ceony still hasn't broken the teacher-student barrier with Emery, despite their growing closeness. When a magician with a penchant for revenge believes that Ceony possesses a secret, he vows to discover it…even if it tears apart the very fabric of their magical world. After a series of attacks target Ceony and catch those she holds most dear in the crossfire, Ceony knows she must find the true limits of her powers…and keep her knowledge from falling into wayward hands. The delightful sequel to Charlie N. Holmberg's The Paper Magician, The Glass Magician will charm readers young and old alike.
---
I got this book off NetGalley in exchange for an honest review, my opinions are in now way altered by this.
I'll admit it, I really like how this trilogy is going so far. I thought the first one was a great read but the second one. Oh, boy. I'm really excited to read on about Ceony's paper magic adventures! This book picked up about a month from the ending of The Paper Magician and not much has changed. The ending was written so well and provided a nice platform for the next book. We get introduced to some new characters and it was all fun!
One of the things that really made this book so enjoyable was the mystery and action that went on. The mystery starts literally in the first few chapters and it drags through the book, bringing along some EPIC fight scenes. The world this book takes place in is also a great contributor to the epicness. The fact that you can fold paper or just say simple spells and kind of like "bend" the thing/element is so cool. As a Avatar: The Last Airbender junkie, I approve!
As I mentioned above, there were some epic fight scenes and Holmberg did a great job with those. I liked how she very much incorporated the magic in it yet had a great balance with the hand-to-hand combat. There was also the suspense of not knowing who was going to win a fight. Sometimes in books when two opposing sides get into a fight you can predict who wins, that is not played in this book. Ceony does do some fighting and I think we can all say she isn't the best person in the warzone. She fights two different people and at one point of those parts I was actually unsure who would win because her Folding skills have gotten so well in combat. Other than that, they provided a lot of entertainment and I had a blast reading them.
Ceony as a character has developed so much. Not only her paper folding skills, but her characteristics. She used to be so upset over the fact that she wasn't a smelter and was a bit shy. Now she is facing her own problems and taking charge of the situation.
All in all, this book was a great read with action, a little humor, and more of Ceony's glorious cooking!
Because we can never go a whole review without exploding with excitement of a certain part. One of the things I loved about this was the ending. Like I said in the non spoilers we see that Saraj is in jail and Garth (Is that how you spell it?) is dead. I read the synopsis for the third book and holy crap it seems like such a fun read. Saraj has a escaped from and jail and she has her secret element switching powers! She also now works under someone else in paper folding because Ceony and Emery were too meant to be.
Don't even get started with them. When Emery was leaving for his big fight I was thinking,"He is going to survive no problem." Like the author would kill off that much of an important character. Although you should probably never underestimate an author... When Ceony asked Emery to kiss her, I thought that she had really gone over the edge and there was no way he was going to do that. He did though! Oh, and he so enjoyed it. I bet you my the end of book three problems are gone and something good will happen to Ceony and Emery. Please, please, please, they should be together.
The ending fight with Deliah dying was so sad. I was so confused on what was happening and trying to stay along with the writing. It was so weird and scary how he just bounded himself to the blood. At one point I thought it was so creepy. Like he took Deliah's blood and just, made it into an element. Weird...the fact that Ceony can now change elements whenever she wants is a little scary as well.