---
The Boy Most Likely To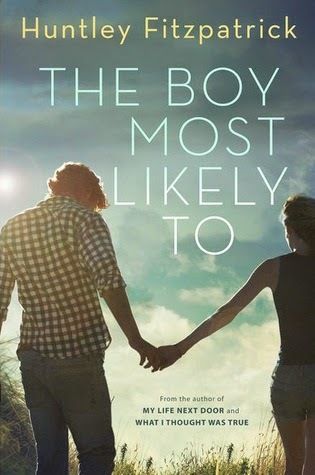 Author: Huntley Fitzpatrick
Pages: 416
Publishing by: Dial Books
Publishing on: August 18th 2015
A surprising, utterly romantic companion to My Life Next Door—great for fans of Sarah Dessen and Jenny Han. Tim Mason was The Boy Most Likely To find the liquor cabinet blindfolded, need a liver transplant, and drive his car into a house Alice Garrett was The Girl Most Likely To . . . well, not date her little brother's baggage-burdened best friend, for starters. For Tim, it wouldn't be smart to fall for Alice. For Alice, nothing could be scarier than falling for Tim. But Tim has never been known for making the smart choice, and Alice is starting to wonder if the "smart" choice is always the right one. When these two crash into each other, they crash hard. Then the unexpected consequences of Tim's wild days come back to shock him. He finds himself in a situation that isn't all it appears to be, that he never could have predicted . . . but maybe should have. And Alice is caught in the middle. Told in Tim's and Alice's distinctive, disarming, entirely compelling voices, this novel is for readers of The Spectacular Now, Nick and Norah's Infinite Playlist, and Paper Towns.
---
Why I Am Waiting...
C'mon, it's a spin-off of My Life Next Door. Okay, okay, so you may be thinking,"What is so good with My Life Next Door." You have to read it to understand. I am urging to read My Life Next Door so you can read this book.
Ahhhh I loved Tim in MLND! I am actually expecting him to be a pretty different person because he went through a bit in MLND. We saw a bit of Alice in MLND but not enough to truly know her and I'm excited to get to know her better. Also, I'm hoping so much that Jase and Sam will both have appear here and there in this book. That would be great! :D
So tell me: What are you Waiting for this Wednesday?