City Love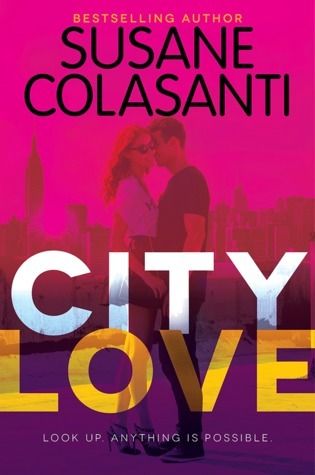 Author: Susane Colasanti
Pages: 336
Published by: HarperTeen
Published on: April 21 2015
Sadie, Darcy, and Rosanna are living together in New York City the summer before their freshman year of college begins. With no parents, no rules, and an entire city to explore, these three girls are on the verge of the best summer of their lives. Sadie is a native New Yorker. She is hopeful, romantic, and an eternal optimist who is ready to find her soul mate. Then she meets her dream boy: cute, funny, and quirky in all the right ways. The chemistry between them is unreal. Could he be the one? Darcy is a free spirit from SoCal with rebellious tendencies and unlimited financial resources. Moving to New York City is just another adventure for her. Darcy wants this summer to be all about boy adventures—nothing serious. But how much fun is too much? Rosanna leaves Chicago for NYC so she can put her past behind her and reinvent herself. The only thing standing in her way is the grand total of seventy-three cents she has saved. Then she meets a guy who wants to show her the glamorous side of New York—a side that she would never get to experience on her own. If Rosanna doesn't resist, she may find herself in city love. Told from alternating points of view, City Love captures the moments in each girl's life when everything is thrilling, amazing, and terrifying all at once . . . in a way it will never be again.
---
I have only read one book from Susane and I wasn't very impressed. I believe I gave that book a 4 stars but now that I think of it, I should have given it a 2.
City Love was kind of disappointing.
I loved the characters and how they were each different but
the plot didn't work out too well for me.
Let's just say
it was predictable
and
I wasn't able to pinpoint the climax in this book.
There are three main characters in this book: Darcy, Sadie, and Rosanna.
I loved reading from each of their perspective because they were each very different people.
Sadie is a believer in love at first sight and comes off to be someone who would love to travel. Darcy is a free-spirited read to have fun kind of gal. Rosanna is a very shy and private person due to her difficult past. Each of these girls has their own personality and it was so great to see how they each handled certain situations in their own way.
I don't relate to any girl as much as I hoped
and that is what brought some of the character rating down. I don't believe in "love at first sight" (Sadie), flings are not something I ever plan on doing (Darcy), and I just don't have that much of a horrible childhood (Rosanna). Do I wish I was able to connect with the characters more? Yes, I do but I found these characters very realistic and that is good enough for me.
Now for the tricky part of this book, the plot. As you can tell from above,
I found City Love predictable
. By page 100 I made a pretty clear prediction on what was going to happen to each girl.
2/3 of those predictions were correct
. It is really sad because I think one of my predictions was actually the climax of this book and because I was able to make the prediction,
the climax was just ruined for me
. I can't tell you how I was able to predict the climax but to me, GAH it was just so obvious.
The book did stay realistic though!
No one busted out wings and started flying across the state so that was good.
Since this book is the beginning of a trilogy, do I plan to read the next book? Yes, I do. The ending was actually really good. I want to find out to all three girls and her boy troubles, especially Darcy.
I'm kind of sad I didn't enjoy the book as much as I hoped. I gave this book three stars because the book was kind of predicting and I could not find the climax within the book.
I KNEW IT! I KNEW IT I KNEW IT. It was so obvious Austin was cheating someone like me was able to figure it out. When Sadie was asking him to stay over and he was hesitating I was jumping up and down point at the CHEATING sign on this forehead. So what lead to this glorious discover? Two things actually.
This guy, who we just met 3 days ago lives "alone" across the water.
Ahem, no realistic relationship goes as well as Sadie's did with Austin, hence the fact that he has been knowing her for like a day.
As I read more and more the prediction just became so damn obvious! Oh then, she get's the call from his wife and I am legit dancing because my prediction was so correct. Hah, not only was he cheating, HE HAD A WIFE!
Just a thought: Rosanna's past is tough. Being molested? Man, that's rough.
OOooooOOOooh the ending was so gooood. Despite the fact that the climax just fell, the ending was so great and I am so ready for book two now. I really hope Darcy stays with Jude and not Logan. Like, this jerk didn't even want to work it out because Darcy means that much to him. I hope Jude walks to Darcy's door, asks if she is ready, and they walk out together. Screw Logan, he can go back to his pool of regret. And I like Jude! *prays Darcy does not hurt him* One thing I really really hope though is that Rosanna will open up to Donovan (Okay, D is a name I refuse to call him.) and they can live happily ever after! Yeah, I really do like them together. At this point, I really don't care on what Sadie does. Go back to Austin, find another guy, take a break from boys; fine with me.