Books
Let's Talk!
Rainbow Rowell
Review
Romance
Let's Talk!: Eleanor and Park by Rainbow Rowell
5/04/2015
Eleanor and Park Author: Rainbow Rowell Pages: 336 Published by:  St. Martin's Griffin Published on: February 26th 2013 Two ...
Eleanor and Park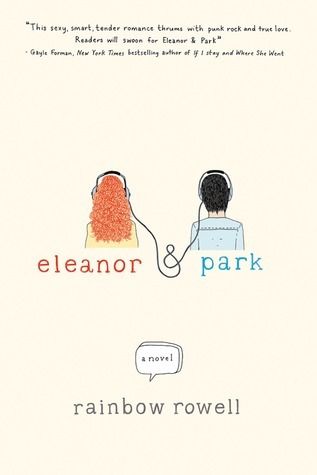 Author: Rainbow Rowell
Pages: 336
Published by: St. Martin's Griffin
Published on: February 26th 2013
Two misfits. One extraordinary love. Eleanor... Red hair, wrong clothes. Standing behind him until he turns his head. Lying beside him until he wakes up. Making everyone else seem drabber and flatter and never good enough...Eleanor. Park... He knows she'll love a song before he plays it for her. He laughs at her jokes before she ever gets to the punch line. There's a place on his chest, just below his throat, that makes her want to keep promises...Park. Set over the course of one school year, this is the story of two star-crossed sixteen-year-olds—smart enough to know that first love almost never lasts, but brave and desperate enough to try.
---
Ahhh, where do I begin with this book? Well,
it totally ercked the feels, was a really cute story, and I just love love love it.
I have never read anything from Rainbow and now I know, I must hurry up and get to the rest of her books. (Just Fangirl...I think)
Eleanor is shy
. Let's just start it at that. She has had a pretty rough life being that her mom is under the control of her very cruel step dad. Which, may I mention, is someone I hate with all my guts. He is a butthole, let's just keep it at that. Eleanor is someone you wouldn't expect to come out this family.
She is a very delicate person and I think tends to over think things sometimes.
She kind of
isn't very confident
as well. Reading from her,
Eleanor's life was pretty much an unhappy atmosphere
and I think that's
where she got her unconfident, its-okay-if-you-hate-me personality.
Park, on the other hand is a bit different. He is
shy and doesn't have a lot of friends.
Well, he knows people and people know him but he doesn't have any best friends. I think
the fact that they were both basically friendless people helped Eleanor and Park get along better.
Park has come from a lot better of a family compared to Eleanor. His parents are both Korean and Caucasian (They are the kind of parents to (still) shamelessly make out. Like, how rare is that?! I have never encountered parents that still treat each other like boyfriend and girlfriend. It's the most beautiful thing ever.) and they aren't as jacked up as Eleanor's family.
Now onto the plot, so as you can guess, Eleanor and Park get together.
It's one of those reads; the ones where the ending of the book is clear as water, yet you read it for the meat in the middle.
I loved the stuff that went on in the middle of the book.
Ahhh, it was so cute. From the parts where they were getting to know each other, to finally dating, then going through bad times, it was a glorious adventure.
When people say this is a beautiful story, it truly is.
I love the writing, dual perspective, and just how these two very different people were able to find happiness within each other.
Also, the fact that this book was set in the 1980's was cool. Instead of iTunes, they used battery powered music players. There were very small aspects that made this book 1980's setting and I loved the time period this book was set in.
I gave this book 4.5 stars because it was just a beautiful book. I loved the characters and plot, but it was a bit slow for me in the first 50 pages though.
GAH! The ending was so devastating. She would never get her happy ending with Park and it was all because of her stepdad's fault. *cries* This isn't fair! I hate how they barely stayed in contact after Eleanor left. They just wrote letters, THEY DON'T DESERVE TO BE WRITING LETTERS. IT SHOULD BE SKYPE CALLS. (Even if that didn't exist at that time...) I was dreading the time where Park would have to leave Eleanor because I just knew they wouldn't stay in contact, no matter how hard they tried. Long distance relationships just didn't work out back then... I just need more pages to know that both Eleanor and Park get are happy and maybe go to prom together.