Adi Alsaid
Blog Tour
Books
Harlequin Teen
Let's Talk!
Review
Blog Tour: Never Always Sometimes by Adi Alsaid (Favorite Quotes and Giveaway)
8/04/2015
Hello everyone! Today I am here with a very exciting post, the Never Always Sometimes blog tour! If you don't know, Adi Alsaid's s...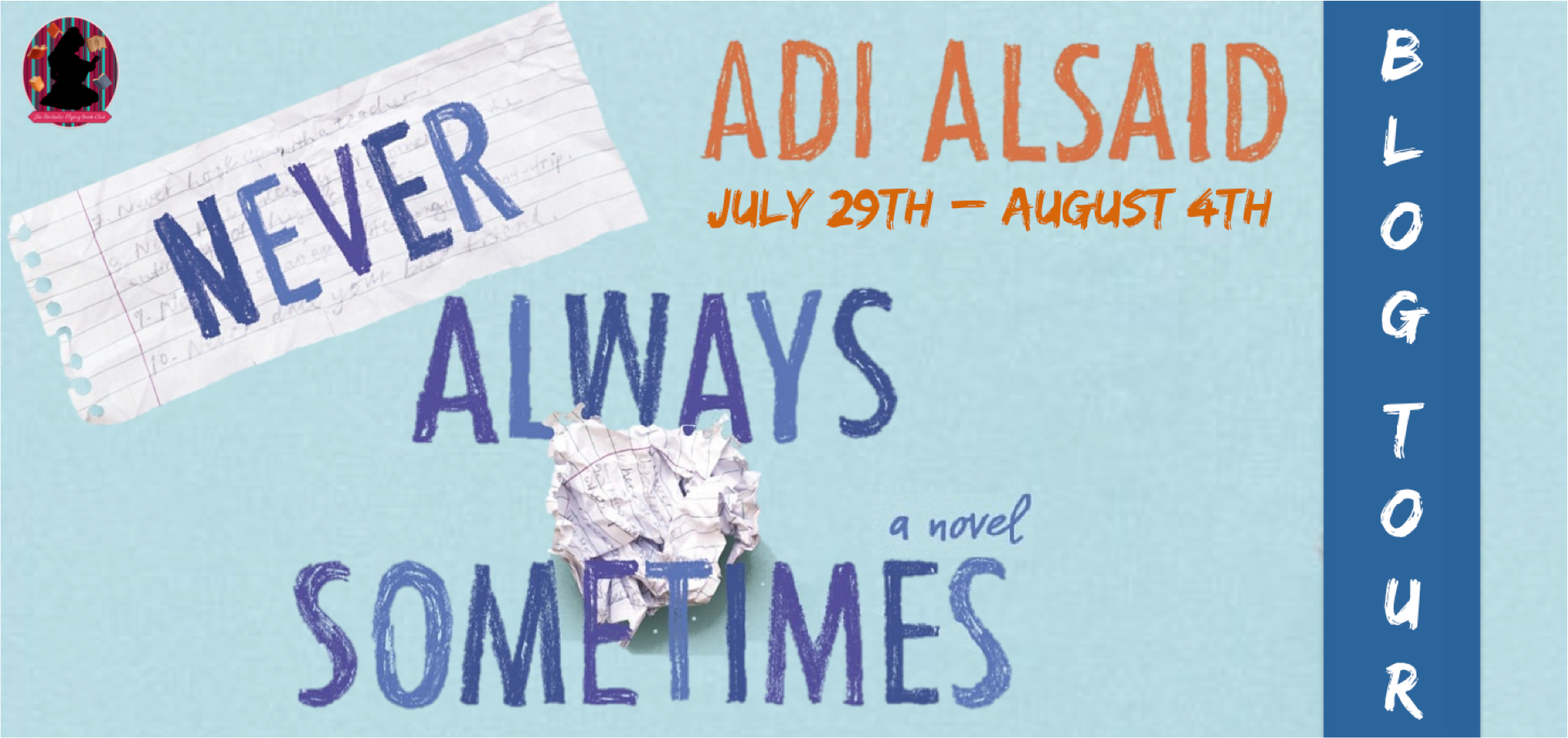 Hello everyone! Today I am here with a very exciting post, the Never Always Sometimes blog tour! If you don't know, Adi Alsaid's second book, Never Always Sometimes, comes out today! I am here today with a review, some quotes, and a giveaway! Hope you guys enjoy and make sure you check out the
rest of the tour.
:) This tour is hosted by the
FFBC
.
---
Never Always Sometimes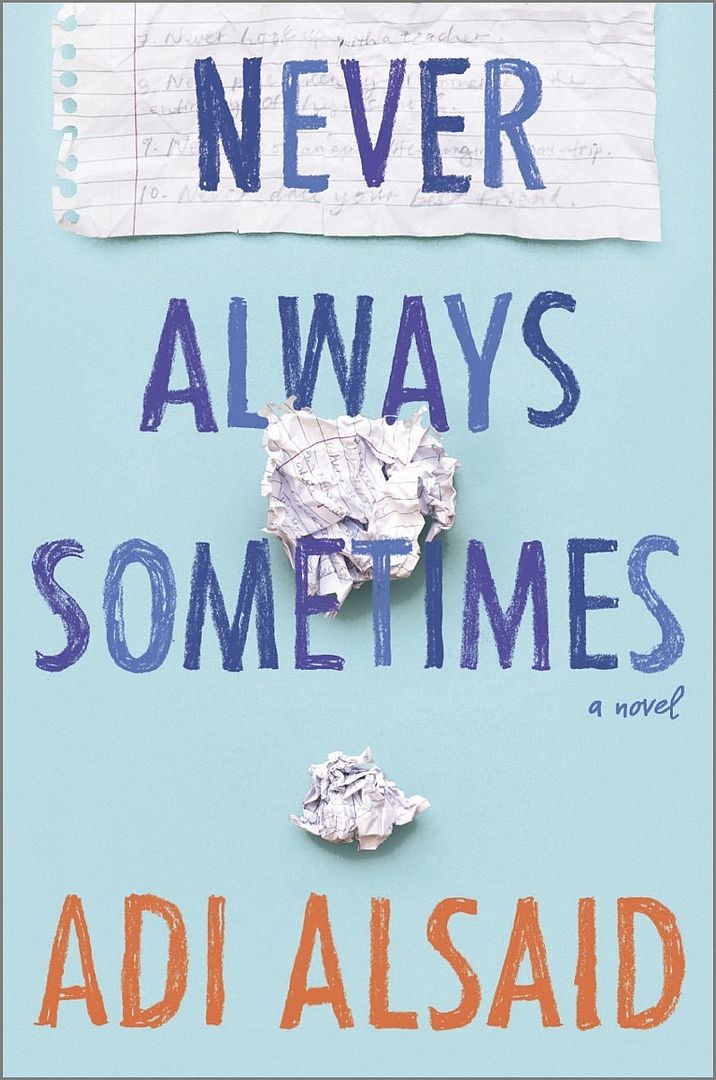 Author: Adi Alsaid
Pages: 320
Published by: Harlequin Teen
Published on: August 4th 2015
|
Amazon
|
Barnes and Noble
|
iBooks
|
Kobo
|
Book Depository
|
Never date your best friend. Always be original. Sometimes rules are meant to be broken. Best friends Dave and Julia were determined to never be cliché high school kids—the ones who sit at the same lunch table every day, dissecting the drama from homeroom and plotting their campaigns for prom king and queen. They even wrote their own Never List of everything they vowed they'd never, ever do in high school. Some of the rules have been easy to follow, like #5, never die your hair a color of the rainbow, or #7, never hook up with a teacher. But Dave has a secret: he's broken rule #8, never pine silently after someone for the entirety of high school. It's either that or break rule #10, never date your best friend. Dave has loved Julia for as long as he can remember. Julia is beautiful, wild and impetuous. So when she suggests they do every Never on the list, Dave is happy to play along. He even dyes his hair an unfortunate shade of green. It starts as a joke, but then a funny thing happens: Dave and Julia discover that by skipping the clichés, they've actually been missing out on high school. And maybe even on love.
---
Well, Adi has done it again. This book was a such a fun, funny, adventurous, and such a unique read. I really loved the plot, the characters, and the writing. Adi always does a great job when writing multi-perspective books; both Let's Get Lost and Never Always Sometimes showed that. Both Dave and Julia had their own voice and they both sounded like two very different people. I didn't get confused on who I was reading on and I am not surprised Adi made that happen. If you like contemporaries, definitely check this book out!
The two main characters-Dave and Julia-were pretty different people. Dave is more of an introverted person where Julia is not. Julia is care free; she likes to seize the (Tues)day. They both are such funny, sarcastic, and work really well as friends I really enjoyed reading from each of their perspectives. Unfortunately, I did have some tiny problems with Dave and how just careless he was in a situation. Other than that, I really did like these characters. It was interesting to see how both Dave and Julia reacted and their thoughts on crossing off everything on their Nevers list. I also loved reading about the character development both Dave and Julia went through. In the beginning of the book, they were both in their little world and by the end of the book, they have both gone through so much and learned so many things about people.
"Love was people creating memories of each other.." -Adi Alsaid, Never Always Sometimes
Based on the synopsis, I could already tell this book was going to have a very interesting plot and concept. Two best friends, breaking the promise of never doing any of the cliche on their "Nevers" list; this sounds like a great story so far. Then we have all this emotional turmoil with Dave liking Julia and gah! It all made for such a great story. It was all such fun, light, and a great read about friendship, drama, and just life. The ending was also such a surprise for me but I am glad it ended that way. It was just the most uncliche thing and that goes so well with this book since it is about being cliche.
"But certain lines felt like they were thoughts I'd had my whole life that just hadn't taken shape yet until I read them." -Adi Alsaid, Never Always Sometimes
I gave this book 4.5 because I really enjoyed the plot, characters, writing, and duo perspective. However, I did have a small issue with one of the characters.
The ending! I think I was pretty much jumping up and down because it was such a great ending. Julia and Dave have found out they are better off as friends and I have never read a best-friends-fall-in-love-story with that kind of ending so this book very much excited me. I am glad both Dave and Julia ended up happy despite not getting what they wanted.
The things that really bugged me about Dave was how easily he cheated on Gretchen. I thought the moment he started dating Gretchen and getting serious with her, he would get over Julia. Then he and Julia take the road trip and I was so surprised of how he cheating on Gretchen so easily! No hesitation, no second thoughts. I am just so against cheating that Dave doing this little action very much ticked me off.
---
Adi Alsaid
Adi Alsaid was born and raised in Mexico City, then studied at the University of Nevada, Las Vegas. While in class, he mostly read fiction and continuously failed to fill out crossword puzzles, so it's no surprise that after graduating, he did not go into business world but rather packed up his apartment into his car and escaped to the California coastline to become a writer. He's now back in his hometown, where he writes, coaches high school and elementary basketball, and has perfected the art of making every dish he eats or cooks as spicy as possible. In addition to Mexico, he's lived in Tel Aviv, Las Vegas, and Monterey, California. A tingly feeling in his feet tells him more places will eventually be added to the list. Let's Get Lost is his YA debut.
---