Books
Let's Talk!
Review
Let's Talk!: The Boy Most Likely To by Huntley Fitzpatrick
9/24/2015
The Boy Most Likely To Author: Huntley Fitzpatrick Pages: 416 Publishing by: Dial Books Publishing on: August 18th 2015 A surprising...
The Boy Most Likely To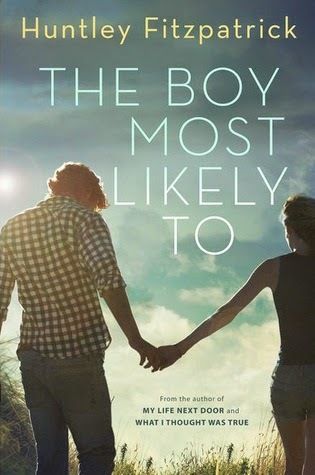 Author: Huntley Fitzpatrick
Pages: 416
Publishing by: Dial Books
Publishing on: August 18th 2015
A surprising, utterly romantic companion to My Life Next Door—great for fans of Sarah Dessen and Jenny Han. Tim Mason was The Boy Most Likely To find the liquor cabinet blindfolded, need a liver transplant, and drive his car into a house Alice Garrett was The Girl Most Likely To . . . well, not date her little brother's baggage-burdened best friend, for starters. For Tim, it wouldn't be smart to fall for Alice. For Alice, nothing could be scarier than falling for Tim. But Tim has never been known for making the smart choice, and Alice is starting to wonder if the "smart" choice is always the right one. When these two crash into each other, they crash hard. Then the unexpected consequences of Tim's wild days come back to shock him. He finds himself in a situation that isn't all it appears to be, that he never could have predicted . . . but maybe should have. And Alice is caught in the middle. Told in Tim's and Alice's distinctive, disarming, entirely compelling voices, this novel is for readers of The Spectacular Now, Nick and Norah's Infinite Playlist, and Paper Towns.
---
Do you even know how long I have been waiting for something like this?!!??! Ever since I finished My Life Next Door I have been dying with the need for a sequel! Did I get a sequel? No! I did get a spin off novel though so it's just as good? I really
loved reading about Tim and Alice and getting to see characters from My Life Next Door and meeting new ones!
What I will always love about Huntley's book is how
they're not really all about by the relationship
but on the struggles the character has to go through in order to be happy in their relationship.
The Boy Most Likely To is such an
emotional, adorable, and surprising story about Tim and how he gets his life together.
I
love the character development
he goes through and I loved reading more about Alice.
One thing I must mention before really getting into this review,
if you're looking for a sequel to Sam and Jase's story, this book will not do it for you.
They do make appearances but the amount of cuteness it has from them is very little. /end
I really enjoyed reading from both Tim and Alice. I wait for the day Huntley writes about characters I don't enjoy. (Even if I thought What I Thought Was True wasn't the best, I loved Cass and Gwen) The book begins with Tim and he is trying to get his life together. He just quit his really good job and his dad is telling him to get his shit together! As I read more of the book, not only did
I get to know more about Tim
but
he goes through a realization of a few things and learns a few life lessons and that really affects his character
. I love how at times
Tim can seem like this constantly stoned guy but can be thing squishy teddy bear the next day
and I just love it.
I really enjoyed reading about Alice too! She doesn't have as huge as a plot as Tim but it is still a very enjoyable part of the book to read. She is still
dealing with the incidents that happened in My Life Next Door and I really saw the "leader" side of Alice.
She is a
true role model when it comes to being an older sister
and taking charge and I love that part of her character. She also has such a
sassy character and when you combine that with Tim's sassiness,
*yes gif*
I loved the plot. It was
able to tell Alice and Tim's story but their individual stories as well.
What really kept me reading was how there were always so many
unexpected changes
going on in this book. Whether that's with either Tim or Alice's situations, they all really
kept me on my toes.
I also want to talk about this more: This book wasn't surrounded about Tim and Alice's relationship. Yes it does play a huge part in getting the other person through their tough times and being a good friend but I loved how
Huntley introduced and told Tim and Alice's story before really combining them and putting them in a relationship.
Tim had already showed interest in her but they were never really dating; they were friends. I knew it was going to happen but who reads a romance book just to confirm their theory on whether the two people in the synopsis get together? (If you do, I don't judge you or anything) It was all for the adventure and story on how they got together and I really enjoyed reading that story.
If Huntley ever decides to write another book, I either want it to be a sequel to Sam and Jase's story, a sequel to this book, a spin-off novel about Nan, maybe a spin-off of Vivien's story from What I Thought Was True? She could honestly write so many spin offs and sequels because there are so many characters to base off.
I gave this book 5 stars because I loved the plot, characters, and just the whole book in general.
One of my favorite things about this book has to be the baby Tim had taken care of. It really caused a lot of his change and I kind of felt bad for him knowing that he had been used and kind of cheated off. He got so attached to Calvin to the point where there was no way he was giving him up for adoption. I'm really glad that even though he has been adopted, maybe Tim can still see Calvin at times? (I really dislike Hester for what she did. You can't tell someone that they have a child without being 500% sure!)
Just a thought: Grace continues to frustrate me in these books and I wonder when she will stop being the bad guy to Alice and the Garrett family.