Books
Let's Talk!
Review
Let's Talk!: Queen of Shadows by Sarah J Maas
12/24/2015
Queen of Shadows Author: Sarah J Maas Pages: 648 Publisher: Bloomsbury USA Childrens Release Date: September 1st 2015 The queen ...
Queen of Shadows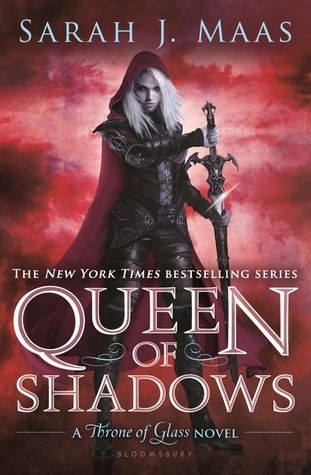 Author: Sarah J Maas
Pages: 648
Publisher: Bloomsbury USA Childrens
Release Date: September 1st 2015
The queen has returned. Everyone Celaena Sardothien loves has been taken from her. But she's at last returned to the empire—for vengeance, to rescue her once-glorious kingdom, and to confront the shadows of her past… She has embraced her identity as Aelin Galathynius, Queen of Terrasen. But before she can reclaim her throne, she must fight. She will fight for her cousin, a warrior prepared to die for her. She will fight for her friend, a young man trapped in an unspeakable prison. And she will fight for her people, enslaved to a brutal king and awaiting their lost queen's triumphant return. The fourth volume in the New York Times bestselling series continues Celaena's epic journey and builds to a passionate, agonizing crescendo that might just shatter her world.
---
I don't even know where to begin with this review. Queen of Shadows was such a great read oh my lord, definitely a favorite next to Crown of Midnight. It was so awesome seeing old characters, new characters, and being in situations we have never been in before within this series. I loved all the action that took place and how suspenseful this book was. The plot was so addicting; Queen of Shadows was so hard to put down. Another great installment to this great series and I am excited to see what the rest of this series has in store.
Because of the events that had taken place in Heir of Fire, Aelin is definitely now a different person. She is no longer in denial on who she is and really takes her position to do what she has been trying to do ever since Crown of Midnight. I love the character development that has come from Aelin throughout these past 4 books. She has definitely become more mature and her personality has changed compared to the past books (Especially Assassin's Blade) but she also has become more of a fighter not that she wasn't already. She knows what she is doing, who she is going up against, and also has experience on who to trust and not to trust. She has become smarter in her decisions and more clever in her schemes. Aelin has grown from Celaena and I am so excited to see follow her for the next two books (before this series ends *cries*)
Queen of Shadows definitely brought back and had more of the older characters, whether they had just been introduced in the last book or we have seen them in the series since book 1. But Queen of Shadows also had a few blasts from the past and brought back characters where when I read their name, I sat there for a moment asking myself "Who is the person and why don't I remember them." Nevertheless, I loved reading about all these characters and seeing the ways they contributed to the plot.
Like I said before, this plot was really addicting. There was always one objective throughout this book and along the way, there were so many great twists and turns, it always kept you reading and never let you put the book down. New information being found out, tragic events happening, there was always stuff going on and things to go wrong and it was always so exciting to read. The ending was something I loved to read as well. It was exciting, scary, and jaw dropping the whole entire them. It left us with clues on the happenings of the next book and answered some of the questions I had since Throne of Glass. It was a great ending, reflecting on all the events in Queen of Shadows and may have left me with a little of the feels, but was a satisfying one.
I gave this book 5 stars because it was a fire breathing bitch queen itself.
There is so much to talk about here in this spoiler section, I have a whole list right here and I am interested to see how long this section is going to be by the time I'm done. First off, this ending left me with so many feels. I mean it's been so long since one of these books ends where everything was happy and turned out okay. Aelin has Dorian back, the king is dead, freaking Rowan and her act like a married couple (more on them below) and I honestly just cannot with this series and my excitement. So excited for Elide to meet and find Aelin, so excited to read more on Manon, and I am excited to see how the Perrington situation will play out. The ending was beautiful and I loved it.
The ending battle was so epic but confusing at the same time. With magic being freed and believing- for a moment- that Chaol might have actually been dead, and Dorian breaking from the Valg within him, it was all so epic and there was so much going on.
Aelin and Dorian linking their magic stuff and basically destroying the Glass Castle, it was all so epic and I was in half confusion on what the crap was happening and half excitement because I may have been confused, but Dorian was going to be freed from the demon within him.
Speaking of Elide, I am super excited to read about what impact she will have on this far. She is a firm supporter of Aelin and there is definitely more to her story than what has been said so far, which is another thing I am looking forward to reading about, Elide's history and background. I was also really surprised to see Kaltain as well. I know we got a few glimpses of her in Heir of Fire but we actually got to hear her speak and see what the hell had really happened to her after Crown of Midnight and when they took her away.
Another thing I am excited about is….you guessed it. Rowaelin. I'm sorry but these two are the cutest cupcakes ever, and they are definitely not cupcakes. They acted like a couple for so long but just were in denial about it for a while. Nevertheless, I am glad that they're together and cannot wait for more cute Rowaelin moments because I really cannot get enough of them. Rowan is still hung up and not over his past lover and in denial to the fact that Aelin actually liked him. I love how Aelin has that "Shut up you idiot, I wanna be with you and you can't tell me otherwise" response everytime Rowan tells her he doesn't deserve him. It's just so cute because she wants to be with Rowan, despite what he has done and been through. Super excited to get more Rowaelin cuteness and
Two older characters that showed up in this book were Lysandra and Arobynn. I don't know if Arobynn has ever been in these books other than Assassin's Blade but it was interesting to see his interactions with Aelin. And also Lysandra! I was so confused when I first read her name because I totally had forgotten who she was, but I'm glad her and Aelin became friends because I am really looking forward to seeing her shape shifting skills coming into action. The ghost leopard was already scary enough, I can't image what were to happen if there was anything worse. Lysandra has definitely became a bit of a fighter herself within the time gap between Assassin's Blade and now. I mean she freaking killed Arobynn and let him choke on his blood while he slowly died. The deed was finally done and Arobynn is finally dead. He was definitely caused some trouble in this book. Putting the ring on Aelin (Which had scared the crap out of me but then I laughed because holy fudge Aelin was smart enough to prepare for the worst, which Arobynn had done) and when Aelin had switched Arobynn's wills. Applause to Aelin for preparing and outsmarting him.
One more final thought: Rowan wearing Arobynn's oils he had sent for Aelin to wear? Savage. So. Savage.