Books
Let's Talk!
Review
Let's Talk!: The Rose Society by Marie Lu
12/10/2015
The Rose Society Author: Marie Lu Pages: 395 Publisher: G.P. Putnam's Sons Books for Young Readers Release Date: October 13th 20...
The Rose Society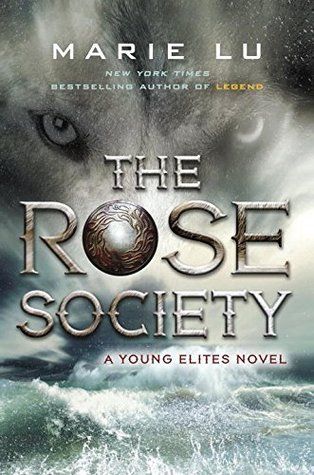 Author: Marie Lu
Pages: 395
Publisher: G.P. Putnam's Sons Books for Young Readers
Release Date: October 13th 2015
Once upon a time, a girl had a father, a prince, a society of friends. Then they betrayed her, and she destroyed them all. Adelina Amouteru's heart has suffered at the hands of both family and friends, turning her down the bitter path of revenge. Now known and feared as the White Wolf, she and her sister flee Kenettra to find other Young Elites in the hopes of building her own army of allies. Her goal: to strike down the Inquisition Axis, the white-cloaked soldiers who nearly killed her. But Adelina is no heroine. Her powers, fed only by fear and hate, have started to grow beyond her control. She does not trust her newfound Elite friends. Teren Santoro, leader of the Inquisition, wants her dead. And her former friends, Raffaele and the Dagger Society, want to stop her thirst for vengeance. Adelina struggles to cling to the good within her. But how can someone be good, when her very existence depends on darkness?
---
So, the Young Elites is a series I thoroughly enjoy. I love the plot, the characters, and the world is fabulous! The Young Elites ending left me clawing for more of this story and
I am so glad I finally The Rose Society.
I actually forgot a good amount of what had happened in The Young Elites but I am so
happy to be back with these characters and in this world!
This book was
exciting, suspenseful, and all around a great read.
Adelina has been through a lot within these two books and by now I am pretty sure you have heard people refer to Adelina as the "villain" which is something that is pretty agreeable. I mean being in her head throughout this book was definitely weird because she is the main character and it's not every day the protagonist of a book is the villain. Like every villain, she has a reason for her doing and it is definitely a reason I don't agree with. If Adelina were the "good guy" of this series, this would definitely affect my enjoyment in this book but Adelina is the villain! I'm not supposed to agree with her motives! That's what I love so much about this series, even if Adelina is sometimes the most evil thing ever, I still can find to like her. It was also really nice to see her more of a villain of this book. Was really excited to be reading more of the new and old characters. We get to meet new ones, learn more about them, but it was also great to read about the older ones and see them again. Brings me back to the days where everything wasn't so complicated...
This plot really began to set up where Marie was going to finally take with the rest of the trilogy. I mean, The Young Elites was only an introduction to Adelina's background, the world, and what really causes her to do what she does. The Rose Society gives you an idea about where Adelina is headed with her friends and what might happen next. I enjoyed reading the Rose Society because it was definitely a change compared to the Young Elites. There is a shift in alliance and things have happened. There were so many things going on at one time, it kept me on my feet and I loved the twists and turns and surprises that Marie incorporated into the storyline.
The ending is something I am still trying to process. It was definitely...surprising. I am interested and looking forward to reading about the consequences Adelina will have to go through after this event because it definitely was a debatable one. But nevertheless, I have to say it was very Adelina-like. Super excited to get into the next book.
I gave this book 5 stars because I just thoroughly enjoyed it. Characters, plot, more world development? Loved loved loved it.
This ending was definitely a dark one. I really didn't expect Adelina to lash out to Violetta like that and I am really interested to see where her actions will take her in the next book. My guess? Violetta won't be coming back and maybe going to Raffaele and helping them out with taking back the throne? I don't know maybe she will stay with Adelina? Really looking forward to what will happen between Adelina and Violetta. (Also, is anyone getting the vibe at Adelina won't live in the end? Just me? Yeah?)
I loved the three way war thing worked out and that's really impressive because of the fact that with the perspectives always switching, it could have easily gotten hectic and made it like there was a lot going on. Marie did a great job managing all these perspectives and made this three way war super enjoyable to read.
Super excited to see how what happens with Magiano and the other Roses. We did get to see maybe a potential relationship between Magiano and Adelina but I really don't know if it happens. With Enzo with the Daggers now and Adelina in a questionable state of mind, I am looking forward to seeing how she will handle a situation.
Actual thought when I was reading this book though: Getting in a fight with Violette and Magiano is immediate death. Someone who can take away your power and someone who can imitate it? Two very awesome powers that can come into great use when fighting. Combine them?
Also, one more thing! Super excited to read more of Terren because of he had done to Guilietta. I mean, he killed his love and I would not be surprised if Terren went out to get revenge on Adelina. What Adelina did to him in killing Guilietta was super dark though. Manipulating him to think that she was his enemy?
Dark Adelina...very dark...maybe a bit too dark?