Books
Let's Talk!
Review
A Quick, Summery Read; With Some LGBT Characters! // Thoughts on Nina LaCour's Everything Leads to You
5/31/2016
Everything Leads to You Author: Nina LaCour Page: 312 Publisher: Dutton Books for Young Readers Release Date: May 15th 2014 A love letter t...
Everything Leads to You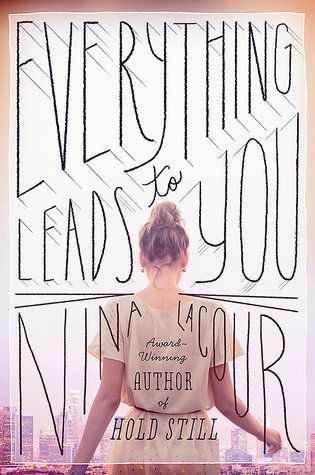 Author: Nina LaCour
Page: 312
Publisher: Dutton Books for Young Readers
Release Date: May 15th 2014
A love letter to the craft and romance of film and fate in front of—and behind—the camera from the award-winning author of Hold Still. A wunderkind young set designer, Emi has already started to find her way in the competitive Hollywood film world. Emi is a film buff and a true romantic, but her real-life relationships are a mess. She has desperately gone back to the same girl too many times to mention. But then a mysterious letter from a silver screen legend leads Emi to Ava. Ava is unlike anyone Emi has ever met. She has a tumultuous, not-so-glamorous past, and lives an unconventional life. She's enigmatic…. She's beautiful. And she is about to expand Emi's understanding of family, acceptance, and true romance.


Everything Leads to You has been a book on my TBR for basically ages. I have heard such great things about it, it was classified under LGBT, and I thought the cover was gorgeous. So when I finally picked this up, I really did not know what to expect. I had read the synopsis so many times but it wasn't the most descriptive on what to expect for the rest of the book. It only really does talk about the first 30 pages of what happens in the book. Everything Leads to You did end up being a lot different than what I expected. In the end though, I actually really enjoyed it and am really glad I finally picked it up, despite the fact that it took so long for me to finally finish. If you're looking for a quick, light contemporary, definitely look into Everything Leads to You.
There were some pretty interesting parts of this book, one being the characters. There are a good amount of characters in the book and they each bring something special to the book. Each character was different from each other and getting confused between characters didn't even happen, which saved me a lot of trouble. What I also love about this book was the fact that the main character was a lesbian. I rarely read LGBT books, and that is something I have got to change but I liked reading a book about a girl having history with other girls and I especially liked how normal it felt. The author never made a big deal about the fact that her main character likes the same gender as herself, she writes about it as if the main character was any other main character (because she is) and in my opinion, that is how I would love LGBT books to handled. Normally and casual, as if the LGBT thing was just as accepted as being straight.
The plot also provided such an interesting read. I really loved the flow of events and how there were so many things happening in Emi's life but nothing felt rushed or the flow events never got too messy. It also never got boring. The things going down in Em's life were things I was really interested in reading about and I enjoyed reading about them.
The ending of this book was also really well written. It tied up this chapter of Em's life and even though the book talks about the ending of one part of Em's life, it also includes a little bit of a new part of Em's life, leaving me feeling satisfied with how this book ended and also, open to a sequel to this book.
The one final thing I want to talk about is how interesting it was to read about Emi's job. Most YA books don't include characters having jobs and if they do, it most likely isn't included in the book too much because it's really irrelevant to the plot but I actually enjoyed reading about Emi's job in this book. Not only was it pretty relavent to the plot, it was also a really fun job to read about. She is a set designer for movies so it was really awesome to get to read about her finding furniture and pieces for a set because it's not a job I've read about before and it was just fun to imagine a set that Emi had created.