Books
Promo
Review
Honestly, I Think This Book Got Me Out of This Reading Slump // Thoughts on Ivory and Bone by Julie Eshbaugh
6/05/2016
Hey everyone, welcome to my blog tour stop for Julie Eshbaugh's Ivory and Bone! Today, I have a review of this fabulous book to hopefull...
Hey everyone, welcome to my blog tour stop for Julie Eshbaugh's Ivory and Bone! Today, I have a review of this fabulous book to hopefully further convince you to read this book because I actually really enjoyed it. Make sure you also enter the giveaway at the end of this post and pre-order because it is definitely still not too late for that and you
get a gift
if you show proof that your pre-ordered to Julie! Thanks for reading, I hope you enjoy my review, and do make sure to check out the
rest of the tour
!


Ivory and Bone
Author: Julie Eshbaugh
Pages: 384
Publisher: HarperTeen
Release Date: June 7th 2016
|
Amazon
|
Barnes and Noble
|
Book Depository
|
iBooks
|
Kobo
|
A prehistoric fantasy—with allusions to Pride and Prejudice. Hunting, gathering, and keeping his family safe—that's the life seventeen-year-old Kol knows. Then bold, enigmatic Mya arrives from the south with her family, and Kol is captivated. He wants her to like and trust him, but any hopes of impressing her are ruined when he makes a careless—and nearly grave—mistake. However, there's something more to Mya's cool disdain…a history wrought with loss that comes to light when another clan arrives. With them is Lo, an enemy from Mya's past who Mya swears has ulterior motives. As Kol gets to know Lo, tensions between Mya and Lo escalate until violence erupts. Faced with shattering losses, Kol is forced to question every person he's trusted. One thing is for sure: this was a war that Mya or Lo—Kol doesn't know which—had been planning all along.


I got an eARC of this book from the publisher in exchange for an honest review, none of my thoughts have been altered by this.
Let me just start with this, I think Ivory and Bone is the book to get me out of this stupid reading slump (just in time too because summer is coming soon and I would hate to have all the time but no books read within that time...). I could make you a whole list on why I love this book so much. The time period and world this book took place in was so different to any other books I've read before and it was quite addicting to read about because of how different and new it was to me. The characters in this book were so awesome and I especially loved the plot and event flow of this book. And the writing! In short, if you're looking for a book with some awesome action, a little drama, and a story that takes place in a really interesting world, definitely try for Ivory and Bone.
Before I start talking about what I usually talk about in a review, I want to acknowledge two things that really amazed me in this book. As you can tell from the above paragraph, you probably already know by now that I loved the world and setting this book took place in. I also really loved the writing and the way this story was told.
"That's when I know. I know we will survive. I know that we will move and there will be fierce, hard, and startling changes. I will feel lost. But I won't be lost. We will be together. And together, we'll find ourselves again."

- Julie Eshbaugh, Ivory and Bone
The world of this story kind of takes place definitely around the time when America was still a mysterious piece of land. Therefore, there are more trees, buffalo, and mammoths in this story. Also, people hunt with spears, not guns. They didn't eat off plates or sleep on mattresses, which was definitely very different to me because most books you read have pretty modern technologies. Ivory and Bone didn't have any of our modern technologies, so this was so new to me about because normally books have some type of modern technology in it and it was really interesting to about what it's like to not have a toilet or shower every day. The clothes that was described in this book was also so interesting, because like I mentioned, modern technologies didn't exist so everything worked a lot differently. There were just so many details in Ivory and Bone that differed from most books and that made the book a lot more enjoyable to read because I got to read about what it may have been like to live during the time of the Native Americans.
Another thing that especially popped out at me when I read this book was how Julie writes and tells Kol and Mya's story. Within the first few pages I read, I immediately noticed the different style used to narrate. It took a little while to get used to because the book was narrated in a way that it as like a character was talking to another character, so instead of saying the person's name, it would be told as "you." That was weird because eventually, I started forgetting the name of the person the story was being told to because of how little their name was used in the story. But then there is a moment where it goes from telling the story like you were telling the story to someone to just the tradition first person narration. "You" is no longer used and that bummed me a little because I really enjoyed the way Julie was telling the story but I knew it had to happen because it made sense with how the book started and how it was going to end.
"I cannot go into the past. I cannot stop change. Change is coming. But...I realize, for the first time...that the future may hold some good."


- Julie Eshbaugh, Ivory and Bone
There were definitely some very interesting characters in this book, and I will admit, it did get hard to keep up with all the characters, partially because all the characters in this book had unique names. I loved getting to read about the personality change that went on in different characters because of another character o becaruse of something that had happened. Some of them were kind of annoying, some of them did surprise me a little bit but I generally really enjoyed reading about the characters in this story.
One final thing I want to mention before ending this review, I loved how I was able to find a connection between the title of this book to a part or a reference in this story. I feel like books rarely have titles that are a direct reference to a detail in the book so the fact that Julie was able to do that with her title was awesome and gave me a little "Ooooooh" moment when finding that correspondence.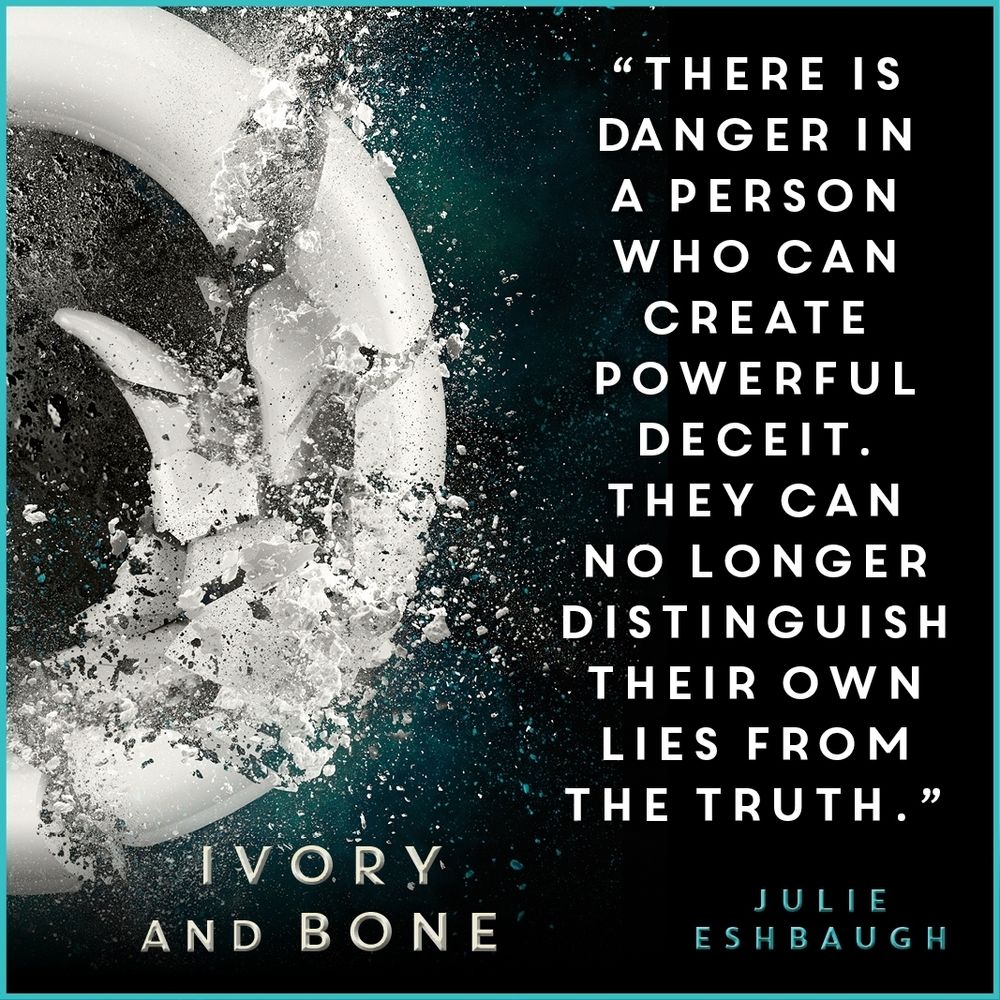 Julie Eshbaugh
Julie Eshbaugh is the author of the upcoming Ivory and Bone (HarperCollins, 2016). She used to have trouble staying in one spot, having lived in places as varied as Utah, France, and New York City. Julie eventually returned home to the Philadelphia area, where she now lives with her husband, son, cat and dog. Her favorite moments are when the unexpected happens and she cheers loudest when the pitcher gets a hit.