Books
Review
Summer is Among Us! You'll Want this Read in Your Beach Bag // Thoughts on The Unexpected Everything by Morgan Matson
6/23/2016
The Unexpected Everything Author: Morgan Matson Pages: 519 Publisher: Simon & Schuster Books for Young Readers Release Date: Ma...
The Unexpected Everything
Author: Morgan Matson
Pages: 519
Publisher: Simon & Schuster Books for Young Readers
Release Date: May 3rd 2016
Andie had it all planned out. When you are a politician's daughter who's pretty much raised yourself, you learn everything can be planned or spun, or both. Especially your future. Important internship? Check. Amazing friends? Check. Guys? Check (as long as we're talking no more than three weeks). But that was before the scandal. Before having to be in the same house with her dad. Before walking an insane number of dogs. That was before Clark and those few months that might change her whole life. Because here's the thing—if everything's planned out, you can never find the unexpected. And where's the fun in that?
Ever since Morgan first talked about her new book around this time last year, I was basically dying to read it. I mean, who isn't dying to read another Morgan Matson book. Her books always have such awesome plots, I love the characters she writes about, each book gets better and better, and there is ALWAYS a cute boy. The Unexpected Everything definitely did not disappoint, (which is expected) and I really enjoyed reading it. This is your next beach bag read people!
The reason why I always love these Morgan Matson reads is because of how addicting they are. Her books always have such awesome plots, I love the characters she writes about, and each book gets better and better. The Unexpected Everything differs from her other books because to me, there wasn't a clear ending point of this book, which isn't good or bad. With her other books, I knew generally where the book was going to end. Not having an obvious ending point in the book kind of made me a little more addicted to this book because I never knew what was going to happen next and I really wanted to know what was going to happen next. Most of the events in this book was....unexpected. ;)
Morgan mentioned that this book would be different compared to the other books because of the fact that the main character would have a lot more confidence and not be as shy and introverted as her other main characters; that's very noticeable in this book. I feel like most YA contemporary books narrated by main characters who aren't that confident or are extremely introverted. It was definitely different reading from a character who was more extroverted and I enjoyed it because it gave me an idea on what it would be like to be able to walk into a room and act like they owned it.
The last thing I really want to talk about is how I loved Andie's character development in this book. I will admit, I see part of me in Andie. I like to be organized, planned, and just really aware of what is happening/going to happen. It was really nice to read about how Andie deals with events that she doesn't expect to happen. I liked getting to read about her start to live in the today and stop worrying about tomorrow. It was very relatable coming from someone who needs to stop planning all the time.
There are legit so many things I want to talk about in this section. We'll see how long this section gets and how long it takes me to realize that I'm rambling. First, I want to talk about the fact that Clark was a writer. I have never read a book where the character was like Clark, a published author and still manages to have abs!!
It was also really funny to read about how Andie and her dad found out about Clark being a writer and it definitely took awhile to really get his whole story, seeing as though there were many parts to it. I really appreciate how Morgan did include writers in this book because I really don't see that a lot in books so it was nice to read about that.
Another thing I really loved about Clark and Andie's relationship was the Karl and Majorie story they made up. I loved how Morgan used it as a metaphor to describe their relationship. She used Karl and Majorie when Clark and Andie broke up and also when they got back together. It was a really nice addition to the book and if Morgan wrote about Karl Majorie, I would definitely pick it up.
Okay, one thing I always talk about with people who have read this book is how Toby reacted to Bri and Wyatt together. I was really annoyed with how she reacted, it was unfair in my opinion. I acknowledge the fact that Andie and Bri shouldn't have lied to everyone else like that; it was wrong and I knew that that was going to be the breaking point in this book but the way Toby reacted in not wanting her friend to be happy was just ugh.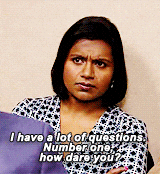 The things she said made it sound like the world revolved around her and I honestly wanted to step into the book and slap some sense into her. I'm glad Toby and Bri took a break after that because a friend is supposed to be happy for you if you have found someone that makes you happy.
The last thing I want to talk about is how happy I was to see the Since You've Been Gone cameos. Honestly my life was a little more complete after reading those parts. One of the questions I had when finishing this book was what had happened with Dawn and Emily? I was so glad to read that my question had been answered in this book! And to read what happens to Frank and Emily after Since You've Been Gone? The cameos were one of my favorite parts of this book and it was a very nice addition to the already awesome book.