Books
Review
First Book I've Read with A Deaf Main Character. We Need More of These // Thoughts on Tone Deaf by Olivia Rivers
7/12/2016
Tone Deaf Author: Olivia Rivers Pages: 288 Published by: Sky Pony Press Release Date: May 3rd 2016 His world is music. Her world is ...
Tone Deaf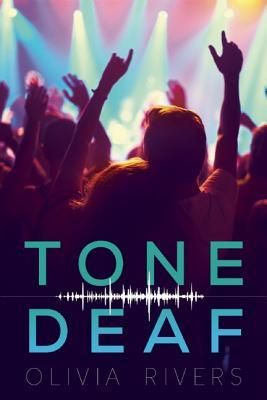 Author: Olivia Rivers
Pages: 288
Published by: Sky Pony Press
Release Date: May 3rd 2016
His world is music. Her world is silent. Ali Collins was a child prodigy destined to become one of the greatest musicians of the twenty-first century—until she was diagnosed with a life-changing brain tumor. Now, at seventeen, Ali lives in a soundless world where she gets by with American Sign Language and lip-reading. She's a constant disappointment to her father, a retired cop fighting his own demons, and the bruises are getting harder to hide. When Ali accidentally wins a backstage tour with the chart-topping band Tone Deaf, she's swept back into the world of music. Jace Beckett, the nineteen-year-old lead singer of the band, has a reputation. He's a jerk and a player, and Ali wants nothing to do with him. But there's more to Jace than the tabloids let on. When Jace notices Ali's bruises and offers to help her escape to New York, Ali can't turn down the chance at freedom and a fresh start. Soon she's traveling cross-country, hidden away in Jace's RV as the band finishes their nationwide tour. With the help of Jace, Ali sets out to reboot her life and rediscover the music she once loved.


I received an ARC of this book from the author in exchange for an honest review. None of my thoughts are affected by this.
I had first read the synopsis of this book when Olivia first contacted me about revealing the cover of this book on my blog. Normally, I don't do cover reveals but I was pretty interested in the plot and being able to read about a deaf girl, which doesn't happen very often to me. I finally read Tone Deaf and was not surprised when I found that I really enjoyed it. It had the fun you would expect it to have but it definitely had it's emotional moments. I really loved the characters and it had a really great plot. If you're looking for a book that is cute and different from a lot of the other fame related books, Tone Deaf is definitely something to look into!
The first quick thing I want to mention is how excited I was to be able to not only read about a deaf girl, but also get to read another book with fame aspects in it. Books with characters who are famous are always more special to read because fame is something not everyone experiences and everyone has small fantasies of being famous. Books that talk about fame are just another way of imagining what it would like to be famous. Jace's fame does play a pretty big part in the book, as it is sort of part of him. We never do see him out and about doing things famous musicians do but they were definitely mentioned in the book and that is enough to have a book have the "famous character" feel. Ya feel?
Something I really enjoyed reading about in this book was the awesome group of characters it had. You have Ali, Jace, and then Ali and Jace's friends, which makes up a pretty diverse group of characters and personalities. I especially loved Jace's friends. They were really cool people and they made the book a little lighter and brought in humor. I especially loved how different they all were, I didn't get confused between them once. If Olivia wrote a spin off novel about the, I would gladly pick it up.
Not only did I love the characters in this book, I really liked Ali's character development. I mean, this book is about her story and how she "sets out to reboot her life and rediscover the music she once loved" so like the first thing I expected out of this book was some MAJOR CHARACTER DEVELOPMENT. I got my major character development. I was really excited to read the ending and see where this story would take her. Well, I was definitely not disappointed. She faced the one thing that was really holding her back from happiness and lived her life the way she wanted to, not being scared of being deaf or her dad. It nice to see her getting a happy ending because she definitely deserved one.

The last thing I wanted to talk about was how much I loved the fact that there were a good amount of realistic issues and situations in this book. Not only certain disabilities, but the book included abuse, had gay characters, and talked about the liability when it comes to people who have been in law enforcement. Abuse has definitely been in a good amount of books (as the asshole parent trope is a very common thing in YA), gay people are represented in YA books, but never have I read a book where a deaf person was represented. It was different to read about that; I really enjoyed it and think that disabilities like deafness should be represented a lot more in YA.