Books
Review
This Book Had A Great World and Gay Characters! // Blog Tour: Audiobook Review of Timekeeper by Tara Sim and Giveaway!
3/20/2017
Hey everyone and welcome to today's post! I am super excited today to be reviewing the audiobook of Tara Sim's Timekeeper. This ...
Hey everyone and welcome to today's post! I am super excited today to be reviewing the audiobook of Tara Sim's Timekeeper. This would be my first audiobook so I am looking forward to sharing my experience to everyone and also be reviewing this wonderful book, which has been on my TBR for the longest time now. I hope you enjoy and make sure you enter the giveaway at the end of this post, we're giving away some fabulous stuff! Thank you The Audiobookworm for hosting this tour and you can check out the rest of the tour
here
!
Timekeeper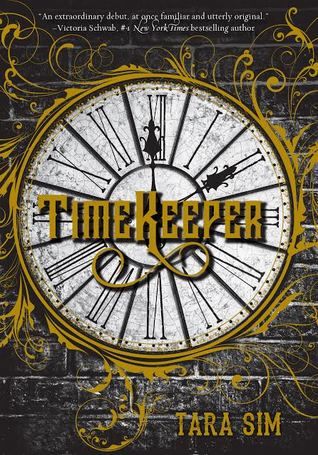 Author: Tara Sim
Publisher: Forever Young Audiobooks
Release Date: November 8th 2016
Format: eBook
Rating:
Narrator: Gary Furlong
Two o'clock was missing. In an alternate Victorian world controlled by clock towers, a damaged clock can fracture time—and a destroyed one can stop it completely. It's a truth that seventeen-year-old clock mechanic Danny Hart knows all too well; his father has been trapped in a Stopped town east of London for three years. Though Danny is a prodigy who can repair not only clockwork, but the very fabric of time, his fixation with staging a rescue is quickly becoming a concern to his superiors. And so they assign him to Enfield, a town where the tower seems to be forever plagued with problems. Danny's new apprentice both annoys and intrigues him, and though the boy is eager to work, he maintains a secretive distance. Danny soon discovers why: he is the tower's clock spirit, a mythical being that oversees Enfield's time. Though the boys are drawn together by their loneliness, Danny knows falling in love with a clock spirit is forbidden, and means risking everything he's fought to achieve. But when a series of bombings at nearby towers threaten to Stop more cities, Danny must race to prevent Enfield from becoming the next target or he'll not only lose his father, but the boy he loves, forever.
I received an audiobook of Timekeeper for this tour and in exchange, will be providing a review where none of my thoughts are affected by the circumstances.
The synopsis of Timekeeper really sold me onto reading this book. It has gay characters, an urban fantasy type of world, and a mysterious storyline. I really hoped that I would like this book and I am really glad I did. It was also really awesome getting to hear the book in audiobook form. If you're looking for a book with a really unique world and some great characters, I would definitely recommend Timekeeper.
The narrator of this audiobook was Gary Furlong and for my first audiobook, I think he did a pretty fabulous book job of telling this story. He didn't sound too stiff or forced when he was reading and did a good job giving the vibes of someone reading to you. I also liked how there weren't many awkward pauses and Furlong just kept the narration going. The sound quality was really good and overall a great quality audiobook.
The only problem I had with this narration was that sometimes the words said weren't very clear, like they were smooshed together a little. And another issue I had was the accent was a bit distracting? This is totally something that is all "me being weird" but I don't know. At times, I found the accent kind of distracting but I honestly think that's probably because I am totally way too used to only hearing American accents. Other than the accent, Furlong did a great job narrating and I think
Onto the actual book! There are quite a few things I liked about this book, one of them being the world. I was really looking forward to learning about the world that Timekeeper takes place in and I am so glad to say that I actually really love it. The author does a great job developing the world that she has created and I love the role that mechanics, clock towers, and time itself has in this world. It is definitely something different from the different urban fantasy worlds I have never seen before. I can't wait for the sequels to Timekeeper because I get to be in the world again!
Another thing that I think really worked out in this book was the writing style. Sim writes in third person, so she is able to tell the story in any character she wants. The book mostly follows Danny but it was also interesting to get narrations of other minor characters. Third person can be a tricky perspective to write in but I am glad Sim wrote Timekeeper the way she did and I think it really worked out in the end. I really liked getting to hear parts of the story from different characters and also hearing stories about the Gods that Timekeepers believe in.
I really liked the characters of this book. I have to admit, there are definitely quite a few of them, and they all play pretty relevant parts of the story. (Which I appreciate. Minor characters who are just there are really *ugh*) I really like how they don't all have similar personalities so getting confused between characters is not a problem. I think the only character that I have an issue with is Danny. I liked reading about his story but honestly, at some moments he got really reckless, careless, and stupid about things and it made really irritated. These moments didn't last too long but if it's anything that I can't stand about, well people in general, it's when they start to get careless about things, especially when they're important things.
Overall, I really enjoyed this book. I think it's a really great LGBTQ+ fantasy read, with an awesome world and great characters. The audiobook was also fabulous as well so if you're a person who prefers audiobooks, I would definitely recommend trying out Timekeeper in audiobook.
Tara Sim
Tara Sim is the author of Timekeeper (Sky Pony Press) and can typically be found wandering the wilds of the Bay Area, California. When she's not chasing cats or lurking in bookstores, she writes books about magic, clocks, and explosives. Follow her on Twitter at @EachStarAWorld, and check out her website at tarasim.com.
The Narrator, Gary Furlong
Gary Furlong grew up in Wexford, Ireland. Throughout his life he has worn many a hat: He has worked as a teacher in Niigata, Japan; a puppeteer in Prague; an improv artist in Memphis, Tennessee; and as a singer and actor all over Ireland. He started narrating audiobooks in late 2015 and hasn't looked back. Gary made his acting debut in the musical Godspell as a student. Since then he has pursued acting both on the amateur and professional circuits. Notable roles include Tom Collins in Bare Cheek's production of Rent in 2010. Over the course of his five years in Japan, he was an actor, director, and audio producer. It was during this time that he discovered his interest in audiobooks and voice-over. He now works full-time as an audiobook narrator and voice actor from his home in Ireland.