The Duff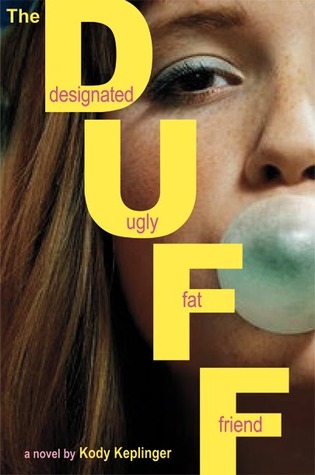 Author: Kody Keplinger
Pages: 280
Publisher: Little Brown/Poppy
Published on: January 1st 2010
Seventeen-year-old Bianca Piper is cynical and loyal, and she doesn't think she's the prettiest of her friends by a long shot. She's also way too smart to fall for the charms of man-slut and slimy school hottie Wesley Rush. In fact, Bianca hates him. And when he nicknames her "the Duff," she throws her Coke in his face. But things aren't so great at home right now, and Bianca is desperate for a distraction. She ends up kissing Wesley. Worse, she likes it. Eager for escape, Bianca throws herself into a closeted enemies-with-benefits relationship with him. Until it all goes horribly awry. It turns out Wesley isn't such a bad listener, and his life is pretty screwed up, too. Suddenly Bianca realizes with absolute horror that she's falling for the guy she thought she hated more than anyone.
---
I finished this book in one day. Guys, I don't think you understand how happy I am with myself. I haven't finished a book within a day for so long and it feels so good to be ahead of my Goodreads challenge right now. Haha. I read this book because, well it was going to become a movie and it has been on my TBR for awhile now and I actually really enjoyed it more than I thought I would. I love the characters and the flow of events that went on. If you like the chick lit kind of books, I would go for the Duff.
First of all, this book is very different from the concept of the movie and this will be mentioned in my Duff movie review. I honestly was a bit upset about that when I first figured that out but now, I appreciate it. I wouldn't be able to watch the movie if they kept the same concept from the book and I don't mind they changed the concept. Period.
When I first read the synopsis I thought "Wow calling someone fat and ugly is really rude. Did they seriously think Mae Whitman was fat and ugly?" Now of course that was clueless Kaitlin. Now I know that the word "Duff" isn't literally. I would understand how people would get extremely offended though.
Characters
These set of characters seemed realistic and people that would be in realistic high school. Well the partying varies. Not every high school student breaks the law every weekend and not every high school students has an enemies-with-benefits, I think. Bianca is someone I would like to be friends with if she ever was a real life person. She looks out for her friends but also has her own emotional baggage. Wesley is someone you don't know but think you do. He isn't Mr. I-have-a-perfect-life even if he believes sex is a natural thing, not that I have anything against that. Wesley is someone you could turn to when you are in need on comforting, Bianca style or not. Jess and Casey best friends you know will stick with you no matter what. Jess is the person that will always make you happier just being around Casey is someone you can talk to anytime if you have some deep stuff going on in your life. Bianca's parents are people I would be excited to talk to. Well yes separately and when they're happy. Bianca's dad would seem like a dad that is clueless at the movies and asks the most hilarious questions while Bianca's mom is someone who makes fun of the people in the movie with you.
Events
The night when Bianca's dad was drunk was one of the parts where it showed that Wesley actually cared. If he didn't he would have just left. Now you have to also remember that Wesley was already gone before her dad hit her. I am also wondering how Wesley knew to come back for Bianca. My first guess would be that he hard something but I think back and I don't think Bianca screamed or something. Maybe she did and I am horrible at remembering these little details?
The period of time between Bianca cutting ties with Wesley to the ending I think she was secretly a miserable person. I'm also wondering what she was running away from before she cut ties with Wesley. Before, it was Jake coming back to town, then it was-ooooohhhhh. Okay I get it now. She needed to stop running away from her parent's divorce and her dad drinking. Bianca talked to her dad about his resurfacing drinking problem but how did she deal with the divorce? I feel so clueless right now...haha.
The ending. Yus the ending! This ending didn't have any extra stuff going on at the end. It just went happy part! then boom! Done. Book over. There wasn't any extra pages going on and it was just a slick ending. Of course I would love to have another book but the companion (Lying Out Loud) with Amy's friend hopefully will fulfill my post-Duff-Bianca-and-Wesley needs. *Feels the need to advance to fan fiction*