What I Thought Was True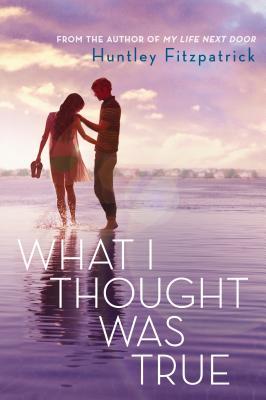 Author: Huntley Fitzpatrick
Pages: 422
Published by: Dial Books for Young Readers
Published on: April 15th 2014
From the acclaimed author of My Life Next Door comes a swoony summertime romance full of expectation and regret, humor and hard questions. Gwen Castle has never so badly wanted to say good-bye to her island home till now: the summer her Biggest Mistake Ever, Cassidy Somers, takes a job there as the local yard boy. He's a rich kid from across the bridge in Stony Bay, and she hails from a family of fishermen and housecleaners who keep the island's summer people happy. Gwen worries a life of cleaning houses will be her fate too, but just when it looks like she'll never escape her past—or the island—Gwen's dad gives her some shocking advice. Sparks fly and secret histories unspool as Gwen spends a gorgeous, restless summer struggling to resolve what she thought was true—about the place she lives, the people she loves, and even herself—with what really is. A magnetic, push-you-pull-me romance with depth, this is for fans of Sarah Dessen, Jenny Han, and Deb Caletti.
---
I liked My Life Next Door. I disliked What I Thought Was True. I thought this book wasn't very eventful, I couldn't read it without getting bored, and the one thing that kept me alive and still reading is gone. So yeah, I think you would understand why I didn't enjoy the book. The characters were great. It was a great set of characters the but the events...not so much. That's all. If you are a patient person when it comes to books you may really enjoy it. You may not. That depends on you.
Before we get into the review I would like to just clarify I have nothing against Huntley Fitzpatrick and her writing. I loved her previous book My Life Next Door and I understand people like this book, but for me I just couldn't get into the plot. And I wrote a good amount of this review late at night when I was exhausted. If it doesn't make sense i'm sorry.
Oh gosh. I feel so bad that I didn't enjoy this book because well, a lot of people really liked this book and it's Huntley Fitzpatrick. I loved My Life Next Door and got really excited for this because it came from Huntley's mind. Within the first 50 pages I knew this book wasn't going to very easy to get through. I told myself I would try my best to read it without DNFing and I did that. In the process I wasted about 2 days on reading and went through a pain with this book. I also bought this book with my own money so I had to finish it. Even if I didn't enjoy it in the end, I can say I read it right? So was I so unhappy with this book? Well the plot just got so boring and took me long to get back into it. IT WAS 250 PAGES OF PURE GIRLS CHASE BOYS CHASE GIRLS.
(Someone get's the reference right?)
I trekked through about half the book with Gwen was wondering whether Cass liked her and Cass wondering whether Gwen liked her. I don't know how I was able to read through that?! Oh, I know, it was the thought that I was going to see what Happy Couple Gwen and Cass in the end. Oh and Nic and Viv, but we get to that later. Oh I got that...but only 150 pages of it. Am I happy about that? No. Can I complain about it? Uhh no. So i'm not going to do anymore of that. Yes yes I know a relationship takes time but 250 pages out of a 400 page book? No. I want to get to the part of the review where I gush about the parts when Cass and Gwen are actually together so, let's get to that!
Characters
Gwen has a past where when you read it you think, "Hold up, she did what now?" Hah, just sex. Okay well it's your body. Do what ever you want with it okay, Gwen? Gwen wasn't annoying to read from, in fact she seemed like the average person I would be reading from in a romantic contemporary novel. A little ditzy, stutters a lot, shy, and insecure sometimes. Sound familiar? Not that I mind every main character of a contemporary novel are very similar to each other, I just feel like sometimes we need a change. Gwen, I felt like, was kind of like a normal contemporary romance character but she was a lot more confused and a person who debated things in her head. (If that made any sense at all.)
Cass is your typical love interest. Hot and funny. He also has the add ons of rich and a swimmer. Again, I don't mind the sort of cliche characters, I just like to see how the two people get together. Cass is the guy that can be a jerk to you, but you know he likes you. You know it, he knows it. Gwen made Cass a different person when he was around her. I thought he acted a lot different around Spence the with Gwen. Cass is a lot of a nicer and sweet person with Gwen and it was all so cute. Now that they got together I would gladly take a sequel from this book with Gwen and Cass. Just, none of this dragging the book out and it get's boring stuff.
Nic and Viv were so cute.
Were
. Is it me or was the only one devastated when I saw her with Spencer? Like I was on the verge or not finishing this book because they broke up. Oh my gosh it's so sad. They have been together for basically all their life and then ka-boom! Literally like 5 minutes breaks up those fifteen years. Ugh why?! I really think that this was kind of Nic's fault because the whole entire summer he was so spent on ust swimming. Yet again, if Viv was doubting her relationship with Nic the last she could do was have someone like Spence fall for her. The times where Nic and Viv were together, I imagined them with a future. Moving off the island, having kids, growing old. That's gone now isn't it?
Ending
The epilogue was pretty cute, I guess. Cass and Gwen love each other, going to the same college, yay. I really can't say much about it. This book didn't have a lot going on at certain times. I think I just got excited when Nic went missing and Cass and Gwen finally got together. (After 250 freaking pages!) The ending was pretty satisfying though. (Partly because I was done with the book.)
That's it I guess. Sorry this review was really crappy. This book got really boring and i'm surprised I made it through. I gave this book 2 and a half books because it had really nice romance, I loved the characters, but it was just kind of boring. The last 100 pages I was able to read no problem but the other 300 pages...