Books
Seize the Tuesday
Seize the Tuesday #17
2/24/2015
Seize the Tuesday is a book blogger meme created by Adi Alsaid and the Let's Get Lost Buddies Street Team, to share stories about how w...
Seize the Tuesday is a book blogger meme created by Adi Alsaid and the Let's Get Lost Buddies Street Team, to share stories about how we've seized the Tuesday, with a special focus on the particular book we're reading. We'll post on as many Tuesdays as possible and share our posts online with the hashtag:#LetsAllGetLost. If you loved Let's Get Lost then join the LGL Buddies on Facebook and help promote the book!
---
Alice in Zombieland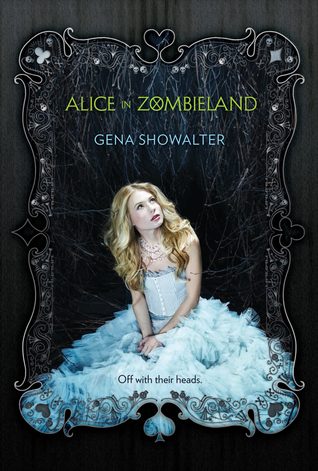 Author: Gena Showalter
Pages: 404
Published by: Harlequin Teen
Published on: September 25th 2012
She won't rest until she's sent every walking corpse back to its grave. Forever. Had anyone told Alice Bell that her entire life would change course between one heartbeat and the next, she would have laughed. From blissful to tragic, innocent to ruined? Please. But that's all it took. One heartbeat. A blink, a breath, a second, and everything she knew and loved was gone. Her father was right. The monsters are real…. To avenge her family, Ali must learn to fight the undead. To survive, she must learn to trust the baddest of the bad boys, Cole Holland. But Cole has secrets of his own, and if Ali isn't careful, those secrets might just prove to be more dangerous than the zombies….
I wish I could go back and do a thousand things differently. I'd tell my sister no. I'd never beg my mother to talk to my dad. I'd zip my lips and swallow those hateful words. Or, barring all of that, I'd hug my sister, my mom and my dad one last time.
---
How did I Seize the Tuesday?
How is everyone today! Welcome to Tuesday evening. Yay? I am currently writing this about half an hour before I need to leave to watch the Duff. That's how I'm Seizing my Tuesday. Watching a nice movie, even if I have some stuff to do. Sometimes you just got to screw all your responsibilities and just get some time for yourself you know? I read the Duff last week and got my review out yesterday! If you want to read that feel free. I know the movie is super different from the book and is a lot more appropriate than the book so I'm excited for that. Funny story. The friend I am going with to watch the movie actually was very skeptical to watch it because I explained to her the BOOK plot and she didn't hear me say the movie was a different plot. Later she Skypes me telling me we shouldn't watch it because it seems very inappropriate. Yup, so that happened. Almost didn't get to see the movie, but I will! If you have seen it tell me how you feel about it and watch out my movie review later this week. :)
So how can you Seize the Tuesday? Well go outside, learn something new, pamper yourself! Spread around this Seizing and enjoy the day! Or should I say…Seize?
So tell me: How have you Seize the Tuesday?