Anna and the French Kiss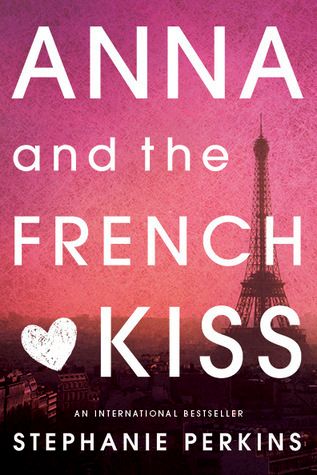 Author: Stephanie Perkins
Pages: 372
Published by: Speak
Published on: December 2nd 2010
Can Anna find love in the City of Light? Anna is happy in Atlanta. She has a loyal best friend and a crush on her coworker at the movie theater, who is just starting to return her affection. So she's less than thrilled when her father decides to send her to a boarding school in Paris for her senior year. But despite not speaking a word of French, Anna meets some cool new people, including the handsome Étienne St. Clair, who quickly becomes her best friend. Unfortunately, he's taken —and Anna might be, too. Will a year of romantic near misses end with the French kiss she's waiting for?
---
Why didn't I read this book sooner?! Ack! For so long people have been saying they really liked this book and I loved it. It's been awhile since I have been the girl who read under the table. Anna and the French Kiss brought that right back. I devoured this in about 2 days. Yeah, that's how good it was. It was funny, romantic, and so relatable. I loved it, loved it, loved it.
Ahhhh I loved the characters. Anna, St. Clair, Josh, Bridge, Mere, AND JUST EVERYONE. Yes yes I may have disliked some of them but this book wouldn't even be as good without them! Anna, the main character is just pretty realistic. She is in a country where the language they speak is something she can't understand, let alone speak it. From the beginning of the book to the ending, Anna grows so much and it is awesome to see that growth. For one, she can now understand French. She is has gone through so much drama, this girl knows how to deal with it. I really enjoyed reading from her and definitely will miss her perspectives in the next books. St. Clair, the only other person in the synopsis (therefore I can talk a little more about him) is great! He made a pretty good impression for me when I first read about him. This guy is someone that can easily be your best friend. He is funny, easy to talk to, and just the guy you jokingly insult 24/7. St. Clair is someone I would definitely want by my side as a best friend.
I enjoyed reading the plot very much. Yes even if it does sound super cliche it's still a worthwhile read. I loved the fact that St. Clair has a girlfriend. I love how Anna is basically the new girl. I love how this book takes place in Paris because there are so many things I didn't know about the city. The basic plot may sound super "fluffy" but it's these small details that just made the plot so good and addicting to read. Every chapter left me wanting more and I couldn't put it down.
I gave this book 5 stars because I loved the character and the plot and just everything about it!
Yuuuusss. The ending guys. They finally got together, and now are going to go to school within the same state. Stephanie, I love you for not making me cry. The part where she was on top of the Notre Dame and how Etienne was explaining to Anna about how he liked her from the beginning! I was dying with laughter and excitement! (I was also saying "Take that Ellie" for a good amount of Etienne's speech.) They were just so meant for each other and I am shaking my head at how many pages it took for them to finally get together. Yeah, it's both Anna and Etienne's fault that they took so long to get together but at least they are together and don't hate each other.
Just a thought: Man, I did not like the fact Bridgette went behind Anna's back and got together with Toph. I know Anna did it as well but it didn't seem as Mere and Anna were as close as Bridge and Anna were. Then she proceeds to tell lies about Toph just because she was jealous. *scoffs*
During Thanksgiving when Anna and Etienne shared the same bed, was anyone giggling like a 5 year old while Anna was dying of awkwardness?
I did not like Etienne's dad. He is the definition of a controlly arse-whole. I don't get it. What kind of parent doesn't let his son see his mother? Etienne's dad, that is who. I want you to tell me one reason why letting Etienne see his (at the time) dying mother. I can't think of one? So why are you being an butthole? Etienne telling everyone he was going to Berkeley is a good thing. Hah take that sucker!
Fun fact: I actually want to major in marketing from Berkeley.