Blog Tour
Books
Giveaway
Guest Post
Month9Books
Promo
Blog Tour: Nobody's Goddess by Amy McNulty
4/24/2015
Welcome to the Nobody's Goddess blog tour! I hope you all enjoy my stop and guest post! Make sure to enter the giveaway at the bottom ...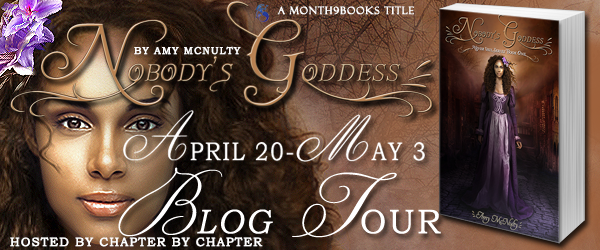 Welcome to the Nobody's Goddess blog tour! I hope you all enjoy my stop and guest post! Make sure to enter the giveaway at the bottom of this post as well. The link to the full tour schedule is linked to the banner! Just click it and it will take you right there.
---
Nobody's Goddess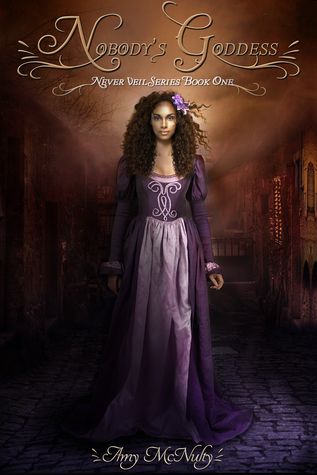 Author: Amy McNulty
Pages: 274
Published by: Month9Books
Published on: April 21st 2015
In a village of masked men, magic compels each man to love only one woman and to follow the commands of his "goddess" without question. A woman may reject the only man who will love her if she pleases, but she will be alone forever. And a man must stay masked until his goddess returns his love—and if she can't or won't, he remains masked forever. Seventeen-year-old Noll isn't in the mood to celebrate. Her childhood friends have paired off and her closest companion, Jurij, found his goddess in Noll's own sister. Desperate to find a way to break this ancient spell, Noll instead discovers why no man has ever chosen her. Thus begins a dangerous game between the choice of woman versus the magic of man. And the stakes are no less than freedom and happiness, life and death—and neither is willing to lose.
---
What If the Protagonist of Nobody's Goddess Was a Young Man?
By Amy McNulty
Noll, which is generally (strangely) short for Oliver, is a guy's name. I fell in love with the name when writing a manuscript I've shelved, the earliest writings that one day became Nobody's Goddess, and named a young man in the manuscript Noll. When he didn't make the cut from that original manuscript to what became Nobody's Goddess, I couldn't give up that name, so I gave it to my main character, who's a young woman.
The girl who evolved into Noll was originally named Fei, then Feith and then Feilia. (I know. I don't know what I was thinking, either.) The Noll in Nobody's Goddess is adventurous and full of spunk, so the tomboyish name seemed to suit her. I even made her actual name a feminine version of Oliver, "Olivière" (o-li-vi-air), to make the nickname make more sense. (I'm not sure why I didn't just pick Olivia, but the other name felt right to me. I like the way it sounds when a Byronic gentleman might speak it.)
But what if Noll, like her original namesake, was a young man? What if I told the story from a young man's point of view? Well, if the concept of the novel stayed the same—that men are under a spell (or curse, some might say) that forces each to fall in love with his own woman, whom he treats as a goddess—it'd be an impossible story to write. The men in Noll's village, with one noticeable exception, have very little free will. A man is obsessed with his goddess and thinks of little else besides pleasing her, making her happy and holding her in his arms. A book told from a male Noll's point of view would just be full of things like, "My goddess chewed her bread six times before swallowing this morning. The way her jaws move as she chews is so divine." The only conflict that could possibly erupt in a male Noll's life would be if his goddess refused him and he was forced to go live in the commune, the rundown area in which the rejected men waste away. Then the narrative would just be full of thoughts like, "When can I see her again? I can't keep going on without her. Oh, she walked past today. The fact that she refused to look at me as I rolled around the ground in agony was enough to kill me. I think I'm thirsty. What is thirst again? Everything hurts."
The men in Noll's village think of little besides their goddesses. If their goddesses love them back, they can function well, but they're still not really free. From morning until night, they're concerned about their goddesses' happiness.
Now, if the story was told from a male Noll's point of view and the village worked in the opposite way, in that women worshipped men and Noll was then "Nobody's God," it would probably wind up a little similar to what it is, but not much. For example, although Noll considered herself "one of the boys" growing up, embracing her feminine side, recognizing her strength as a woman, and opening herself up to friendship with other women is a part of the overall narrative of the trilogy. (Not so much in the first book, though.)
There are also greater ideas about how men and women act when given total control over the other gender. For example, are men as a whole more violent and war-like than women? In Nobody's Goddess, this is the case, as the village is pretty peaceful because men would never think to fight anyone (unless their goddesses asked them to, but that's unlikely) since they're so devoted to one thing and one thing only. Women are less likely to want to engage in physical altercations to begin with, so there's very little fighting in the village. If Noll was a man who lived in a village with the opposite set of rules, I think man's propensity for violence would change the setting and perhaps the narrative to an extent. Not to say that Noll "himself" or all of the men would be violent, but violence would be a part of the village's consciousness, where it's not really in the matriarchal village.
Nobody's Goddess is very much the female Noll's story, but it addresses a lot of ideas about how men and women treat each other. Changing the perspective to a male Noll would change the narrative entirely.
---
Amy McNulty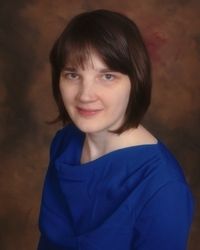 Amy McNulty is a freelance writer and editor from Wisconsin with an honors degree in English. She was first published in a national scholarly journal (The Concord Review) while in high school and currently spends her days alternatively writing on business and marketing topics and primarily crafting stories with dastardly villains and antiheroes set in fantastical medieval settings.