Hey! Welcome to the event recap of the Fierce Reads Tour Spring Fling. I attended the event in Menlo park and had loads and loads of fun! I hope y'all enjoy this post and make sure to check out the authors. :D There is also a giveaway at the end so make sure you enter!
---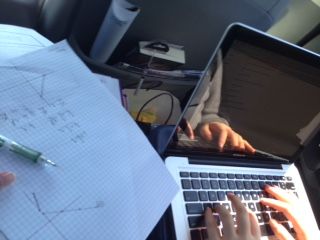 Getting the homeworks done!
So Rin and I left for the event at around 3. The drive we had to make would have been about an hour and fifteen minutes but we (as usual) wanted to get there early. Plus, we knew there was going to be really bad traffic. We ended up taking about an hour and twenty minutes to get there. Not bad considering the twenty minutes were stuck in traffic. Within that time, we both got some homework done in the car.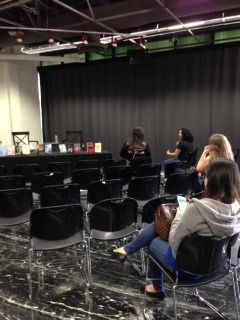 This is what it looks like
when arrive early...
So finally, we get to Kepler's at around 4:30. I thought we were going to be the only people there but I was wrong. Kepler's had advertised the event well. There were a whole bunch of posters and a display right as walk in. I blindly walked into the young adult section not realising that the event area was literally right next to us. So, Rin and I took a picture in front of the young adult section then made our way to get seats. Like I said, there were already people there. (The San Francisco chapter of Forever Young Adult reserved basically a row of seats.) I got the remaining front row seat (Since I was taking pictures) and Rin took the seat behind me. After claiming our seats we went and bought a few books. I got Nil Unlocked since I didn't have it because I wouldn't be able to order and have it come on time. I also purchased a signed copy of Keira Cass's the Heir, which people have been raving about. Yes, I need to read this book ASAP, I know. THEN, one of the workers come around and hand out free Fierce Reads tote bags for being early! It was awesome! Rin and I took a selfie and the person who was handing it out told me to tweet it out and tag them (Which I did!).
Oh we all look so great! ;)
The the time came. About 20 minutes before the signing, Mary, a person who works with the publishing company, came and set up our photo booth thing! Our pizza also came as well! (Damn, it was good pizza guys.) Around 6, the authors had arrived and we started to take pictures with them! The had fun props and Mary was taking pictures for us and on our phones. Rin and I were able to get a picture with all four authors!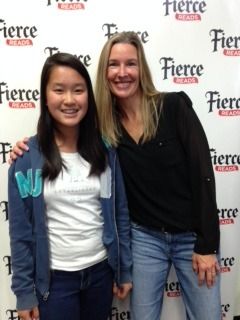 The wonderful Lynne Matson
and I
We got our picture and I sat down to wait for the signing to start. In the meantime, the authors were taking pictures with other people and just goofing around with the props; I got some pictures of that as well. I was sitting in my seat watching other people get their pictures taken when Lynne totally recognizes me. I said hi to her, we hugged, and took a quick
selfie
! Then we went over to the photo booth and got a picture together! After a few more minutes, the event finally started.
Lindsay choosing the raffle
ticket!
Before the discussion panel, Fierce Reads was hosting a raffle for a bag full of books! (I didn't win) During the panel, we played a little bookish bingo. Basically we filled out a bingo sheet and every time an author said a word, we crossed it off! Whoever got bingo would get an ARC of one of the Fall Releases! (I did not win because I didn't think this bingo through but that's okay!) Our lovely moderator, Evelyn Skye, asked some wonderful questions about the book, characters, inspiration, and all that jazz. The panel took a few questions from the audience and then we were off to the signing!
Someone will be winning this
wonderful swag!
The authors brought a whole bunch of bookmarks and graciously signed them. I brought my two Winner's Curse books, two Nil books, and two Revenge and Broken Hearts (I think that's the name?) books! Sadly, I didn't get Sekret and Skandal but do plan on reading those in the future! I also got some bookmarks and my poster signed as well! Let's just say my left arm got a huge work out in effort to carry my *counts* 6 books, and about 83% of them were hardcovers. Plus, I had a water bottle, poster, and second bag to deal with!
This signing was great and I loved it. To spread the love, the authors graciously signed an extra bookmark and poster for you folks and I was also able to snag an extra tote bag! One luck winner will win signed bookmarks, eyeshadow, a Nil button, a Fierce Reads Tote bag, and a signed poster! (This giveaway is for US only! Sorry international people. I still love you) If you want, you can go ahead and thank the authors for not minding to sign a few extra things!
Some extra pictures!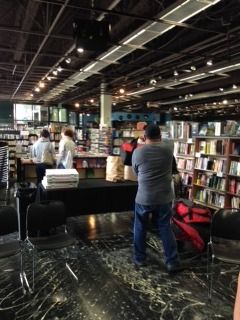 The glorious pizza that was
brought for us to devour
FREE BAGS. LIKE WHAT!?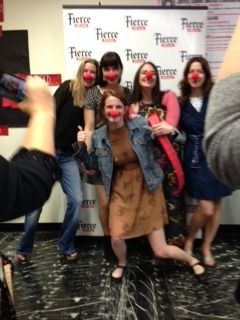 Fun with red noses!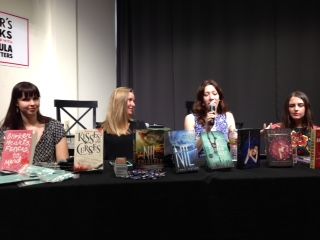 A picture from the panel/discussion!

In this pano: The panel, Evelyn Skye, a woman from SFFYA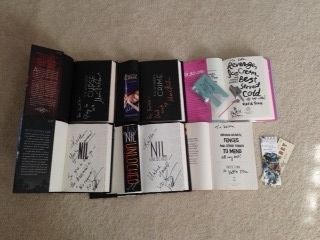 My signed books and swag!