Books
Fierce Reads
Katie Finn
Let's Talk!
Review
Let's Talk!: Broken Hearts, Fences, and Other Things to Mend by Katie Finn
7/17/2015
Broken Hearts, Fences, and Other Things to Mend Author: Katie Finn Pages: 339 Published by: Feiwel & Friends Published on: May 13th...
Broken Hearts, Fences, and Other Things to Mend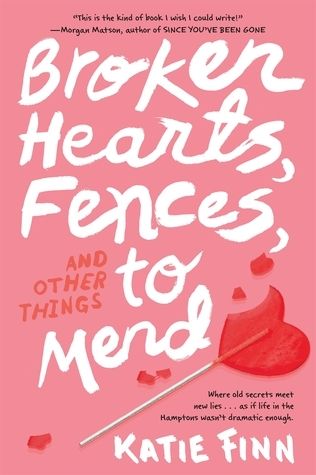 Author: Katie Finn
Pages: 339
Published by: Feiwel & Friends
Published on: May 13th 2014
Hot sun. Blue waves. New romances. Old secrets. Gemma had her summer all planned out, but it takes a sharp turn when she gets dumped and finds herself back in the Hamptons after a five-year absence. Being there puts her at risk of bumping into Hallie, her former best friends (that is, before Gemma ruined her life). But people don't hold grudges forever. Do they? Gemma intends on making amends, but a small case of mistaken identity causes the people she knew years ago—including Hallie and her dreamy brother, Josh—to believe she's someone else. As though the summer wasn't complicated enough already. Filled with summer sun, boys, and friendships gone sour, Katie Finn's first novel in the Broken Hearts and Revenge series sizzles and delights.
~
This was my first Katie Finn read and I have to admit, I'm a bit surprised. I have read all of Morgan's books but Katie Finn and Morgan Matson write very differently. I have to say though, I do prefer Morgan but I did enjoy this book.
It was funny, so carefully planned, and I loved the characters.
The only problem I had with this book was
Gemma legit had no character
. I was writing this review before and I had to stop writing because
I could not come up with three words to describe Gemma.
I could come up with three words to describe every other character but Gemma. Hopefully the next book I can get more character development.
I am going to struggle writing this part of my review. Like I said before, I could not think of three words to describe Gemma and that is already a red flag. When I first realized this fact I kept thinking "I'm pretty sure I just can't remember what's going on." I came up with the word kind and had to stop there. What else was she other than kind? Sarcastic? Sassy? Humble? I just couldn't figure out the words the describe her. But I didn't have any problems with Gemma and she was pretty tolerable which is good because if she wasn't that would have brought down my rating to this book.
The plot, however, is a different story.
It was a fun read with the plot.
I can't say much because I don't want to spoil but
it just got better and better.
By the ending I was just begging for another book because it was just so cliffhanger-y.
There were tiny aspects that would come together and just drastically affect the plot
and that's why I thought this book was very well planned. I really enjoyed reading the plot and how carefully planned this book was.
I gave this book 4 stars because I really enjoyed reading the plot but I didn't think the main character was developed very well.
Ohhh that ending really hurt my Josh and Gemma side. Like they finally got together and then DAMN HALLIE. Honestly, I despise Hallie. Other than the fact that she is creepy and she is such a jerk who just can't let go of a mistake that happened 5 years ago. Hmph, those are the most frustrating people. It's so funny though because this book is filled with so many jerky people, especially Hallie and Teddy who are dating! Hah, guess they were made for each other. ;) But really, Teddy is a huge jerk as well. Not only because he basically cheated on Gemma but also because of how much he never really cared about Gemma and what she wanted. Gemma definitely deserved better.