Books
Hilary T Smith
KTBooks
Let's Talk!
Review
Let's Talk!: A Sense of the Infinite by Hilary T Smith
7/18/2015
A Sense of the Infinite Author: Hilary T Smith Pages: 400 Published by: Katherine Tegen Books Published on: May 19th 2015 By the...
A Sense of the Infinite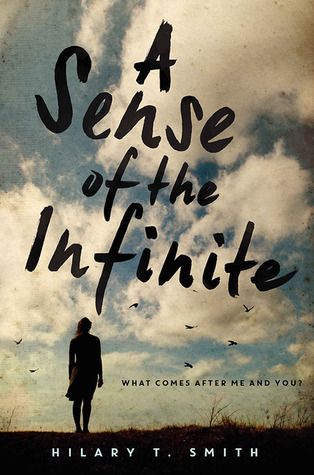 Author: Hilary T Smith
Pages: 400
Published by: Katherine Tegen Books
Published on: May 19th 2015
By the author of the critically acclaimed Wild Awake, a beautiful coming-of-age story about deep friendship, the weight of secrets, and the healing power of nature. It's senior year of high school, and Annabeth is ready—ready for everything she and her best friend, Noe, have been planning and dreaming. But there are some things Annabeth isn't prepared for, like the constant presence of Noe's new boyfriend. Like how her relationship with her mom is wearing and fraying. And like the way the secret she's been keeping hidden deep inside her for years has started clawing at her insides, making it hard to eat or even breathe. But most especially, she isn't prepared to lose Noe. For years, Noe has anchored Annabeth and set their joint path. Now Noe is drifting in another direction, making new plans and dreams that don't involve Annabeth. Without Noe's constant companionship, Annabeth's world begins to crumble. But as a chain of events pulls Annabeth further and further away from Noe, she finds herself closer and closer to discovering who she's really meant to be—with her best friend or without. Hilary T. Smith's second novel is a gorgeously written meditation on identity, loss, and the bonds of friendship.
---
Gahhh! This book was so so so good. I loved the story and the characters and just how beautiful Hilary's writing was. It just showed a great example of how much life can change due to a few people and events. Definitely recommend this one for people who enjoy contemporaries.
Annabeth was such an interesting character to read from. With her and Noe, it was one of the Since You've Been Gone situations where the protagonist is able to find out who they really are because they don't have their best friend with them. That's what's really funny about these situations. Is that I'm not sure whether Noe was a good thing for Annabeth. Annabeth had a friend and someone to be social with but she also stuck too close with Noe. There were activities that Noe had dragged Annabeth into and Annabeth did everything Noe did because Ananbeth just didn't know that what she wanted. Noe dragged Annabeth into so many things to the point where they finally just fell apart and I see that as a good thing. You're never going to find yourself if your life is being led by someone else and you don't make your own decisions. When Annabeth lived her life without Noe, she was finally finding herself and learning who she was. I saw Annabeth as someone who was a great friend, someone you could talk to. I think the growth that she went though in this book really changed her and made her into a better person and it was really great to see such development.
I loved the plot of this book, not as much as the characters though. I thought the plot was able to show what change in life looks like. It also perfectly captured the way people and small events can change your life and a person. The events that happened in this book are very realistic as well. Dealing with an absent parent, figuring out college, fall out with friends, breakup, and more. It all made Annabeth figure out who she was, meet new people, and gain knowledge from these experiences. Hilary's writing was also soo great because she described what was happening in the book in such a great way. This book is definitely going to be remembered by me.
I gave this book 5 stars because I loved the characters and the plot was so well written.
I really liked Steven. Like, after Noe and Steven broke up I was so sad because it was the way they came to know each other but I am glad they stayed friends. It was when Noe broke up with him did we really get to know him more and I have to say, he is a very interesting character. When he cut off his pinkie finger, that definitely made Steven more interesting. The fact that he was in pain from the breakup and decided to cut off the finger was scary and shows he just wants to be happy. Yeah I admit it was a bit over dramatic to chop of his finger but it was making him unhappy! I'm all really conflicted on this event.