Books
HarperTeen
Julie Murphy
Let's Talk!
Review
Let's Talk!: Dumplin' by Julie Murphy
8/28/2015
Dumplin' Author: Julie Murphy Pages: 384 Publisher: Balzer + Bray Release Date: September 15th 2015 Also at: Lit Up Review ...
Dumplin'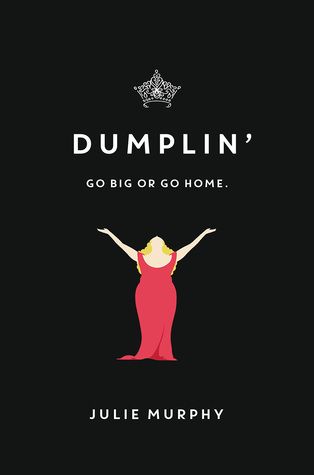 Author: Julie Murphy
Pages: 384
Publisher: Balzer + Bray
Release Date: September 15th 2015
Also at:
Lit Up Review
Self-proclaimed fat girl Willowdean Dickson (dubbed "Dumplin'" by her former beauty queen mom) has always been at home in her own skin. Her thoughts on having the ultimate bikini body? Put a bikini on your body. With her all-American beauty best friend, Ellen, by her side, things have always worked . . . until Will takes a job at Harpy's, the local fast-food joint. There she meets Private School Bo, a hot former jock. Will isn't surprised to find herself attracted to Bo. But she is surprised when he seems to like her back. Instead of finding new heights of self-assurance in her relationship with Bo, Will starts to doubt herself. So she sets out to take back her confidence by doing the most horrifying thing she can imagine: entering the Miss Clover City beauty pageant—along with several other unlikely candidates—to show the world that she deserves to be up there as much as any twiggy girl does. Along the way, she'll shock the hell out of Clover City—and maybe herself most of all. With starry Texas nights, red candy suckers, Dolly Parton songs, and a wildly unforgettable heroine— Dumplin' is guaranteed to steal your heart.
---
I received this book via Edelweiss from the publisher in exchange for an honest review. None of my thoughts have been affected by that.
So by now I am pretty sure you have heard great great things about this book, and let me tell you it was a great great book. Dumplin was this quirky, relatable, and hilarious middle-of-no-where book. The characters all have such different personalities and the message this book sends out is something people in our society need to learn and listen to. Definitely recommend this to anyone who reads contemporaries.
Dumplin is based around a small city and a beauty pageant. Willowdean is not what everyone calls "skinny." At her job, she meets Bo and things happen. Summer ends and the pageant is up and running again and Willowdean and some other friends enter. This book is her journey with dealing with this pageant. On the way she get's to know more about herself, people she never thought she would talk to, and really make a statement in loving your body and having confidence in yourself. Loved all the characters, the plot, the message this book sends out, and I thoroughly enjoyed Julie's writing.
Willowdean was such a great main character. She is this shy girl but when you start to really get to know her, she can be very persuasive and a dependent person. What I really loved about Willowdean was how much character development she goes through. She really changes throughout this book whether it's in her feelings about her body, her feelings toward her mom, her relationship with friends; she just goes through this huge change.
Its very hard to feel comfortable in your own skin, your own body. There are always things we want to change about it and sometimes it's just hard to accept it and love it for what it is. Based on the synopsis, I could tell Willowdean was not someone who would constantly complain about her weight and try her best to lose weight. She wasn't someone who you would call "confident in her body" because she was but at times she would feel uncomfortable about it and I love how even though Willowdean accepts her body for what it is, she isn't perfect. Julie didn't shove this girl who is comfortable in her body, swivel the spotlight on her, and say "LADIES AND GENTS, THIS IS IS THE TYPE OF PERSON YOU SHOULD AIM TO BE! CONFIDENT IN THEIR BODY!" and I love that because it prevented people who weren't confident in their body from comparing themselves to this perfect person who can and make themselves feel bad.
As for the plot, I really loved on how it set up Willowdean's character development and the plot was so fun! Reading about these pageant shenanigans was especially fun because what these girls did to practice for the pageant were pretty interesting, let's just put it at that. The plot was a great read but I guess there isn't much to say about it. It was a great great read and I really enjoyed it.
I gave this book 5 stars because, well I just loved everything about this book!
I swear the ending was the most adorable. During most part of the book, Bo and Willowdean's relationship was really just brushed off and I am actually really surprised it took so long for them to get together. Honestly, I would understand why Willowdean would cut ties off with Bo, because I don't like it when people make me feel uncomfortable so I then get rid of them! When Willowdean was able to feel comfortable in her body though, it just made their relationship so less uptight and I love that. They're comfortable with each other and that is such an important aspect of a relationship.