Books
Let's Talk!
Review
Let's Talk!: Fairest by Marissa Meyer
10/27/2015
Fairest Author: Marissa Meyer Pages: 220 Publisher: Feiwel & Friends Release Day: January 27th 2015 In this stunning bridge b...
Fairest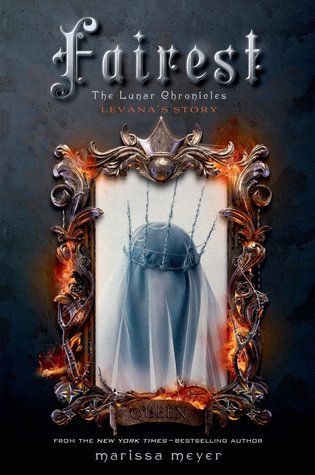 Author: Marissa Meyer
Pages: 220
Publisher: Feiwel & Friends
Release Day: January 27th 2015
In this stunning bridge book between Cress and Winter in the bestselling Lunar Chronicles, Queen Levana's story is finally told. Mirror, mirror on the wall, Who is the fairest of them all? Fans of the Lunar Chronicles know Queen Levana as a ruler who uses her "glamour" to gain power. But long before she crossed paths with Cinder, Scarlet, and Cress, Levana lived a very different story – a story that has never been told . . . until now. Marissa Meyer spins yet another unforgettable tale about love and war, deceit and death. This extraordinary book includes full-color art and an excerpt from Winter, the next book in the Lunar Chronicles series.
---
Wow this was a pretty surprising read for me! It has really been awhile since I could really enjoy a Lunar Chronicles and I am glad to have enjoyed this book. I always thought that Levanna was evil and
Fairest really basically screamed in my face that Levanna was a lot more evil than what I thought.
(Surprising? I think not!) Nevertheless, I
enjoyed this book and loved reading about Levanna's evil glory.
I think the only problem I have with the book is that I can in
no way connect to the characters or relate to them and honestly that is totally okay
because it didn't hinder my enjoyment towards it. I have probably only read one book where the main character was evil (Hello the Young Elites!) and I definitely do
love that change and unfamiliarness when you're not reading from the protagonist.
Of course, Levanna see's herself as doing the right thing, every antagonist does. One thing I admire about her though is
how devoted she is to her country.
She did all these evil things just so Luna wouldn't die and collapse. Of course, measures did a get a bit extreme but her dedication is great. Levanna definitely comes from a not very positive family. I mean as a princess, your parents may not have exactly wanted to marry each other and I can totally see how that rubbed off of Levanna and her sister, Channary, because
they're both sooo evil it's kind of scary.
If it's anything I love about prequels its getting to know more about a character and learning more about Levanna was great. I feel like the
big bads of books are never familiarized enough
and we never get to read about their past so
getting to know more about them is always a treat.
I loved the way Marissa was able to kind of
incorporate some of our main characters into the book.
Throughout the book, Winter is in it and Princess Selene as well! For the people that are pretty caught up with the series, we got to see glimpses of Jacin and some hints towards Cress. I loved all the easter eggs! There is this one passage that I will never forget from when I first read Cinder (which was about 2 years ago?) and it really was the first introduction to her.
They said she'd murdered her older sister, Queen Channary, so she could take the throne from her. They said she'd had her own husband killed too so she would be free to make a more advantageous match. They said she had forced her stepdaughter to mutilate her own face because, at the sweet age of thirteen, she had become more beautiful than the jealous queen could stand. They said she'd killed her niece, her only threat to the throne. Princess Selene had only been three years old when a fire caught in her nursery, killing her and her nanny.
I went into this book so
excited to see and read more about Levanna killing her sister, husband, and being a jerk to her step daughter.
(I swear I am not sadistic or anything, I just really wanted to see how she did it hehe) I got 3/4 of those events that were mentioned in that passage and I enjoyed every part of that.
I gave this book 5 stars because it was a great prequel read about Levanna. I enjoyed the characters plot writing, everything! Super excited now to read Winter.
Getting to know Levanna and what kind of actions she takes was really interesting. Example, Evret. I mean, he didn't even like her. He had a wife and a child and when Solstice died, Levanna took that as such an opportunity to get with him and I was honestly here like
because she was being so blinded by her feelings. He didn't like her and he was going through so much grief from Sol's death. Can we please also mention the age gap? Okay, good we did and we have taken that into account. I feel bad for Evret too because he was being forced into this marriage while he was still going through his wife's death. I mean, he did get protection and a nice bed from her but I just feel bad he was getting forced into this marriage. I'm surprised Levanna was surprised to the fact that Evret didn't love her! But really, she wouldn't have stopped asking Evret to marry her if he hadn't…
Poor Evret, dead wife, forced marriage, killed by his own life who had forced him into that marriage.