Books
Interview
Review
An Interview, Review, & Except Walked Into A Bar... // An Interview with Roshani Chokshi, My Thoughts on A Crown of Wishes, & An Audiobook Excerpt
3/28/2017
Hello everyone and welcome to today's super exciting post! I have the wonderful opportunity to be apart of the A Crown of Wishes blo...
Hello everyone and welcome to today's super exciting post! I have the wonderful opportunity to be apart of the A Crown of Wishes blog tour. I read The Star Touched Queen last year and loved it, so I was super excited to have the chance to read A Crown of Wishes and be in the blog tour. I got a lot for you guys today. First, we have an interview with Roshani, followed by an excerpt from A Crown of Wishes' audiobook, and then we have my review of the book. It's a lot but I hope you enjoy!
A Crown of Wishes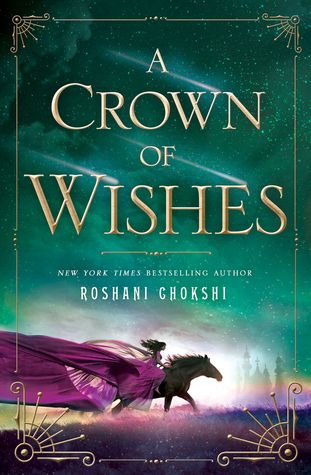 Author: Roshani Chokshi
Publisher: St. Martin's Griffin
Release Date: March 28th 2017
Format: eARC
Rating:
|
Amazon
|
Barnes and Noble
|
Book Depository
|
Gauri, the princess of Bharata, has been taken as a prisoner of war by her kingdom's enemies. Faced with a future of exile and scorn, Gauri has nothing left to lose. Hope unexpectedly comes in the form of Vikram, the cunning prince of a neighboring land and her sworn enemy kingdom. Unsatisfied with becoming a mere puppet king, Vikram offers Gauri a chance to win back her kingdom in exchange for her battle prowess. Together, they'll have to set aside their differences and team up to win the Tournament of Wishes—a competition held in a mythical city where the Lord of Wealth promises a wish to the victor. Reaching the tournament is just the beginning. Once they arrive, danger takes on new shapes: poisonous courtesans and mischievous story birds, a feast of fears and twisted fairy revels. Every which way they turn new trials will test their wit and strength. But what Gauri and Vikram will soon discover is that there's nothing more dangerous than what they most desire.
Interview with Roshani Chokshi
1. This is your second published book, congrats! Did you come across any difficulties with writing any of the characters in A Crown of Wishes?
Hahahahahahaha (yes). I felt like I was drowning every other day because I loved Vikram and Gauri so much and felt like I wasn't giving them equal attention when I tried writing it all in 1st or 3rd person, which is how the dual narrative came to be. Honestly, ACOW was the first time I ever cried during writing…because I felt so emotionally affected by what they were doing. They really came alive to me, so once I let them dictate the story, it was easier to write. Neither of them liked outlines because they're both curmudgeony and contrary. Rude.
2. What is your favorite aspect of getting to tell a story in a world that you made up?
The romaaaaaance….I love that moment when the world begins to tilt all because you suddenly noticed how something ordinary became extraordinary. The act of love really is---and please excuse the cliché---a fall. You've relinquished control. It's scary. And I believe it brings out the rawness in a character and makes them come alive when you feel their grief and trepidation and wonder.
3. How was writing A Crown of Wishes different than writing your debut? Was the editing process easier this time around? Did the characters surprise you along the way?
Writing under a contractual deadline vs. "letting a story simmer and roll around in your thoughts for 4+ years" is bound to be a VASTLY different experience. I treated my outline religiously with ACOW. The editing process with my first book taught me to reconsider everything I knew about storytelling—when to hold back, when to give a little, when to move on. I think the main difference with ACOW was its forward sense of momentum. I'd never cried over scenes until I wrote ACOW. I mean, I'd cried in the sense of frustration, but not in the sense that a book's character had put me through the emotional wringer because of their situations. To me, Gauri and Vikram became people that I could spot in a crowd. They became family.
4. Any hints on your next project? Will you continue to use mythology as your inspiration?
I can pretty much guarantee that mythology will always be in my stories. My next YA project is THE GILDED WOLVES. It's a dark, sultry, ish-heist story set in the glamorous La Belle Epoque era of Paris. I love it to pieces, and I can't wait for readers to meet the characters and world!
5. A Crown of Wishes is about Gauri. Did you always know you'd want to tell her story, or did something about her story feel untold to you after you finished writing The Star-Touched Queen? Was her character influenced by any people that you knew?
Yes. Gauri's story had always had a special place in my heart. I left her story purposely unfinished so that I could follow that emotional thread in ACOW. As for her character, she's a lot like my little sister. Courageous, fierce and full of compassion.
6. What are some books that are similar in nature to yours that you'd recommend to other readers?
I think because of the magical tournament aspect, ACOW has gotten a lot of comparisons to Stephanie Garber's CARAVAL, which delights me to no end because Stephanie is a wonderful friend whose book *stole* my heart!
I'd also recommend Lloyd Alexander's THE IRON RING. It was one of the first books I ever read that was influenced by Hindu mythology, and I thought Alexander's respect and admiration for the culture was lovingly rendered and creatively executed.
7. If you will be part of the Tournament of Wishes and you can choose your partner either real or fictional character, who will you pick to join you in Alaka? This book is about wishes so obviously I have to ask, what would you wish for if you won the Tournament of Wishes?
I would wish for no need of wishes, with the condition that I'm not killed or incapacitated. And as for partner, I would choose Agnieska from UPROOTED because she's powerful, hilarious and would probably not mind taking frequent snack breaks…
I also have the opportunity to share with everyone a small clip from A Crown of Wishes' audiobook. Click
here
to listen to it on soundcloud on you can find it embedded below!


I got this book as an eARC from the publisher in exchange for an honest review. None of my thoughts have been altered by this.
Last year, Roshani Chokshi came out with The Star Touched Queen, which I absolutely loved. Therefore, I was so stoked to hear that she was writing a spin-off about Gauri, a character we briefly saw in The Star Touched Queen. I'm glad we got a book about her because I think her story is really interesting and I love being in the world of The Star Touched Queen. I really loved the new characters of this book and the storyline. I would definitely pick up The Star Touched Queen and A Crown of Wishes if you're into the more trippier books. Plus, these books are diverse!
My favorite thing about this book was probably the fabulous characters of the book. Roshani introduces us to some pretty interesting characters as we go along with the story and I really loved reading about them and how they affected Gauri and Virkam's little adventure. Gauri and Vikram were also both such fabulous characters. I love the conversations and dynamic between them and I also loved each character on their own. I don't have a preference of which character I liked best but I loved how hilarious and witty Vikram was and it was even more hilarious because it did indeed drive Gauri mad. One thing that I also noticed about these characters by the end of the book was that they both had such great character development which is always fun because it's interesting to see how experiences can change a person and their desires.
Chokshi also writes the book in alternating perspectives, so not only do we get to read about the story in Gauri's perspective, but also Vikram's, which I am so grateful for. Both characters have a really complex past and getting to know both characters by reading from their perspective is another reason why I enjoyed this book so much. Gauri and Vikram are both pretty different people so the voice of the story is always fresh and ever changing.
The storyline was also very well done for this book. Now that I had a better idea of the world this book took place in, I think I was a lot less confused about what was going on compared to when I read The Star Touched Queen, which definitely helped my enjoyment. The tournament wasn't exactly what I had expected but that didn't make it any less exciting to read about. The ending was also something I really loved. It tied up Gauri and Vikram's story up really well but also left doors open for another potential spin-off. Not saying that it's being written but I could definitely see it happening.
A Crown of Wishes was a great spin-off sequel to The Star Touched Queen. It has some great characters, a really interesting plot, and a book that I would definitely recommend picking up, as well as The Star Touched Queen. Just read the whole duology, everything is fabulous. (Gonna be honest here though, I think I liked The Star Touched Queen a little more than A Crown of Wishes. Loved it nevertheless.)
Roshani Chokshi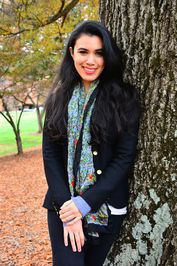 Roshani Chokshi is the New York Times bestselling author of THE STAR-TOUCHED QUEEN. Her work has appeared in Strange Horizons, Shimmer, and Book Smugglers. Her short story, "The Star Maiden," was longlisted for the British Fantasy Science Award.