Books
Interview
Promo
In Which I Talk with Erin Schneider About Her Recent Release // Interview with Summer of Sloane Author Erin L Schneider!
5/22/2016
Hey everyone and welcome to my post for Summer of Sloane's Sunday Street Team tour, run by Nori! I have a super exciting interview for...
Hey everyone and welcome to my post for Summer of Sloane's Sunday Street Team tour, run by Nori! I have a super exciting interview for everyone to read and I hope you enjoy. Make sure you check out Summer of Sloane if you haven't heard of, do check it out.
Summer of Sloane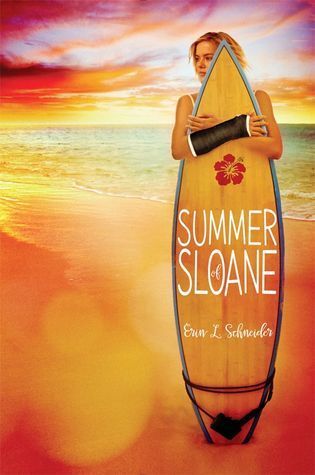 Author: Erin L. Schneider
Pages: 291
Publisher: Disney-Hyperion
Release Date: May 3rd 2016
Warm Hawaiian sun. Lazy beach days. Flirty texts with her boyfriend back in Seattle. These are the things seventeen-year-old Sloane McIntyre pictured when she imagined the summer she'd be spending at her mom's home in Hawaii with her twin brother, Penn. Instead, after learning an unthinkable secret about her boyfriend, Tyler, and best friend, Mick, all she has is a fractured hand and a completely shattered heart. Once she arrives in Honolulu, though, Sloane hopes that Hawaii might just be the escape she needs. With beach bonfires, old friends, exotic food, and the wonders of a waterproof cast, there's no reason Sloane shouldn't enjoy her summer. And when she meets Finn McAllister, the handsome son of a hotel magnate who doesn't always play by the rules, she knows he's the perfect distraction from everything that's so wrong back home. But it turns out a measly ocean isn't nearly enough to stop all the emails, texts, and voicemails from her ex-boyfriend and ex-best friend, desperate to explain away their betrayal. And as her casual connection with Finn grows deeper, Sloane's carefree summer might not be as easy to find as she'd hoped. Weighing years of history with Mick and Tyler against their deception, and the delicate possibility of new love, Sloane must decide when to forgive, and when to live for herself.


Interview with Erin Schneider
1. Hi Erin and welcome to Next Page Please! Super excited to have you here. Huge congrats on Summer of Sloane's release, what did you do in celebration?
Hi Kaitlin -- thanks so much for having me!
When I first found out SLOANE was going to be published, my husband took me to this amazing restaurant here in Seattle called the Book Bindery (which was housed in building that used to be an old book binding company) -- fitting, right? We wanted to go there again to celebrate my actual launch, but the restaurant unfortunately closed last Summer, so instead, we went to one of my all-time favorite restaurants in Seattle. It's actually a big week for me, as my birthday is 5/1 (and this year was a big one!) and then my book came out two days later -- throw in my launch party on 5/7 and my first actual Mother's Day with my little kiddo, well, it's an entire week of celebration!!!
2. Is there a certain aspect you are excited for readers to read about?
I loved setting the book in Hawai'i -- and tried my best to capture what the Islands are all about. From the smell of flowers and suntan lotion that immediately hits you as soon as you step off the plane, to all of the amazing food, to the gorgeous sunsets that, if you let them, will take your breath away. Hawai'i truly is paradise and my home away from home.
3. As a Hawaiian, what is one thing you love most about Hawaii and it's culture?
Ohana, or family, is a huge part of growing up Hawaiian. Family means everything -- and to me that couldn't be more true. Plunk my family on a Maui beach, surrounded by all the beauty of Hawai'i, and then the great food on top of all that? Well, there's absolutely no way I could be happier.
4. Do you have any tips for someone who is looking to publish their novel?
Do NOT take no for an answer. You're going to hear a lot of them as you trek down the path to publication, but keep going, keep pushing until you hear that yes. And read, read, read books in your genre -- writing is a craft that gets better the more you do it and reading will help that.
5. What is one thing you wish you'd have known about publishing before you starting going into that process?
You can only control so much. When you first write a book, the story is yours and yours alone. But when it sells, that story belongs to so many more people -- and it's that team that turns it into something you might not ever have imaged. But along the way, you'll have to learn how to be flexible and you can only control so much, so pick your battles.
6. When you hit a writer's block, what do you do and how do you overcome it?
I stop writing altogether and focus on something else. If I try to keep writing, what comes out is never worth my time and I end up having to scrap most of it anyhow. So why bother writing down crappy words, if you're just not feeling it? Wait until you can get behind your story, so that every word counts.
7. Thank you so much Erin for answering my questions and being here today! For my final question, I would love to know your thoughts on Summer of Sloane's cover and what was reaction when you first saw it?
The first draft of the cover was almost exactly how it is now, with the exception of a different model - and the first time I saw it, I knew it couldn't be more perfect. From the girl with the cast, to the beach, to the gorgeous sunlit sky. I honestly don't think any other cover would have compared, so I'm glad they didn't show me any other options! Thanks so much for having me, Kaitlin -- it was great to be here!


Erin L Schneider
Erin L. Schneider is native to the Pacific Northwest, attended college in Honolulu - and although Hawaiian - should never be allowed on a surfboard. With more than twenty years in corporate merchandising, she's now a full-time writer living in Seattle with her husband, Neal; their baby boy, Kellan; a rowdy German shepherd named Ronin; and two crazy cats, Ono and Poke. She's a member of both the Pacific Northwest Writers Association and SCBWI, and is also co-founder of the YA Buccaneers. SUMMER OF SLOANE is her debut novel, out May 3, 2016 from Disney-Hyperion. Visit Erin online at Erin L Schneider or on Twitter: @ErinLSchneider1. Erin is represented by literary agent Lisa Grubka of Fletcher & Company.