Books
Event Recap
In Which I Met Morgan Matson, Amie Kaufman, Jay Kristoff, and More Fab Authors All in One Week! // Event Recap
5/20/2016
Recently, I got the chance to see five authors. Tuesday, I went to Morgan Matson, Suzanne Young, and Siobhan Vivian's signing, and on ...
Recently, I got the chance to see five authors. Tuesday, I went to Morgan Matson, Suzanne Young, and Siobhan Vivian's signing, and on Thursday, I met Amie Kaufman and Jay Kristoff again! Today, I am here to talk about my wonderful experience at the signings and I hope you enjoy.
Morgan Matson, Suzanne Young, and Siobhan Vivian
May 3, 2016
When Morgan announced that she was going to be touring, I immediately hoped that she would have a Northern California tour date, and she did! With Suzanne and Siobhan as well, which was awesome because I adored Suzanne's The Program trilogy, and I had only read one of Siobhan's book but enjoyed it! Even better, the location she was having her signing at was so close to me compared to other signings I have been to. So the event started at 7, and I left to go to the event at around 5:30. (Yes, that is how close the event as to me. Legit like half an hour.) On the way, I actually called the Target close by to the Barnes and Noble where the event was held out to figure out whether they would have the Target exclusive edition on their shelves because, well I really wanted the deleted scenes.
En route to the signing!
Turns out that they only sold that online, how did I find that out? Calling Target, being put on hold for a total of 15 minutes and going through three different Target associates while doing so. *pouts* Thanks Target.
So, we (
Rin
and I) arrived at the bookstore around 6 and immediately scrambled around the bookstore in search of the event area and finally found it in the children's section. Luckily, we there were no seats taken yet (getting there first to an event: my talent) so Rin and I snagged some front row seats, which really was no big deal because the event wasn't that big. Maybe about twenty people so there were only about two small rows of chairs, which is great because I do love events with less people. It makes it so much more intimate.
After putting my stuff down, I went ahead and bought my books (after struggling a while to find them) and immediately when to a discreet location to take pictures of the book because the last thing I needed was people judging me. Seeing as though we had a little time to spare before the event started, Rin and I went to go check out the DAISO next to Barnes and Noble. Now, if you don't know DAISO is like Asian dollar store, except better. Everything there basically costs $1.50 and they have pretty useful (and cute) stuff there! I picked up a few things and a box of Pocky due to my lack of food at the hour.
Finally got my copy of The Unexpected Everything!
We then returned back to the bookstore about 10 minutes before the event started and I was surprised to see
Ardis
right next to my seat! I haven't seen her since October when I went to see
Leigh Bardugo
and it was a really nice surprise because I really didn't expect to see her there. We chatted a little about things and it was so great to see her again because I do always love talking to bloggers and they always have such awesome things to say.
So, about 10 past 7, Morgan, Suzanne, and Siobhan finally came out and all three of them looked so stunning! All of them rocked such cute heels and had the cutest outfits. They started off the event by each reading a passage from their book and all three of them went with a theme for their passages. This time, it was when the protagonist first meets or talks about their love interest. It was really nice to hear from them and I loved hearing passages of their books being read by them.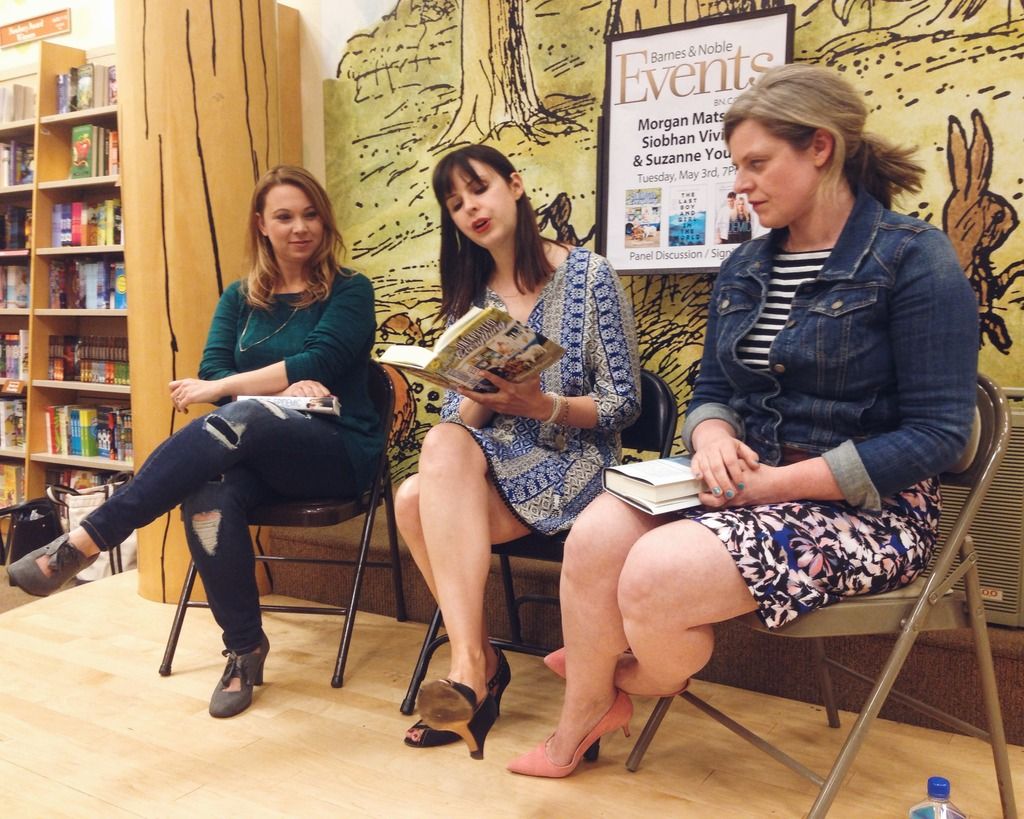 After that, they asked each other questions, like how their writing process works. That was really interesting and I really enjoyed hearing about that. They then took some questions from the audience and duh! Yes, I did ask Morgan a Hamilton related question. How could I not? Then, Morgan did a raffle to give away some prizes! She handed everyone a raffle ticket and gave away two t-shirts and a mixtape CD. Did ya girl win any prizes? You bet she did!
After the raffle, they then moved to the signing table and set out all their swag and things. Since there weren't too many people at the signing, I decided to just wait in line, as it wasn't that bad. I finally got to the table and grabbed a few pins from Siobhan and they're so cute! Oh my lord the pin is just so beautiful. I finally got to Suzanne and basically struggled to get my books out of the bag. I mean, I had 4 of them and they were basically all hardcover. I talked to her a little about writing and told her I was excited to read The Epidemic. A little bummed I totally forgot to get a picture with her but I definitely will do that next time I see her.

1. Ardis and I waiting in line to get out books signed! / 2. Suzanne signing my book. / 3. Morgan and I! We both look pretty fab :D / 4. Polaroid I took with Morgan / 5. The swag and books I got from this event
After that, I waited a bit before getting my book signed my Morgan. This was my third time seeing her so at this point I had no idea what I was going to ask her. I told her that that was my third time seeing her and she remembered me! Which is awesome because *tries to calm* one of my favorite authors knows me and recognizes me! She then handed me my raffle prize, the mixtape CD, and we took some pictures together. She brought her Polaroid and took pictures with everyone, which was so awesome because I love Polaroids and getting to take one with her was so awesome. She signed it and it looked awesome.
Then after that, I said thank you and left! I am really happy I got the chance to meet these three wonderful authors and I look forward to meeting them again! It was also awesome seeing Ardis again.


Amie Kaufman, Jay Kristoff, and Tim Floreen
May 5, 2016
(Please excuse all the horribly taken pictures in this section)
I was really nervous about this signing because Amie and Jay were giving away two copies of the Gemina ARC AND I REALLY WANTED ONE. I had already gotten Illuminae signed so I was super excited to meet Amie and Jay again and *hopefully* walk out of the bookstore with Gemina in my hands.
So, I went with my friend Marisa and Rin (again lol). It was the same bookstore as the Morgan Matson signing so again, we didn't have to leave for the bookstore too early. Marisa and her mom picked Rin and I up at around 5:55 and made our way to the bookstore! It was a pretty good car ride, not much traffic and Hamilton was blasted hehe. We got to the bookstore around 6:30 and I basically ran to the signing area in hopes to being able to snag them front row seats. Again, it wasn't supposed to be a very large event so there were only about two rows for the whole event. When I got to the event area, Ardis was there, which wasn't surprising this time. I grabbed the last 3 front row seats and then went to go get food, since I didn't even eat a full dinner on the night of the Morgan Matson signing!
There was Chipotle right across from the street so Marisa, Rin, and I went to go pick up some Chipotle! I was actually surprised that there was more people in line for Chipotle at around 8 or 9 at night than the usual dinner time (6pm). So, it was quick (thank god) and after getting our Chipotle, we went back to Barnes and Noble to go buy books, eat, and wait for the event to start. Marisa and Rin still had to buy books so I just sat in my seat and started working on my Chipotle (which was so good by the way).
So after literally 20 minutes of eating, walking around the bookstore trying to find books, and talking to some people, the event finally started! When Amie, Jay, and Tim (Author of
Willful Machines
) walked out, my eyes immediately zero-ed in on the
two Gemina ARCs
Jay had in his hands. (Yes, I did freak out and tweet about it)
Amie, Jay, and Tim talked about their books and it was a really great discussion because both books had a very similar aspect in it and I enjoyed hearing these authors talk about their books! They then took some questions from the audience. Like always, I can't give you an exact word for word transcript of the Q&A but people asked questions like what were some things that caused them "trauma" in their childhood, I asked them whether they liked drafting or editing, and someone also asked about the graphic designs in Illuminae! Again, I loved the dynamic between Jay, Amie, and Tim and they were such funny people to get to listen to.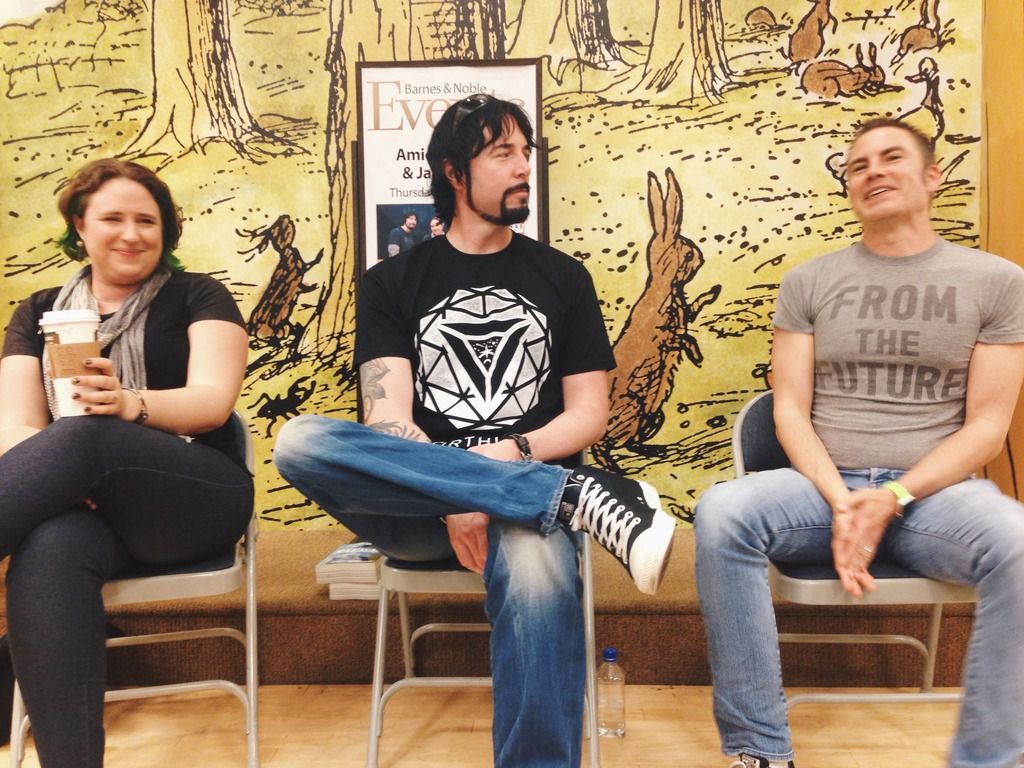 After the Q&A, the time had come for the raffle for the two Gemina ARCs. I honestly was really hoping me or one of my friends would win because one of us getting to take home a Gemina ARC would be so awesome. They pulled the first person and it hadn't been my name or any of my friends names... but it was my friend's mom's name. Yeah, I'm still laughing about this situation because of all the people that could have won, it was my friend's mom!
They then pulled another person, my friend's mom got the Gemina ARC, and then Amie, Jay, and Tim went to sign books! Because the event didn't have many people, we decided to just wait because it was going to take long anyway. In the meantime, I took some pictures with the ARC and basically cried over the fact that my friend's mom won it. (Out of the four of us that could have gotten the ARC, it was the person that desired it the least.)
After standing around, taking pictures with the ARC, and freaking out about the ARC, we finally got in line to get our books signed. Like I mentioned before, I only brought one book to the signing for Amie to sign so it was quick for me. It was nice to talk to Amie and Jay again! Last time I saw them, I asked if Amie and Jay ould do American accents. Only Jay did it, which was what happened last time. I also reminded them that I saw them back in November and that I was the girl in crutches. (Yes, I went to their signing when I still was on crutches from my damn knee.) They remembered me (okay but if you showed up at my signing with crutches I would for sure remember you) which was pretty cool. We chatted a bit more before moving onto Tim.
I didn't buy any books from Tim but I told him I definitely planned on reading his books, I did get a few bookmarks signed by him though! After I talked to Tim for a bit, my friends and I waited a bit to get a picture with Amie and Jay. It didn't take that long since there wasn't a lot of people. We got our picture and chatted a bit more with Amie and Jay. I also got another picture with Ardis and then we left to go home! It was an awesome signing and I am super happy to have been able to meet and talk to Amie and Jay again.
I had a fabulous time at the Barnes and Noble these two events were held at and I also had a great time at both events.