Books
Let's Talk!
Review
Let's Talk!: Heir of Fire by Sarah J Maas
10/20/2015
Heir of Fire Author: Sarah J Maas Pages: 562 Publisher: Bloomsbury USA Childrens Release Date: September 2nd 2014 She was the he...
Heir of Fire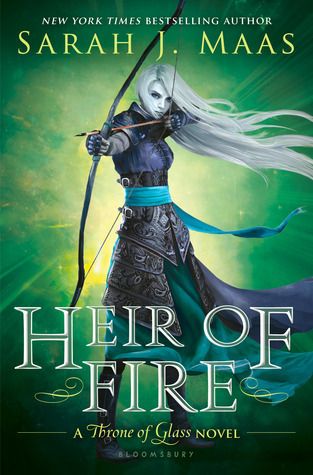 Author: Sarah J Maas
Pages: 562
Publisher: Bloomsbury USA Childrens
Release Date: September 2nd 2014
She was the heir of ash and fire, and she would bow to no one. Celaena Sardothien has survived deadly contests and shattering heartbreak—but at an unspeakable cost. Now she must travel to a new land to confront her darkest truth...a truth about her heritage that could change her life—and her future—forever. Meanwhile, brutal and monstrous forces are gathering on the horizon, intent on enslaving her world. To defeat them, Celaena must find the strength to not only fight her inner demons but to battle the evil that is about to be unleashed. The king's assassin takes on an even greater destiny and burns brighter than ever before in this follow-up to the New York Times bestselling Crown of Midnight.
---
Writing reviews for Sarah J Maas books are going to be hard, I can tell. Heir of Fire was a read that is definitely not one of my favorites. Oh, don't get me wrong, I enjoyed reading this book but it did
get a bit slow at some parts.
Other than that, the
characters, plot, writing, was great and so enjoyable
to read about. I really
loved the new characters
that Sarah introduces in this book and I am really excited to see where they go in the rest of this series!
I really
noticed change in Celaena
throughout this book. Due to events that took place in Crown of Midnight, the place she has been left in Heir of Fire in definitely an interesting one. Reading about Celaena be put in these situations she has never been in before really brought out cool aspects of her that I never knew she had. She is
no longer the same Celaena she was
when she entered the King's Competition and I am really excited to see further into that change in Queen of Shadows.
As for the new characters! I am beyond
excited to see where they're character arc will lead to
and what kind of things they will do to affect this story. I already have an idea of what one character may do to affect this book but the other, my mind is still working that out.
Now, for plot…this part was the tougher part to get through. I loved it and how it really set's up Queen of Shadows nicely but it
did get slow
, and that is what brought my rating down. Let's just say by page 100, I was kind of bored. (Glad I pushed through that though!) Pacing was a little off but by the last 200 pages, that really changed and I was definitely able to get back into the book at that point. This plot also
brought more information about magic and the different kinds of it,
which is something I definitely appreciate. Along with more information, the plot and story also meant for such
great action/battle scenes!
For one thing, it is always awesome to see fighting in these series, because Celaena is so great at it and that really contributes to Sarah's ability to
keep me on my feet with so many plot twists and turns
and I really love that.
I gave this book 4 stars because even though the pacing was a bit slow, I still really loved this book.
Can I just please mention how excited I am to be able to read Queen of Shadows? Like the ending of Heir of Fire left me panicking so bad. I mean, Dorian, Chaol, Sorcha especially! I felt horrible for Dorian and so sad of Sorcha's death. They really did like each other and then she dies and ugh I was just so bummed about Sorcha's death. I am looking forward to seeing how Chaol is able to help with this war against the king because I do know that him and Celaena eventually meet up again. Celaeana's ending to this book is definitely the best one I have read since the ending of Throne of Glass. Yes she may be out in an all-out war but she has Rowan on his side! (Can we just sit here and gag over the fact that he had "3 mouthfuls" of blood. Like *shivers*). Really enjoyed reading about Rowan and him teaching Aelin about magic and stuff.
Speaking of Rowan, what is my current shipping situation? Well for one, I am definitely shipping Rowaena. Only because, at this point I highly doubt Chaol and Aelin would be able to get back together without things being weird and not working out. If they could start getting dating then oh my I would definitely want my Chaolaena back in a heartbeat!
I also wanted to talk about Manon, who I adore. I love her "prove them wrong" attitude and she is such a sassy character! I am totally excited to see where she goes in this series and how she affects the war!