Books
Let's Talk!
Review
Let's Talk!: What's Broken Between Us by Alexis Bass
1/04/2016
What's Broken Between Us Author: Alexis Bass Pages: 241 Publisher: HarperTeen Release Date: December 29th 2015 Alexis Bass's hear...
What's Broken Between Us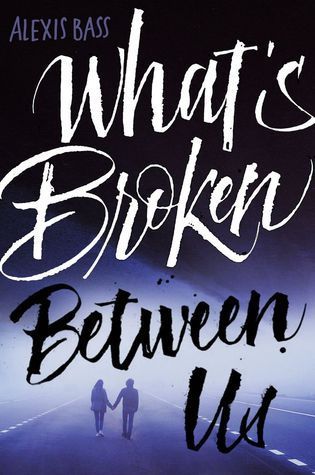 Author: Alexis Bass
Pages: 241
Publisher: HarperTeen
Release Date: December 29th 2015
Alexis Bass's heartbreakingly beautiful second novel is a tale of love, loss, and learning to forgive, perfect for fans of Gayle Forman and of Robyn Schneider's The Beginning of Everything. A year and a half ago, Amanda Tart's brother got behind the wheel drunk and killed his best friend. Today, he's coming home from prison. Amanda's been the one living with the fallout, made worse by her brother's recent unapologetic TV interview. People think he's a monster. Still, she loves him. It's her dark secret, until she starts getting close to Henry again--whose sister is paralyzed from the accident. A year and a half ago, her brother destroyed his life. Now Amanda has to decide if she'll let his choice destroy hers.
---
This was one of my last reads of 2015 and I am
quite sad to say it was not my favorite,
which I am really disappointed about because I was actually quite excited for this one. What's Broken Between Us just
not what I expected it to be
and in some ways, it
kind of let me down
. I
didn't really agree with the characters
, I
wasn't really for the plot
, and the
romance kind of took over the whole book
. It just wasn't what I expected it to be, honestly, and sadly, I wasn't able to fully enjoy it.
The thing about these characters was that I couldn't agree or relate to any of them. I didn't have a favorite character, because I didn't like any of them. The
main character was kind of annoying
and her
brother was so rude
, acted like the kind of people I basically despise, and he made the most horrible decisions ever, even after getting out of jail.
The other supporting characters just made Amanda seem more annoying that what she already was, plus they were really annoying as well.
I really
didn't see any character development within Amanda
as well. I definitely did not enjoy these characters.
If the characters didn't work out for me, the plot didn't get any better. I expected this book to really be about Amanda dealing with her brother getting out of jail and stuff but it had
quickly turned into the main character dealing with a stupid love triangle.
Normally, I am not against love triangles but both guys were so annoying (One less than the other) and I just could not stand it. As if the love triangle was already intolerable, the fact that it
took over the plot really just made me want to finish this book and get it over with.
There was also the ending, whch literally made me facepalm myself, I can't with it.
However, there is one thing that saved this book from being one stars, was the writing. I definitely
liked the writing style.
The writing style was something I did enjoy.
I gave this book 2 stars because I didn't like the characters, the plot was definitely not what I expected, but I did like the writing style.
There really isn't much to say about this book other than I thought the ending was really really stupid. It was like this whole story was about Amanda dealing with Jonathan's release from jail, only for him to go back to jail?!
Holy crap, I was so upset with that ending but good job Alexis Bass, because I definitely did not expect the book to end like that. I mean honestly, with Jonathan hanging out with Becky so much, I am not surprised he got arrested again. When Amanda ignored Jonathan when he was getting arrest again, I have never liked her any more in that moment. He deserved what he got and I am glad Amanda recognized that.