Books
Review
It's Quick. It's Cute. And it Takes Place in Hawaii // Thoughts on Summer of Sloane by Erin Schneider
3/10/2017
Summer of Sloane Author: Erin Schneider Publisher: Disney-Hyperion Release Date: May 3rd 2016 Format: eARC Rating: Warm Hawa...
Summer of Sloane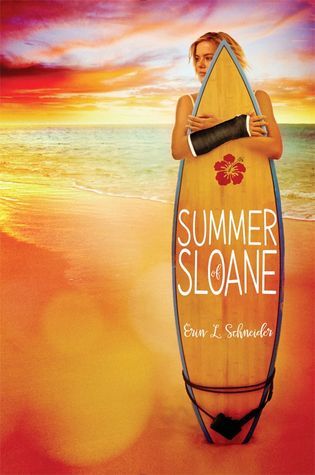 Author: Erin Schneider
Publisher: Disney-Hyperion
Release Date: May 3rd 2016
Format: eARC
Rating:
Warm Hawaiian sun. Lazy beach days. Flirty texts with her boyfriend back in Seattle. These are the things seventeen-year-old Sloane McIntyre pictured when she imagined the summer she'd be spending at her mom's home in Hawaii with her twin brother, Penn. Instead, after learning an unthinkable secret about her boyfriend, Tyler, and best friend, Mick, all she has is a fractured hand and a completely shattered heart. Once she arrives in Honolulu, though, Sloane hopes that Hawaii might just be the escape she needs. With beach bonfires, old friends, exotic food, and the wonders of a waterproof cast, there's no reason Sloane shouldn't enjoy her summer. And when she meets Finn McAllister, the handsome son of a hotel magnate who doesn't always play by the rules, she knows he's the perfect distraction from everything that's so wrong back home. But it turns out a measly ocean isn't nearly enough to stop all the emails, texts, and voicemails from her ex-boyfriend and ex-best friend, desperate to explain away their betrayal. And as her casual connection with Finn grows deeper, Sloane's carefree summer might not be as easy to find as she'd hoped. Weighing years of history with Mick and Tyler against their deception, and the delicate possibility of new love, Sloane must decide when to forgive, and when to live for herself.
I got this book from the publisher in exchange for an honest review. None of my thoughts are influenced by this
I went into Summer of Sloane looking for a light, quick, cute contemporary and I am so glad I picked this book up because I am honestly so addicted to this story. The beach setting really set the mood for a light fun read but I also really liked how Erin managed to write in some more emotional and more serious topics into the book.
One of my favorite things about this book is how many great characters there are. The book revolves around Sloane going to Hawaii after learning about this heartbreaking secret coming for two of her best friends and I really loved Sloane's friends (the ones who lived in Hawaii) comforting her through the terrible betrayal she had just faced. Also, Finn is not the only swoony island boy just saying.
I also really loved seeing Sloane's character development through the book. In the beginning of the book, I saw her as someone who really depended on having a best friend and boyfriend and when two of the most important people turned on her, she had to find someone to depend on (spoiler alert: Sloane herself). Of course, her friends helped her out (yay! great friends!) and I really love the place she is in by the end of the book. I don't necessarily think this was a "finding yourself" book but Sloane goes through some great character growth that, I think, makes her such a stronger character.
And one final thing, if Erin were to ever want to write a sequel or spin-off to these books, I think she would easily be able to do it. There are a handful of characters in Summer of Sloane that I would love to read more about and with everyone still young, there are so many more stories to be told.
So, if you were like me and had just read about 6 fantasy novels with lot's of feels and so much action and need something to lighten things up, then I would really recommend Summer of Sloane. It's a pretty normal sized novel but with the plot and the characters, the whole thing just flies by. The beachy, summery, and tanned skin vibe is so great after coming from books like fantasy and the romance is so cute. So. Cute. Pick up, please.