Books
Review
Your Search for a Beautiful Super Diverse Book Is Over. // Thoughts on Queens of Geek by Jen Wilde
3/14/2017
Queens of Geek Author: Jen Wilde Publisher: Swoon Reads Release Date: March 14th 2017  Format: ARC Rating: When BFFs Charl...
Queens of Geek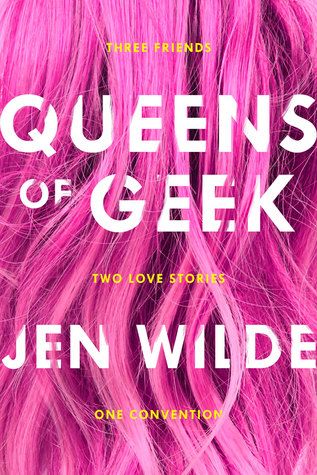 Author: Jen Wilde
Publisher: Swoon Reads
Release Date: March 14th 2017
Format: ARC
Rating:
When BFFs Charlie, Taylor and Jamie go to SupaCon, they know it's going to be a blast. What they don't expect is for it to change their lives forever. Charlie likes to stand out. SupaCon is her chance to show fans she's over her public breakup with co-star, Jason Ryan. When Alyssa Huntington arrives as a surprise guest, it seems Charlie's long-time crush on her isn't as one-sided as she thought. While Charlie dodges questions about her personal life, Taylor starts asking questions about her own. Taylor likes to blend in. Her brain is wired differently, making her fear change. And there's one thing in her life she knows will never change: her friendship with Jamie—no matter how much she may secretly want it to. But when she hears about the Queen Firestone SupaFan Contest, she starts to rethink her rules on playing it safe.
I received an ARC of this book from the publisher in exchange for an honest review. None of my thoughts are altered by this.
For so long, I have been looking for a book that is super diverse. Like so diverse that there are more diverse characters compared to your typical white straight characters. This. Is. The. Book. I have found it. It has been written.
I have so many things to say about Queens of Geek so I am going to try to take it one thing at a time and not spew out all my thoughts within two sentences. First of all, and the biggest thing: it's diverse af man. DIVERSE AF. This book features POC, LGBTQ+, and mental illness characters. One of the main characters is Chinese (homegirl got so excited when she read about that), one of the love interests is Mexican, we meet characters who talk about their experience with things like anxiety and panic attacks, and on top of that, the author handles sexuality beautifully. SO DIVERSE. EVERYTHING IS THERE.


And don't even get me started on the fact that so many topics was beautifully handled. A little bit of Chinese culture is included in the book (a little, but not much partly because it wasn't *that* relevant to the plot you that's cool) but the author writes a lot about anxiety and panic attacks, which I think is great because it was really interesting reading about a character who struggles with something so serious, especially as a person who doesn't go through experiences like the ones Taylor has. I also think the author did a great job writing about emotionally abusive relationships.
I also really loved the character development Taylor and Charlie go through. In the beginning of the book, they both definitely had some things they wanted to change about themselves for the better and I loved reading about the journey they had to go to do that. It was all so realistic and I love the people they come out to be by the end of the book: happy, as they deserve to be. (I actually really hope that the author may consider writing a sequel because I really loved the characters of Queens of Geek and I want more!)
The romance in this book is also so damn cute. I loved it, loved it loved it loved it. One thing that I did find a little "meeeeeh" was the fact that I felt like one of the relationships was kind of rushed. I think they're such a cute couple but everything was so quick with them. I thought that bugged me but after a while, it doesn't. I still love this book. (I really wish said relationship was slowed down a little because it took off REAL FAST. Too fast.)
One last small thing, this book is soo quote-ogenic. I started putting sticky notes on places where I found really good quotes and I ended up with at least ten. Maybe one day I'll share them but I am definitely lenient to do so because they are from the ARC and I don't know how accurate they are. :P

Second last small thing, I loved the fandom, nerd, geeky-ness of this book. It was soo fun to read about the characters being total nerds and fangirls and it was so relatable. Definitely made the book *that* much better.