Books
Four Literary Characters, One Foreign County, Snacks. // My Dream Literary Road Trip and Stranger than Fanfiction Giveaway!
3/17/2017
Hello everyone! I am super excited to share today's post because it is definitely a fun one. This post was inspired by Chris Colfer...
Hello everyone! I am super excited to share today's post because it is definitely a fun one. This post was inspired by Chris Colfer's newest release, Stranger than Fanfiction, which is about an actor who takes a road trip with four fans across the country. So, in tribute of the main character's road trip, I decided to write about my own. This road trip is my dream literary road trip (basically, a road trip with four literary characters)! I had a lot of fun with this post so I hope you enjoy.
Also, make sure to check out the giveaway below if you're interested in winning a copy of Stranger than Fanfiction.
Now for the giveaway. I'm working with Little, Brown & Co (Stranger than Fanfiction's publisher) to giveaway a copy of Stranger than Fiction to you guys! This giveaway lasts for two weeks and ends on March 31 so make sure to get your entries in. I will be contacting the winners through email after the giveaway ends and they will have 48 hours to respond with their address before they forfeit the prize. US only, best of luck, and thank you for entering!
People
The most important part of a road trip is the people! In Stranger than Fiction, Cash, the main character, road trips with four other people, so I have chosen four fictional characters to read trip with!
Chubs // The Darkest Minds; I actually just finished this trilogy (suuuuch a great trilogy) and the characters in The Darkest Minds kind of go on their own road trip. I loved all the characters but I would love to be able to go on a road trip with Chubs. I love his personality and he is kind of a dork and I do love dorky characters. I think he would be a fabulous addition to my road trip and probably the person handling the music throughout the whole entire trip.
Annabeth // The Percy Jackson series; It's been awhile since I've talked about this series in anything and I honestly miss it. Annabeth was one of my favorite characters. I mean, who doesn't love a sassy smart girl? I would definitely love road tripping with her and listen to her state random facts about the places we're visiting. Also, she is super adventurous, which will definitely benefit when exploring new places.
Nina // Six of Crows; I loved Nina's character in the duology and she would be the life of the party of this road trip. The one that brings all the hype to the car when everyone is tired sitting in the car for so long. This girl is the one to be singing along to songs with me and doing some crappy dancing. I love how fun she is and I would definitely love to have some of that fun on my road trip.
Caitlin // Velvet; Velvet is a series that has quickly become one of my new favorite series. I really love Caitlin's sass and I think road tripping with her would be really fun because she would definitely be the person I would be taking pictures with. Outfit pictures on a road trip, it's perfect!
Snacks
Snacks are a very important thing of a road trip. They're what keeps every entertained and happy. Whenever I go on long car rides, snacks are very important so I have had my fair share of experimenting with road trip snacks. One of the most important things for me when it comes to snacks is snacks that do not make you feel like crap after eating said snack. So most of the snacks on my list are probably really healthy snacks. (hah)
Fruits // My mom has fed me so many fruits in my lifetime, I practically live off fruits. I mean, they are the best thing ever. Sweet and healthy foods that are sometimes very easy to eat? Those are the best type of foods. Whenever my family and I go on road trips, expect a big bag of fruits to be found in the car. The fruits I'm bringing on this road trip? Definitely some nectarines, mangos, Cuties (haaaaay), and apples!
Ice Cream // One kind of unhealthy thing that I could eat lots of and not feel nasty after eating it is ice cream. I usually will get an ice cream bar or Dibs at a gas station and eat that during road trips. Sometimes I may stop at a McDonalds and get the soft serve cone for like, a dollar. Ice cream is a must on road trips, no matter the weather. Sure, they can get a bit messy but they are so good and don't make you feel too nasty afterward.
Haribo Gummy Bears // This is probably going to be the most unhealthy thing on this list but Haribo Gummy Bears are so good. I love chewing on them and they don't have a really obnoxiously sweet taste. I have to admit, they do make you feel a little bleh after eating too many of them but that's why we'll *gasp* pace ourselves! Haha, road trips are incomplete with some type of gummy candy, so here is mine.
Pressed Juicery // Okay, so this brand isn't very common but they are pretty big here in the Bay Area and although their juices get a *bit* expensive at times, I love drinking them, especially their fruit ones. These juices are so healthy (seriously, the stuff they put in here are so healthy) and (most of the time are pretty) good, how could I not pack them on my road trip?
Place
And now for the biggest aspect of this road trip, the places we will be hitting on said road trip! If you didn't know,
in December I went to Europe
and got to be in Italy for a few days. I loved Italy and it has some beautiful cities, which is why I chose a road trip through Italy as my road trip spot! I don't know exactly what places I would want to hit but definitely Venice, Rome, Milan, somewhere along the coast of Italy, and Tuscany. It's definitely different than road tripping through America but Italy is beautiful and I think it would be super fun to road trip there. The different cities are really different and I think it would be a really cool experience.
Stranger than Fanfiction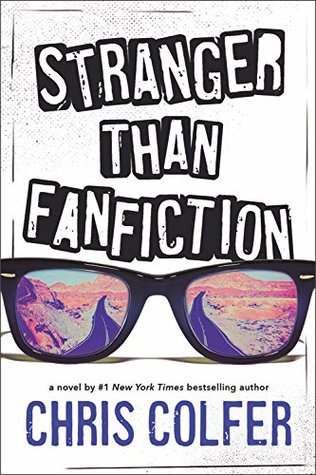 Author: Chris Colfer
Pages: 272
Publisher: Little, Brown
Release Date: February 28, 2017
From #1 New York Times bestselling author Chris Colfer comes a funny, heartbreaking, unforgettable novel about friendship and fame. Cash Carter is the young, world famous lead actor of the hit television show Wiz Kids. When four fans jokingly invite him on a cross-country road trip, they are shocked that he actually takes them up on it. Chased by paparazzi and hounded by reporters, this unlikely crew takes off on a journey of a lifetime – but along the way they discover that the star they love has deep secrets he's been keeping. What they come to learn about the life of the mysterious person they thought they knew will teach them about the power of empathy and the unbreakable bond of true friendship. In this touching novel, #1 New York Times bestselling author Chris Colfer takes us on a journey full of laughter, tears, and life-changing memories.
So tell me: Who do you have on your dream literary road trip?