Shows
My Best Dramas of 2017
1/10/2018
One of the biggest things of 2017 was that I started to get into East Asian dramas, Chinese ones to be specific. I ended up starting my...
One of the biggest things of 2017 was that I started to get into East Asian dramas, Chinese ones to be specific. I ended up starting my first one around May, so it wasn't a full year but uh, 2018 is gonna be a full year of dramas so hah we'll see how that goes. I watched quite a few dramas in 2017 and most of them were pretty good so of course, I had to write a post about them. I'm not going to do a post about *all* of the dramas I watched because frankly, that would take forever to read and write so I will save us both the time and just talk about the *best* ones of 2017. I had fun looking back on what I watched this year so I hope you enjoy!
Notes:
- OST = Official Sound Track
- Click gif for source
The Top 7 Dramas
1. Descendants of the Sun / 태양의 후예
A surgeon and a special forces officer meet and eventually fall in love but not without a whole bunch of angst and cute moments!


This was the only Korean Drama I watched in 2017 but it honestly had me so shook. It was suuuuuch a good drama and I honestly understand why it is such a big hit in Korea and internationally. I loved the actors and the storyline and the songs from the OST are my faaaaave. Omgandthemainactorsgotmarrieditssofuckingcutetheyresocutetogethershookshookshooook. It's actually rumored that there is going to be a second season of this drama and there are so many different things about it flying around (including one where it would be aired before 2017 ended and it's 2018 already so I don't know what to believe anymore hah) so hopefully that rumor is real and that the second season won't suck.
2. Ten Miles of Peach Blossoms / 三生三世十里桃花
Takes place in a fantasy world of gods and immortals. It's really hard to describe but basically, one couple goes through a lot of bullshit just to be together. It's better than how I just worded it I promise.
I actually did not think I was going to watch this drama. When I first read about it there were honestly so many things that didn't appeal to me. It was super long and it was a fantasy drama (aka bad CGI, cringe). I actually watched the first episode and the stopped because I had no idea what was going on and it was so different compared to the synopsis I read but I ended up picking it up a few weeks later. It is an extremely long drama but it honestly didn't feel like that. I remember being on episode 40 (more than halfway through) and it felt like only 20 episodes had gone by. It's long but it goes by really quickly. That's probably because the storyline is super interesting and it has a lot of aspects and main events in the story. Plus, I loooooved the actors and the story's characters.
3. The Princess Wei Young / 锦绣未央
A princess's family get's framed and killed so she ends up running away and taking the identity of a minister's bastard daughter in the territory that killed her family. This is her life as the minister's daughter.
Okay, this drama still has me shook and it's been almost 2 months since I finished it. I didn't think I would like this drama either. I watched an episode in June and didn't go back to it until October. I don't really watch period dramas and at the time that I watched the first episode, I had just started watching Chinese dramas and I didn't think period dramas would appeal to me but I ended up really loving The Princess Wei Young. In my opinion, the storyline drags out a bit (considering how long the drama is) but I am honestly able to overlook that because this drama has got a great storyline, actors, and the OST is what got me crying every night.
4. My Sunshine / 何以笙箫默
A couple dates in college but ends up breaking up due to misunderstanding and the girl leaves. 7 years later she is back and has the face everything that she left. (aka, her ex-boyfriend). Angsty? Yah.
This was one of my first Chinese dramas and it is honestly so well done. In my opinion, it's a lot different compared to other Chinese melodramas, in a good way, and it has a storyline that could have gone bad and become really corny but thank god it did not. The main actors have great chemistry in this drama, I love the side characters and storylines, and this drama's OST got some pretty solid belt-worthy songs. This drama features so much character development in their characters, the mains and also the sides. There are some moments in this drama where I was like "yeah, what is this" but I honestly blame it on the fact that it a few years older than other dramas, so happenings probably aren't as cringey as they are today lmaoooo.
5. My Mr. Mermaid / 浪花一朵朵
A reporter meets an up and coming swimmer who is making his comeback after previously being accused of using drugs. The male lead is really cute I'm surprised there weren't like, 500 girls going after him in the drama.
My Mr. Mermaid was such a cute drama omg, precious, PRECIOUS. I was so hung up on this drama after I finished it for a few days. It's more of a sports drama than a school drama (I don't really like school dramas hah) but at the same time, there are some other aspects to its storyline. The male lead is SWOONY OH MY LORD, and the chemistry between the lead couple was adorable as hell. In my opinion, the drama is a little long for its storyline but it is not anything I am crying over because it's so. damn. cute. It's an extremely feel good and fluffy drama and I absolutely loved it.
6. Autumn's Concerto / 下一站,幸福
Your typical rich boy and poor girl story except with a plot twist so watch out. Angsty but extremely cute and heartwarming.
This is the oldest drama I watched this year but it was actually really good. It's was my first Taiwanese drama so I didn't know what to expect. All I knew was the there was going to be some major angst based on the synopsis I read about it. Normally I try to stay away from older dramas just because the camera quality makes it irritating to watch sometimes and it get's kinda cringe and corny but honestly I was so able to overlook that because the storyline and characters of this drama are great and I loved it. It also wasn't as angsty as I was expecting it to be. This drama can have some problematic moments but overall I found that it was one of my favorites last year. Not gonna lie, it's a drama that I most likely am going to end up rewatching.
7. Surgeons / 外科风元
Surgeon returns to his hometown thirty years after his mother is accused of a mistake that wasn't her fault, which leads to killing herself. He is trying to uncover the truth and clear his mother's name. He also meets another surgeon, whose father was the victim of his mother's "mistake."
I didn't actually expect to watch this drama. I used to think it was super long (it's not.) and I didn't really think the male lead was *that* good looking but somehow, I ended up sitting on the couch for four days, binge-watching this drama. I love Bai Baihe, the main actress, and I have a thing for medical dramas so this sounded like a drama I would like. It surprised me how addicted I was to watch this drama and more surprising that I actually liked it. The synopsis mentioned that the lead male would be trying to uncover the truth about a situation that had changed his life and I thought it would have some detective shit (which I was not here for) but it didn't. It wasn't what I expected, which is a good thing and I ended up loving it. There is a lot of hospital stuff in this drama and I think I really liked that because the romance isn't very prominent in this drama. Regardless, it was good and I am glad I took a chance with it.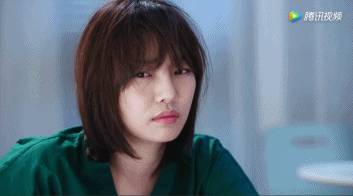 Honorable mentions
Rush To the Dead Summer / 夏至未至
Your typical school drama. Follows a group of friends as they start off high school and then also covers their lives after high school. Obviously, things change and shit happens.
Alright, this drama was actually not a bad drama. There are a few issues I had with this drama but all of that is overshadowed by the fact that this drama shook me the most, THE MOST, out of all the dramas I watched this year. Like I cried so hard finishing this drama and listening to the OST all the damn time does not help. (It has such a great OST though). It dragged on a little bit and the characters got a little stupid at the end but it left a pretty big impression on me and for that, it get's an honorable mention.
Pretty Li Hui Zhen / 漂亮的李慧珍
A girl tries to reconnect with her childhood best friend but doesn't have the guts to because she is now "uglier" than she was when she was younger and her friend is now a lot cuter than he was before. So, she has her cute best friend pretend to be her. Misunderstandings happen, you know it.
This drama is a remake of the Korean drama She Was Pretty. The Korean version is only 16 episodes long, and this one is like 40, so it's obviously longer. I actually really enjoyed this drama and thought it was really well done when I first watched it but the more I think about it the more I'm like....eh. The drama is ridiculously long, considering how short the Korean version was, and the chemistry between the two main leads isn't as strong and convincing. I still thought it was a pretty cute drama and when I was watching it I really liked it. Plus, it was a pretty funny drama and very lighthearted, which I liked about it and so, it get's an honorable mention.
Phew that was kind of a long post! Regardless, I hope you enjoyed it (I had fun finding gifs hehe) and were maybe able to find your new favorite drama? It was a great year in Chinese dramas and I hope that this year is even better!