Books
Review
A Quick, Fun, Dramatic Summer Trilogy // Thoughts on The Summer I Turned Pretty Trilogy by Jenny Han
7/29/2016
The Summer I Turned Pretty Author: Jenny Han Pages: 276 Published by: Simon & Schuster Books for Young Readers  Release Date: M...
The Summer I Turned Pretty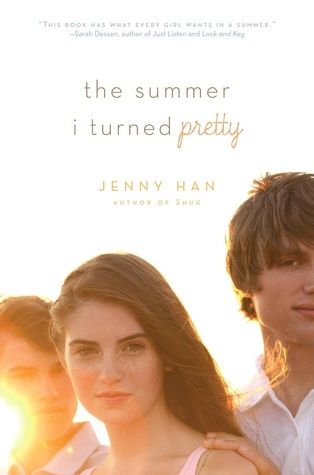 Author: Jenny Han
Pages: 276
Published by: Simon & Schuster Books for Young Readers
Release Date: May 5th 2009
Belly measures her life in summers. Everything good, everything magical happens between the months of June and August. Winters are simply a time to count the weeks until the next summer, a place away from the beach house, away from Susannah, and most importantly, away from Jeremiah and Conrad. They are the boys that Belly has known since her very first summer--they have been her brother figures, her crushes, and everything in between. But one summer, one terrible and wonderful summer, the more everything changes, the more it all ends up just the way it should have been all along.


Jenny Han is one of my favorite authors, that statement based off only reading the To All the Boys trilogy. Now that I have read the series that started it all for her, I get more of an idea of her work. The Summer I Turned Pretty is a very dramatic trilogy, shall I say, (There is a lot of crying...) I really enjoyed it as it did have a very interesting plot and characters. I also binge read it within a two day time period so that was an interesting experience. I'm going to be talking about all three books so I hope you enjoy!
The first thing I want to talk about is the characters. There aren't like a huge amount of them but I do enjoy reading about all of them nevertheless. There were a couple of characters that I did have problems though. I thought Belly, the main character, was a little irritating. She cried....a lot....over things that had happened to her before, which was something that made me roll my eyes a bit because it just seemed like about 40% of this book was Belly crying or sulking. Like I understood why she cried over some situations but there were other situations where I totally did not understand why she was crying. I wanted to shake the girl and tell her to never let herself cry at the hands of a man! Also, I thought Conrad was jerk, about 90% of the time. Did I like him? Not much but he was tolerable.
Bingeing this series within a two day timespan was definitely a good choice on my part. Because so much time pasts between book one and book three, it's really interesting to compare the differences between the characters, look back on what has happened between the three books, and it's also so weird when the characters say something like "3 years ago" when really for me, it was only the last book, which I probably only finished about 2 hours ago. So, reading all three books so quickly and having so much time past between them really just made time past so quickly.

All in all, this was a pretty good summer series binge. I had a lot of fun following these characters through the three years this story takes place and it was fun to read about Belly's story. Not only did it have fun summer moments, but it dealt with many other problems that I did not expect this book to cover and it was very enjoyable. Jenny Han is a fabulous writer and based on her books, I can definitely see how it got better over time.