Books
Interview
Sunday Street Team
So Why Did Tara Sim Decide to Write Timekeeper in a Victorian Inspired World? // Sunday Street Team: Timekeeper by Tara Sim (Interview and Giveaway)
11/13/2016
Hello everyone and welcome to my post for the Timekeeper's Sunday Street Team, hosted by Nori @ ReadWriteLove28 ! I am super excited ...
Hello everyone and welcome to my post for the Timekeeper's Sunday Street Team, hosted by Nori @
ReadWriteLove28
! I am super excited to be back and blogging again, starting with a wonderful interview with author Tara Sim. She had some great answers to my questions and I can't wait for you all to read the interview. Enjoy, make sure to check it out, and if you're interested, enter the giveaway to win a signed copy of the Timekeeper!


Timekeeper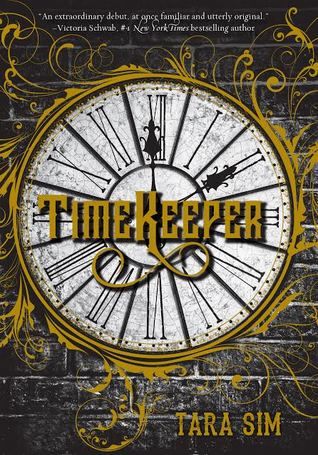 Author: Tara Sim
Pages: 368
Publisher: Sky Pony Press
Release Date: November 8th 2016
In an alternate Victorian world controlled by clock towers, a damaged clock can fracture time—and a destroyed one can stop it completely. It's a truth that seventeen-year-old clock mechanic Danny Hart knows all too well; his father has been trapped in a Stopped town east of London for three years. Though Danny is a prodigy who can repair not only clockwork, but the very fabric of time, his fixation with staging a rescue is quickly becoming a concern to his superiors. And so they assign him to Enfield, a town where the tower seems to be forever plagued with problems. Danny's new apprentice both annoys and intrigues him, and though the boy is eager to work, he maintains a secretive distance. Danny soon discovers why: he is the tower's clock spirit, a mythical being that oversees Enfield's time. Though the boys are drawn together by their loneliness, Danny knows falling in love with a clock spirit is forbidden, and means risking everything he's fought to achieve. But when a series of bombings at nearby towers threaten to Stop more cities, Danny must race to prevent Enfield from becoming the next target or he'll not only lose his father, but the boy he loves, forever. The stunning first novel in a new trilogy by debut author Tara Sim, Timekeeper is perfect for fans of Cassandra Clare and Victoria Schwab.
Interview with Tara Sim
1. Hi Tara! Welcome to Next Page Please, thanks for being here today. For my first question, I would love to know while you were writing Timekeeper, were there any places in the book that resembles or were inspired off real places?
Thanks for having me! Yes, there are definitely places in the book inspired by real locations. It mostly takes place in London, so I used recognizable landmarks here and there, especially Parliament Square, where Big Ben is. I altered many of these places, though; for instance, I put the Mechanics Affairs building in Parliament Square, when obviously in our world there is no such thing.
2. In what way do you relate to your main character Danny and in what way is he totally different from you?
Danny is a moody guy, and I'm rather moody/grumpy myself. Some of the things he gets annoyed with in the book are things I'd get annoyed with too. However, he's also very different from me in that he isn't quite sure how to switch that part of him off and have fun, and I definitely have my goofy moments.
3. For readers who loved Timekeeper, what are some similar books that you would recommend to them?
I would recommend Carry On by Rainbow Rowell, A Darker Shade of Magic by Victoria Schwab, and Leviathan by Scott Westerfeld. And if you want more Victorian antics, I'd recommend A Shadow Bright and Burning by Jessica Cluess, These Vicious Masks by Kelly Zekas and Tarun Shankar, and Stalking Jack the Ripper by Kerri Maniscalco.
4. What is your favorite time of the day?
I love dusk, usually the 6 pm to 8 pm timeframe. I also love late, late night, like 11 pm to 1 pm.
5. How do you think Danny would react to our world if he was suddenly whisked to 2016?
Haha, the poor dude would panic. Knowing him, the first thing he'd probably notice are the cars and how different they look. He'd set off a car alarm while poking at one and then frantically stumble into a Starbucks, freak out at the espresso machines, and likely get arrested for public disturbance.
6. I see that you live in the Bay Area! (As do I :D) What do you love most about living in the Bay Area?
I love the Bay Area because there's so much to do, and the culture here is so palpable. I've lived here my whole life, although I went to college in Virginia and studied abroad in London for a bit, and out of all the places I've been, this feels the most like home. Also, there's a fantastic book community here!
7. And that concludes this interview. Thank you Tara for being here! For my final question, I would just like to ask, what inspired you to write in a Victorian like world?
Confession: I used to hate the Victorian era. I thought it was just Super Weird and didn't understand why people were obsessed with it. But then I realized it was a lot more nuanced than I was originally taught in school, and that the gritty Victorian world was a lot more interesting to me than the prim and proper appearance they put on. I'd never written a historical novel before Timekeeper, but I knew that this world of clock towers and magic and technology had a very steampunk element to it, which naturally led me to the Victorian time period. The rest is history (haha...ha…).
Tara Sim
Tara Sim can typically be found wandering the wilds of the Bay Area, California. When she's not chasing cats or lurking in bookstores, she writes books about magic, clocks, and explosives. TIMEKEEPER is her debut novel. Follow her on Twitter at @EachStarAWorld, or check out her website tarasim.com for fun extras.