Books
Jenny Han
Let's Talk!
Review
Simon & Schuster
Let's Talk!: PS I Still Love You by Jenny Han
6/06/2015
PS I Still Love You Author: Jenny Han Pages: 337 Published by: Simon & Schuster Books for Young Readers Published on: May 26th ...
PS I Still Love You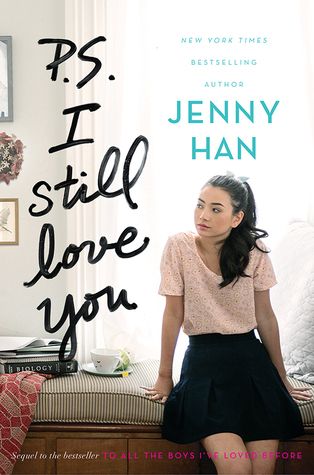 Author: Jenny Han
Pages: 337
Published by: Simon & Schuster Books for Young Readers
Published on: May 26th 2015
Lara Jean didn't expect to really fall for Peter. She and Peter were just pretending. Except suddenly they weren't. Now Lara Jean is more confused than ever. When another boy from her past returns to her life, Lara Jean's feelings for him return too. Can a girl be in love with two boys at once? In this charming and heartfelt sequel to the New York Times bestseller To All the Boys I've Loved Before, we see first love through the eyes of the unforgettable Lara Jean. Love is never easy, but maybe that's part of what makes it so amazing.
---
This book was so light, fun, and nostalgic.
I remember reading To All the Boys about a year ago and it feels so nice to be back in the word of Lara Jean! I have to say though,
I definitely enjoyed To All the Boys a lot better than this one
.
This book was enjoyable in it's own way
but To All the Boys had the "new" feeling. The people were new, this plot was new, everything was new! PS I Still Love You was still great but I was so used to the plot and characters; I started getting comfy. Nevertheless,
PS I Still Love You was great
and if you haven't got to this series yet,
I would highly recommend it
for contemporary romance lovers.
*breathes* Okay, the characters. It was so nice to be back with the To All the Boys characters. Some new, some old; they were all great.
Jenny continued to woo me with her great diversity in personality.
Lara Jean was the same old introverted and over thinking (Who can blame her!) person. Kitty was still her cute self and Margot, again, played the supportive older sister from Scotland. Honestly,
this is a great character group because of how diverse everyone is.
From grandmothers to little Kitty,
we get a taste of all different personalities,
and I don't get much of that in some books.
That really made Jenny's character just stand out so much.
I think in this book my love for Kitty just exploded. Like this girl, is the cutest thing ever because she seems so innocent and nice but she is a little diva. Kitty is just so funny because of how she has so many different sides to her personality. On some days Kitty can be such a baby and need-to-be-fussed-over diva and some days she can just be so mature, and I love that about her. It makes Kitty come of as devil in disguise.
The plot to this book was great as well.
This book focuses a lot more on Lara Jean and Peter's relationship and going through the "new relationship" situations.
They did the first date and studying together and I really just loved reading about it. Of course,
every relationship goes through their ups and downs and I think Han captured that perfectly
. Especially if the couple haven't know each other for as long as Peter and Lara Jean did, you learn things that may slowly drive you away from that person. One thing
I also loved about the plot of this book was how realistic it was.
The problems Lara Jean was facing in this book very much seemed like a teenage girl would encounter.
The ending to this book tied up this duology so well.
It gave much such a satisfying feeling and I loved. Of course, I will probably never get enough of Jenny's writing and Lara Jean's world so the need for another book about SOMETHING related to Lara Jean's world would be freaking fantastic.
I gave this book 5 stars because I loved the plot and characters and it was a great book in it's own way.
Also, don't kill me when I say this as well but I was so okay with the fact that John still liked Lara Jean. When Peter and Genevieve showed up after the dance at the senior center I was so hoping something would happen between John and LJ. The thing is, I knew Peter and Lara Jean were going to get back together in the ending and that's why I was totally fine with the fact that John and Lara Jean may have gotten together. (But you know, Lara Jean didn't like John in that way...Poor John) Honestly, John and Lara Jean could have dated and I still would have no problem with it. It's not like I would fully ship them and plan their wedding day ahead of time though. I was still rooting for Peter and Lara after they broke up. I hate to admit it but John was kind of a way for Peter to get jealous and then maybe he would get over Genevieve quicker.
Just a thought: Kitty setting up her dad with their neighbor was probably the most hilarious and cutest thing ever.
Can I just say how immature Gen is. She is holding a grudge for something that had happened like 5 years ago. What's funny is that it's over a boy. If that kiss had happened when they were 16, I wouldn't blame her for being mad at Lara Jean. These kids were 12! When you date at age 12 you have one-week relationships and you date your best friend's ex-boyfriend. I don't care how in love you think you may be at age 12, but the chance of you still being "in love" with your middle school boyfriend 10 years later is very low, in my opinion.
Guys, the ending was just the cutest thing ever. I loved how they finally agreed to a relationship with no contract and wasn't fake. And then they were telling each other how "my heart is yours to break" and all the mushy stuff.
I just, they finally can be together without Peter always with and thinking about Genevieve and just have a normal relationship. IT'S SO BEAUTIFUL BECAUSE THEY ACTUALLY LOVE EACH OTHER. *cries some more*
This question has swarmed my mind since I have finished this book: Do I need another book? When I first finished it, I was just dying for a third book but the ending was beautiful. If Jenny wrote another book what would it be about? Now, I realize, this ending was perfect in tying up this duology. It gave such a sweet ending and I am still laughing in Genevieve's face because Lara Jean got the boy.