Books
Monthly Recap and TBR
Ready to March My Way Through March (I'm So Funny OMG) // Hello March!
3/05/2017
Hello everyone and welcome to March! I had a super busy February so I am glad that all the busy has passed and we're going into a new...
Hello everyone and welcome to March! I had a super busy February so I am glad that all the busy has passed and we're going into a new month. Luckily, I don't have too many things lined up for March so it looks like it will be a chill month! (And I am hoping it stays chill.) I hope everyone had a wonderful February though and has some exciting things for March.
Velvet by Temple West
Cashmere by Temple West
Blacksouls by Nicole Castroman
Daughter of the Pirate King by Tricia Levenseller
Romeo and Juliet by William Shakespeare
Out of the five books I read this month, only two of them was actually a part of my initial TBR list, oops! I could hardly care though because I absolutely loved the books that I read last month. I could care less about Romeo and Juliet though because that was for school (the story is so stupid) but I'm happy that I was able to get more than two books read last month. Hopefully I have the same luck this month!
I'm happy with a number of posts I was able to get out this month. It's usually around this time where my motivation to blog or read goes out the window but I'm glad it's still with me! Of course, I can't post as often as I used to but 6 posts a month is most definitely something I can live with. I actually ended up writing two of these posts the night before they were supposed to go out so I am ultra happy with the amount of time I have to blog.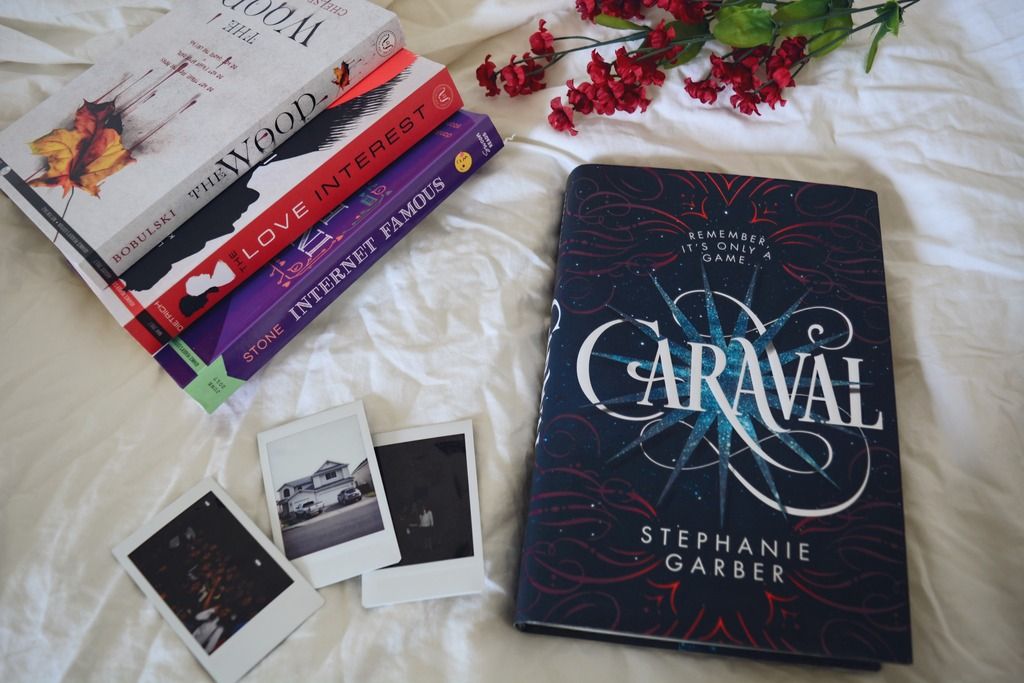 eARC:
Queer, There, and Everywhere
Jaeth's Eye
Blacksouls
ARC:
The Wood
The Love Interest
Internet Famous
Queens of Geek by Jen Wilde
The Upside of Unrequited by Becky Albertali
Of Mice and Men by John Steinbeck
My Antonia by Willa Cather
Timekeeper by Tara Sim
Here is hoping that this month, I get more books read from my TBR! Two of these are actually for school so I definitely know that I'll at least be reading one book, for sure. I am super excited to have so much diversity in my TBR also, (yay!) because I admit, I haven't done the best job reading more diverse books this year so I am hoping that changes with March.
Lucifer
I had a four-day weekend this month (thank god) and spent about half of it binge watching Lucifer. It was such an easy binge, only 26 episodes so far, but I had such a great time with it and the wait for the next episode (MAY. CAN YOU BELIEVE IT?) is not gonna be fun. I love this show so much though. There is humor, also some pretty serious themes in the storyline, and the characters are fabulous. If you need something short to binge, I would definitely try out Lucifer.
Badminton Season
Here's a more personal thing! I joined my schools Badminton team and am excited for sports season to start again. I'm not the best when it comes to Badminton but its one of the very few sports that I enjoy playing and I have to admit, it feels nice to be a bit busier now. And yes, it's only been about two weeks into the season and I've already gotten injured and my legs are already sore. Yay!
I'm not even gonna lie, when I was making this playlist in February, I was struggling because I could not find anything to put into this playlist. Beginning of March roles in and legit so much new music dropped. I cried. Thank god too because I have some newer stuff to put into this playlist as well! Also, I have a few songs from Justin Timberlake's 2013 album, which explains why I have fewer songs but the playlist is still an average length, hah!