Books
Monthly Recap and TBR
The June Post
6/01/2015
It's June! It's June! School ends in four days for me and then I'll be freeeeeeeee (That is, until August rolls around...) I wil...
It's June! It's June! School ends in four days for me and then I'll be freeeeeeeee (That is, until August rolls around...) I will be going on a big hiatus for half of June and a few days in July. So now that Summer vacation is around, I have time to do things like sleep! And read more! :D Even if I am going to be busy for a few weeks this month I still very much plan to read!

---
The Heir
Author: Kiera Cass
Pages: 342
Published by: HarperTeen
Published on: May 5th 2015
Princess Eadlyn has grown up hearing endless stories about how her mother and father met. Twenty years ago, America Singer entered the Selection and won the heart of Prince Maxon—and they lived happily ever after. Eadlyn has always found their fairy-tale story romantic, but she has no interest in trying to repeat it. If it were up to her, she'd put off marriage for as long as possible. But a princess's life is never entirely her own, and Eadlyn can't escape her very own Selection—no matter how fervently she protests. Eadlyn doesn't expect her story to end in romance. But as the competition begins, one entry may just capture Eadlyn's heart, showing her all the possibilities that lie in front of her . . . and proving that finding her own happily ever after isn't as impossible as she's always thought.
~
Me and Earl and the Dying Girl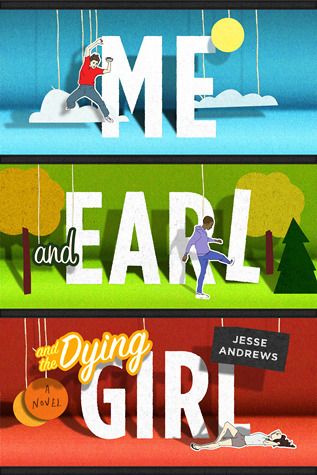 Author: Jesse Andrews
Pages: 295
Published by: Amulet Books
Published on: March 1st 2012
Greg Gaines is the last master of high school espionage, able to disappear at will into any social environment. He has only one friend, Earl, and together they spend their time making movies, their own incomprehensible versions of Coppola and Herzog cult classics. Until Greg's mother forces him to rekindle his childhood friendship with Rachel. Rachel has been diagnosed with leukemia—-cue extreme adolescent awkwardness—-but a parental mandate has been issued and must be obeyed. When Rachel stops treatment, Greg and Earl decide the thing to do is to make a film for her, which turns into the Worst Film Ever Made and becomes a turning point in each of their lives. And all at once Greg must abandon invisibility and stand in the spotlight.
~
The Winner's Crime
Author: Marie Rutkoski
Pages: 416
Published by: Farrar Straus Giroux
Published on: March 3rd 2015
Book two of the dazzling Winner's Trilogy is a fight to the death as Kestrel risks betrayal of country for love. The engagement of Lady Kestrel to Valoria's crown prince means one celebration after another. But to Kestrel it means living in a cage of her own making. As the wedding approaches, she aches to tell Arin the truth about her engagement... if she could only trust him. Yet can she even trust herself? For—unknown to Arin—Kestrel is becoming a skilled practitioner of deceit: an anonymous spy passing information to Herran, and close to uncovering a shocking secret. As Arin enlists dangerous allies in the struggle to keep his country's freedom, he can't fight the suspicion that Kestrel knows more than she shows. In the end, it might not be a dagger in the dark that cuts him open, but the truth. And when that happens, Kestrel and Arin learn just how much their crimes will cost them.
~
A Sense of Infinite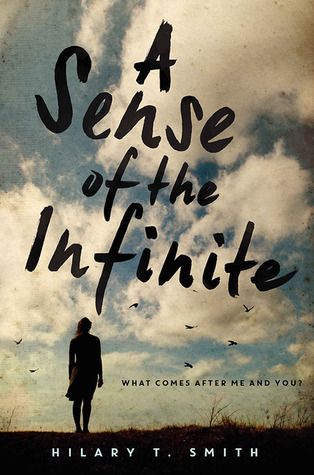 Author: Hilary T. Smith
Pages: 400
Published by: Katherine Tegen Books
Published on: May 19th 2015
By the author of the critically acclaimed Wild Awake, a beautiful coming-of-age story about deep friendship, the weight of secrets, and the healing power of nature. It's senior year of high school, and Annabeth is ready—ready for everything she and her best friend, Noe, have been planning and dreaming. But there are some things Annabeth isn't prepared for, like the constant presence of Noe's new boyfriend. Like how her relationship with her mom is wearing and fraying. And like the way the secret she's been keeping hidden deep inside her for years has started clawing at her insides, making it hard to eat or even breathe. But most especially, she isn't prepared to lose Noe. For years, Noe has anchored Annabeth and set their joint path. Now Noe is drifting in another direction, making new plans and dreams that don't involve Annabeth. Without Noe's constant companionship, Annabeth's world begins to crumble. But as a chain of events pulls Annabeth further and further away from Noe, she finds herself closer and closer to discovering who she's really meant to be—with her best friend or without. Hilary T. Smith's second novel is a gorgeously written meditation on identity, loss, and the bonds of friendship.
~
From A Distant Star
Author: Karen McQuestion
Pages: ?
Publishing by: Skyscape
Publishing on: May 19th 2015
Seventeen-year-old Emma was the only one who hadn't given up on her boyfriend, Lucas. Everyone else—his family, his friends, his doctors—believed that any moment could be his last. So when Lucas miraculously returns from the brink of death, Emma thinks her prayers have been answered. As the surprised town rejoices, Emma begins to question whether Lucas is the same boy she's always known. When she finds an unidentifiable object on his family's farm—and government agents come to claim it—she begins to suspect that nothing is what it seems. Emma's out-of-this-world discovery may be the key to setting things right, but only if she and Lucas can evade the agents who are after what they have. With all her hopes and dreams on the line, Emma sets out to save the boy she loves. And with a little help from a distant star, she might just have a chance at making those dreams come true.
~
Magonia
Author: Maria Dahvana Headley
Pages: 320
Published by: HarperCollins
Published on: April 28th 2015
Neil Gaiman's Stardust meets John Green's The Fault in Our Stars in this fantasy about a girl caught between two worlds... two races…and two destinies. Aza Ray is drowning in thin air. Since she was a baby, Aza has suffered from a mysterious lung disease that makes it ever harder for her to breathe, to speak—to live. So when Aza catches a glimpse of a ship in the sky, her family chalks it up to a cruel side effect of her medication. But Aza doesn't think this is a hallucination. She can hear someone on the ship calling her name. Only her best friend, Jason, listens. Jason, who's always been there. Jason, for whom she might have more-than-friendly feelings. But before Aza can consider that thrilling idea, something goes terribly wrong. Aza is lost to our world—and found, by another. Magonia. Above the clouds, in a land of trading ships, Aza is not the weak and dying thing she was. In Magonia, she can breathe for the first time. Better, she has immense power—and as she navigates her new life, she discovers that war is coming. Magonia and Earth are on the cusp of a reckoning. And in Aza's hands lies the fate of the whole of humanity—including the boy who loves her. Where do her loyalties lie?
~
Broken Hearts, Fences and Other Things to Mend
Author: Katie Finn
Pages: 380
Published by: Square Fish
Published on: May 5th 2015
Gemma had her summer all planned out, but it takes sharp turn when she gets dumped and finds herself back in the Hamptons after a five-year absence. Being there puts her at risk of bumping into Hallie, her former best friend (that is, before Gemma ruined her life). But people don't hold grudges forever. Do they? Gemma intends to make amends, but a small case of mistaken identity causes the people she knew years ago—including Hallie and her dreamy brother Josh—to believe she's someone else. As though the summer wasn't complicated enough already. Can Gemma keep up the charade? Or will she be found out by the very people she's been hiding from?
~
Revenge, Ice Cream, and Other Things Best Served Cold
Author: Katie Finn
Pages: 400
Published by: Feiwel & Friends
Published in: May 5th 2015
The war rages on between Gemma and Hallie in the second installment of the Broken Hearts and Revenge series. After the humiliating events on the 4th of July, Gemma's trying to handle the fact that Hallie knew who she was all along, and she was the one who stole Teddy from her. Gemma vows revenge, but things get more complicated than she planned. Ford, Gemma's long-time crush, has arrived in the Hamptons cuter than ever. Josh is refusing to speak to her after she lied to him, and Teddy is playing champion to his beloved Marsh Warbler (in Gemma's backyard, no less). Gemma and Hallie find themselves locked in an escalating revenge cycle. Just when Gemma thinks she has the upper hand, the biggest bombshell of all is dropped. And it's one that threatens to change her life forever. This exciting sequel to Broken Hearts, Fences, and Other Things To Mend will leave you begging for the third installment.
---
What I Read This Month...
City Love
The Summer of Chasing Mermaids
I Was Here
Exile
Mila 2.0
Mind Games
The Revenge Playbook
From a Distant Star
Undertow
Nil Unlocked
The Program
This was a very big month for me, TBR wise. 11 books! I got 8 of them done but honestly, that doesn't really upset me. 8 is the number of books I try to aim for monthly and I got 8 done this month. Yeah, I wish I could have gotten more books read but I am happy with the 8 I was able to read.
---
The 105 Book Challenge
6 books that were 2015 releases!
2 YA dystopians!
4 ARCs!
1 "We Need Diverse Books" book
---
What was posted this month
Reviews
Top 3 of the most viewed posts
What's going on this month
Like I mentioned, hiatus. There will still be reviews and other posts like that until the 15th! Then that's my when my haitus will be starting. I may be scheduling some posts but other than that this blog will pretty much me empty.
---
Bought:
Won from giveaways: