Books
End of the Year
2015 End of the Year Bookish Survey
12/31/2015
Hello everyone and welcome to the last day of 2015. It's been a pretty great year and I am excited for you guys to read about my 2015 ...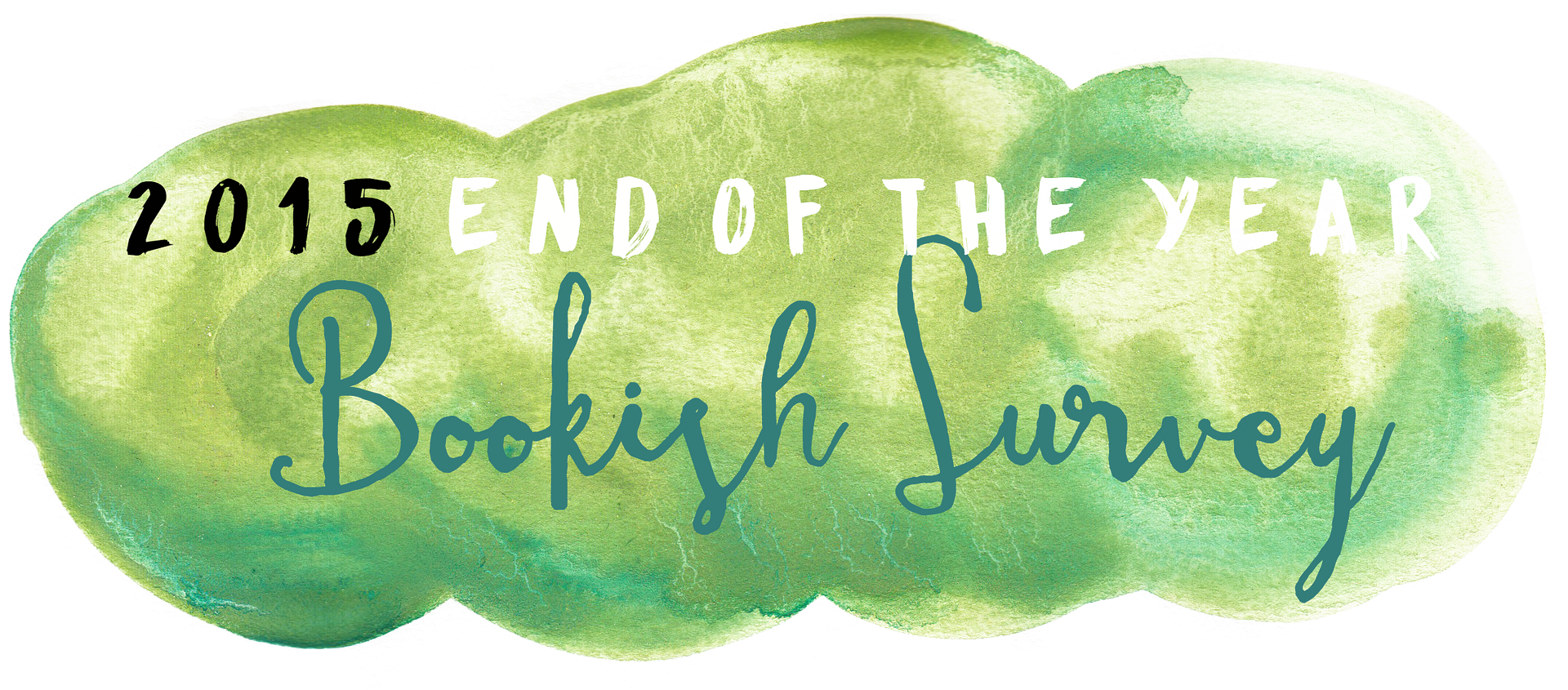 Hello everyone and welcome to the last day of 2015. It's been a pretty great year and I am excited for you guys to read about my 2015 and I hope you all had a good 2015! Super excited for 2016 and what it brings. Now... to the survey! (This survey was created by Jamie @
The Perpetual Page Turner
)
---

Number Of Books You Read:
By the time this post goes up, hopefully 81!
Number of Re-Reads: Hah....none...
Genre You Read The Most From: Contemporary?

1. Best Book You Read In 2015?
There are so many of them but one of them has to be
Queen of Shadows
. I started the Throne of Glass series finally and the lastest book was amazing.
2. Book You Were Excited About & Thought You Were Going To Love More But Didn't?
Uhhh that has to be
Never, Always, Sometimes
by Adi Alsaid. I loved Let's Get Lost and enjoyed Never Always Sometimes but I did think that it would enjoy it a bit more.
3. Most surprising (in a good way or bad way) book you read?
One of my most recent reads,
Joyride
! I really enjoyed this book and the plot had definitely taken me by surprise on how different it was to what I expected it to be. Enjoyed it nevertheless!
4. Book You "Pushed" The Most People To Read (And They Did)?
Ayyyeee,
Let's Get Lost
! I have pushed this book on so many people at school and about 3 other people have read it now, pretty good considering not a lot of people are avid readers.
5. Best series you started in 2015? Best Sequel of 2015? Best Series Ender of 2015?
There were so many great series I had started this year but one of the best has to be the
Six of Crows
duology. Ugh such a great read and I cannot wait for Crooked Kingdoms!
One of my favorite sequels this year
The Rose Society
. It was such a great book and I cannot wait for more Marie Lu and Young Elites.
Best series ender I read this year has to be
Forged
. I have been such a huge fan of Erin Bowman's Taken trilogy for so long and ending this trilogy was kind of sad because I love it so much. Forged was such a great read and an awesome series ender.
6. Favorite new author you discovered in 2015?
Hilary T Smith!
A Sense of the Infinite
! Such an awesome read! I won an ARC of this book, read it over the summer, and really enjoyed it. I know Hilary has another book out and I am hoping to read it soon because she is awesome!
7. Best book from a genre you don't typically read/was out of your comfort zone?
I have two of these actually. This past year, I have been opening up to YA westerns! My first read was
Under a Painted Sky
and the next one was
Vengeance Road
. Both reads are so awesome and very different in plot. I am hoping more for more YA Westerns in the future because I do love them now!
8. Most action-packed/thrilling/unputdownable book of the year?
Soooo many of these books were read this year but one of them has to be
Nil
by Lynne Matson. This whole series is such an awesome one. The plot, the concept, the characters; awesome. These books are so addicting and I am dreading but excited for the last book.
9. Book You Read In 2015 That You Are Most Likely To Re-Read Next Year?
Ruin and Rising
, for sure. I have been away from the Grisha trilogy for almost a year now and after reading Six of Crows, I am in so much need for the Grisha trilogy again and I miss it so much. A reread is definitely due.
10. Favorite cover of a book you read in 2015?
So many beautiful covers in the year of 2015 but one I haven't mentioned in a while is
Magonia
! I really loved this read and the cover is so beautiful as well. I love the feather, the birds coming off it, the fonts, the city below, everything.
11. Most memorable character of 2015?
Hahahaha, Nikolai Lantsov from the Grisha trilogy. I mean it is really hard to forget about him when we're married and I am constantly talking about him...hehehe.
12. Most beautifully written book read in 2015?
Oh my god I feel like there are so many books that could fall into this question but the top two has to be
Every Last Word
and
All the Bright Places
. Both books were so great and they were beautifully written.
13. Most Thought-Provoking/ Life-Changing Book of 2015?
One of the non-fiction books I read this year was
Hidden Girl
, a story about a girl who was a slave in Egypt and is taken into the US as a slave. I have never really thoughts of this kind of thing and situation and it was really eye opening to know these kind of things were going on.
14. Book you can't believe you waited UNTIL 2015 to finally read?
HAHAHAHAHAHAHA
throne of glass
. Hands down. This series is sooo awesome, I can't believe I had waited so long to start this series, it is soooo good! Can't wait for the next two books.
15. Favorite Passage/Quote From A Book You Read In 2015?
If you have read my past posts, then you would know I am not a huge quote person but I do happen to have a passage from the book
A Madness So Discreet
! It is:
"There is more to you than beauty. There is more to you than strength. There is more to you than intelligence. You are a whole person, and I would have you treat yourself as such." - Mindy McGinnis; A Madness So Discreet; Pg. 171
16. Shortest & Longest Book You Read In 2015?
My longest is
Queen of Shadows
at 648 and shortest is
Until Midnight
at 122 pages.
17. Book That Shocked You The Most
One of the most shocking ones has to be
A Madness So Discreet
. Throughout the whole book, there are sooo many twists and turns and things that we don't know the whole story about and I really enjoyed reading about the plot unraveling.
18. OTP OF THE YEAR (you will go down with this ship!)
This is like asking me to choose on of my babies that I will always protect, THERE ARE SO MANY OTPs I don't know what to doooo. One of them I forever love is definitely Lara Jean and Peter. Like gahhhh finishing
PS I Still Love You
was soooo bittersweet I loved it and it just made me ship Lara Jean and Peter together even more.
19. Favorite Non-Romantic Relationship Of The Year
I really love Sam and Annamae's friendship in
Under a Painted Sky
. They both take on a pretty big challenge and risk and get through it together as friends! I really enjoyed reading about them and they are basically friendship goals.
20. Favorite Book You Read in 2015 From An Author You've Read Previously
I think I have to go with
Vengeance Road
for this question. I loved the Taken trilogy sooo much and was actually pretty iffy on reading VR. I am so glad I read it because I really enjoyed it and it was another awesome Erin Bowman read.
21. Best Book You Read In 2015 That You Read Based SOLELY On A Recommendation From Somebody Else/Peer Pressure:
I have been told to read
Throne of Glass
so many times....
22. Newest fictional crush from a book you read in 2015?
One of the most recents is, Rowan, from
Heir of Fire
. When I first read about him, he was kinda problematic for me but I started liking him so much more in Queen of Shadows.
23. Best 2015 debut you read?
I haven't read a lot of 2015 debuts but one of my favorites out of the few I read has to be
Everything, Everything
. It was such a fabulous read and I cannot wait to get more from Nicola in the future.
24. Best Worldbuilding/Most Vivid Setting You Read This Year?
These Broken Stars
had really good world building. It was a really great read and the world building could have gone wrong but it was very well done! Can't wait to read more from this series because I am honestly missing outtt.
25. Book That Put A Smile On Your Face/Was The Most FUN To Read?
Me, Earl, and the Dying Girl
was a really fun read. I was actually road tripping in Canada when I read this book so it was a good one to read since I was on the road for so long. Really enjoyed it and Greg definitely had a great sense of humor.
26. Book That Made You Cry Or Nearly Cry in 2015?
Second Chance Summer
literally made me shed tears. It was such a beautiful read and I was honestly so caught up in it, finishing took me in such a surprise. I knew how it was going to end but I didn't realize and process it until I was near finishing it. An awesome read really.
27. Hidden Gem Of The Year?
I read a good amount of well known books but a book I am surprised more people haven't read has to be
Magonia
, which is a book I full enjoyed. The writing is beautiful, the plot is awesome, and I cannot wait for more books from Maria Dahvana Headley.
28. Book That Crushed Your Soul?
Sooo many of these books crushed my soul but one of them is definitely
All the Bright Places
. If you have read about what people say about this book, then you would probably know that it's pretty sad. This book really crushed me when I read it and it kinda still does...
29. Most Unique Book You Read In 2015?
I think I'll have to go with
The Summer of Chasing Mermaids
for this one. I was really interested in seeing how a main character who wasn't able to speak go down and this book turned out pretty well. It's not every day where I read characters who can't speak and that is pretty unique considering most characters can speak.
30. Book That Made You The Most Mad (doesn't necessarily mean you didn't like it)?
None, they were all fabulous.

1. New favorite book blog you discovered in 2015?
I think this year was when I actually discovered so many new great blogs and started to really branch out. There are so many blogs I could name, really. A lot of them are actually on my
blogroll
, so if you want to check that out and find some of my new favorite blogs, they're all there!
2. Favorite review that you wrote in 2015?
One of the more recent reviews actually,
Queen of Shadows
! I really enjoyed this book and it was so fun to write the whole spoiler section because there was honestly so much to talk about. I loved getting all my thoughts on everything that went on in that book (There was a lot that went out...) in words and it was probably the reviewed I enjoyed writing the most.
3. Best discussion/non-review post you had on your blog?
Awhile back, I wrote
a post
about things that really turn me off in a blog design and it had received pretty good feedback! Over time, I have really developed an eye for pretty blog designs and since then, that has really caused me to want a good blog design that would keep people on my blog. I definitely hope to write more of these posts because it was so fun to do so.
4. Best event that you participated in (author signings, festivals, virtual events, memes, etc.)?
(Haha, wish I could say BEA or YALLWest for this question but I can't...*tears*) I attended a good amount of signings this year but my favorite one would either have to be the
Stacey Lee
signing or
Leigh Bardugo
signing. The
Fierce Reads Spring Fling
tour is also one I really enjoyed. It was great meeting all the authors and I can't wait to read more from them!
5. Best moment of bookish/blogging life in 2015?
OH! When I went to the
Fierce Reads Spring Fling
tour stop and freaking Lynne Matson recognized me from twitter and the fact that she knew who I was just made me really happy and yeah. :D
6. Most challenging thing about blogging or your reading life this year?
Is it sad to say that reading has really been a struggle this year? I don't know why but this school year has really made reading hard on me and I am scared that it's going to take away reading from me. I am always trying so hard to make time for reading but honestly, it's soooo hard. Here are hopes for an easier year on reading.
7. Most Popular Post This Year On Your Blog (whether it be by comments or views)?
My most popular post this year is a sign up post for a read-a-thon. The one post I spend little time on get's so many views but the posts I do spend time on don't get as many views. Therefore, I am going to skip over these sign up posts and tell you the most popular post in which I actually spent time on. That would be
The November Post
!
8. Post You Wished Got A Little More Love?
This little post
would like more love!
9. Best bookish discover (book related sites, book stores, etc.)?
Ooooh, this year, I found out about Society6 and RedBubble and they have made me wish books were cheaper because everything on Society6 and RedBubble ARE SO BEAUTIFUL OMG GIMME EVERYTHAAAANNNG,
10. Did you complete any reading challenges or goals that you had set for yourself at the beginning of this year?
*whispers* Nope

1. One Book You Didn't Get To In 2015 But Will Be Your Number 1 Priority in 2016?
Winter
and
Illuminae
...hehehe....
2. Book You Are Most Anticipating For 2016 (non-debut)?
Soooo many of these but I am so impatiently waiting for is probably Stacey Lee's
Outrun the Moon
, Morgan Matson's
Unexpected Everything
, or Rachel Hawkins's
The Lady Renegades
!
3. 2016 Debut You Are Most Anticipating?
Sooo many of these but I am super excited for Stephanie Garber's
Caraval
! I was able to meet her at Stacey Lee's signing and she is sooo sweet. Super excited to read her book because it sounds sooo awesome.
4. Series Ending/A Sequel You Are Most Anticipating in 2016?
Oh my lord, I feel like I don't have many of these next year but the one I do know, is
The Lady Renegades
, which I think will be the last Rebel Belle book. I love this trilogy and I am really excited to find out how Harper's story ends!
5. One Thing You Hope To Accomplish Or Do In Your Reading/Blogging Life In 2016?
Read more fantasy books. I can definitely name off sooo many fantasy books that I have heard of and need to read and I really want to read them too so, here is to more fantasy books!
6. A 2016 Release You've Already Read & Recommend To Everyone:
HAHAHAHA, I HAVEN'T READ ANY YET BECAUSE I AM SO BEHIND ON READING OOPS.